It's 9 a.m. and L.A.-based playwright Sigrid Gilmer sits at her PC with a cup of coffee and dry erase board, poised and ready to write. At the top of the board, she writes, "Menu." Imagining the incoming customers to her shop, she writes a list of possible offerings that will be available to them when they arrive. The delicious appetizers and entrees are potential storylines for the characters to consider. Her "shop" remains open until 5 p.m., and then she closes until the next day.
Rising to the status of successful playwright is no easy feat, but Sigrid makes it look like a cakewalk. The walk starts every day slowly and deliberately by sitting at a desk and viewing writing as a job. With Israeli writer Amos Oz as an inspiration, Sigrid embraced the menu-writing approach to developing scripts. Situating herself as a skilled shopkeeper, she feeds her characters rich experiences and diverse possibilities.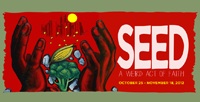 Today, Sigrid's skill for crafting interesting narratives is being affirmed with her simultaneous debut of two pieces -- including a feature in the Black Women: State of the Union (BWSOTU) production. This success has not come without time and perseverance. Sigrid started writing stories as a child. By 1995, she began pursuing her dream in earnest when she moved to New York and joined the HERE Arts Center working in the box office. Pursuing her dream in New York quietly at first, she worked up the courage to write and produce her first production in 1998. She continued to work on her craft, yet several years later her first professional production was a tepid success, according to her own estimation. She recalls this time with sadness, even today when she remembers reading the first review. She read it and cried during an entire flight from New York City to Los Angeles where she lived at the time.
Fast forward to the current season, Sigrid now has two productions being produced in Hollywood, California -- an unusual occurrence in today's theater world. Sigrid's Seed: A Weird Act of Faith is going to be performed starting October 25 at the Chuco's Justice Center (Operated by the Youth Justice Coalition) as part of the Cornerstone Theatre Company's Hunger Cycle, a series of nine world premier plays exploring hunger, justice, and food equity issues.
The talented playwright's short play, Black Simulacra which is a part of the Black Women: State of the Union production runs at the Skylight Theater, starting October 27. In describing Black Simulacra, Sigrid states:
A simulacra is a false representation of something real. Like a Paris Hotel in Las Vegas is a simulacra of Paris, right? It is supposed to be a really good fake of the real thing. It is like the images we see of black women. Even if the representations are trying to be quote, unquote authentic. The problem is that "authentic" images of black women are relegated to a few standards that have been playing out in the American cultural psyche for centuries -- the hardened, quick to anger, eye- and neck-rolling Sapphire, sassy beloved maids, mammie and black bestie, the hyper-sexual man-eater bopping to a modern beat as the video ho, the long suffering mamas. None of these images are real, nor do they express the depth and breadth of the experiences of black women now.
Black Simulacra is the second piece written by Sigrid to appear in the tri-annual BWSOTU production which consists of diverse vignettes of black women's experiences in the U.S. In 2009, Sigrid's piece Black Girl Rising explored a black girl who develops super powers, faces the limits of her powers and embarks on a journey to discover her own identity and become free of other people's ideals. Like Black Girl Rising, in her efforts to cook up unique experiences for her characters, the playwright herself breaks the mold and conjures new understandings of the meaning of black womanhood.
For more information about Black Women: State of the Union, visit http://www.bwsotu.org. Details about the Cornerstone Theater Company's production at Seed may be found at http://cornerstonetheater.org/SEED.
Related
Popular in the Community