UPDATE, September 15: DuPage County State's Attorney Robert B. Berlin announced on Tuesday that "after further investigation and the discovery of additional evidence," he has amended the charges against the suspect to include one count of a hate crime.
Leaders at The Sikh Coalition were "relieved" to hear the news.
"We are thankful that Robert Berlin and the DuPage County State's Attorney's Office have filed a hate crime charge in this case," the Coalition's Legal Director, Harsimran Kaur said in a statement. "For the Sikh American community, a formal hate crime charge was never about a harsher penalty, but instead prosecuting the crime for what it was. We can't combat the problem of hatred against minority communities in America unless our elected officials and government agencies acknowledge that the problem exists."
UPDATE, September 11: On Friday, DuPage County State Attorney Robert B. Berlin announced that the suspect is being charged with aggravated battery and described the attack on Inderjit Singh Mukker as a "road rage incident." The Sikh Coalition called the statement "shocking and completely unacceptable" and demanded that the U.S. Department of Justice prosecute the attack as a hate crime.
Requests for comment sent to Berlin were not answered.
A Sikh-American man was brutally attacked and allegedly called a "terrorist" and "Bin Laden" in a Chicago suburb last Tuesday, Sikh advocacy groups report.
The incident occurred just days before the 14th anniversary of the September 11 attacks. Earlier statements from the DuPage State's Attorney's office indicated that the suspect would only be charged with aggravated battery. On Tuesday, Attorney Robert B. Berlin announced that the charges had been amended to include one count of a hate crime.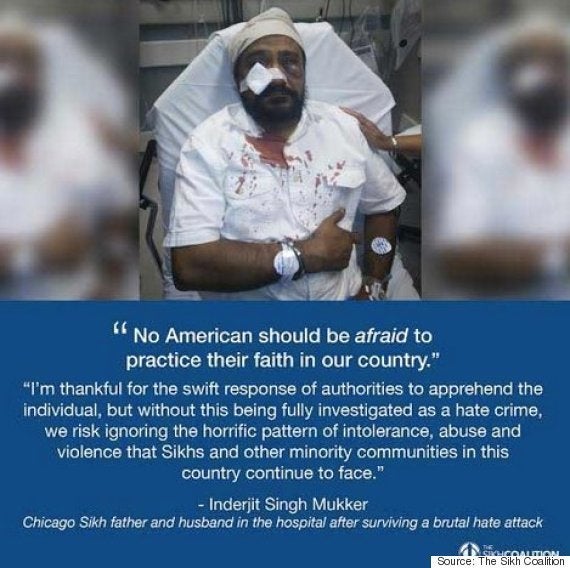 According to the Sikh Coalition, Inderjit Singh Mukker, an American citizen and father of two, was on his way to a grocery store when a driver began taunting him. He finally pulled over to the side of the road to let him pass, but the driver instead pulled up in front of his car, reached into the car and repeatedly punched Mukker in the face. Mukker lost consciousness, lost blood and suffered a fractured cheekbone.
The assailant also yelled racial slurs, including, "Terrorist, go back to your country, Bin Laden!"
Mukker was then rushed to a nearby hospital where he had to be sewn up with six stitches.
"No American should be afraid to practice their faith in our country," Mukker said.
The Sikh Coalition's Legal Director Harsimran Kaur said the group wanted the attack investigated as a hate crime.
"We believe Mr. Mukker was targeted and assaulted because of his Sikh religious appearance, race or national origin," Kaur said in a statement.
Mukker also said that this attack needed to be considered a hate crime.
"I'm thankful for the authorities' swift response to apprehend the individual but without this being fully investigated as a hate crime, we risk ignoring the horrific pattern of intolerance, abuse and violence that Sikhs and other minority communities in this country continue to face," he said.
Sikh groups have reported a surge of hate crimes against people in their community since the September 11 attacks. The U.S. Department of Justice has investigated more than 800 incidents against Sikh, Arab, Muslim and South Asian Americans since 9/11.
Last August, Sandeep Singh, a Sikh father in New York City, was run over and dragged 30 feet after being called a "terrorist."
In 2012, a gunman with Neo-Nazi ties walked into a Sikh house of worship (gurdwara) and shot and killed six innocent Sikh victims in Oak Creek, Wisconsin.
Simran Jeet Singh, Senior Religion Fellow for the Sikh Coalition, wondered what it would take to end the "disease" of violence against religious minorities.
The brutal attack on an elderly Sikh American is harrowing in its own right. It's even more troubling when we see it in the context of hate violence in modern America. That hateful people continue to target innocent Americans because of how they look forces us all to take a look in the mirror and ask the question -- what are we doing to end hate and bigotry? Until each of us takes responsibility, this disease will continue to plague our nation.
Carol Kuruvilla provided additional reporting for this article..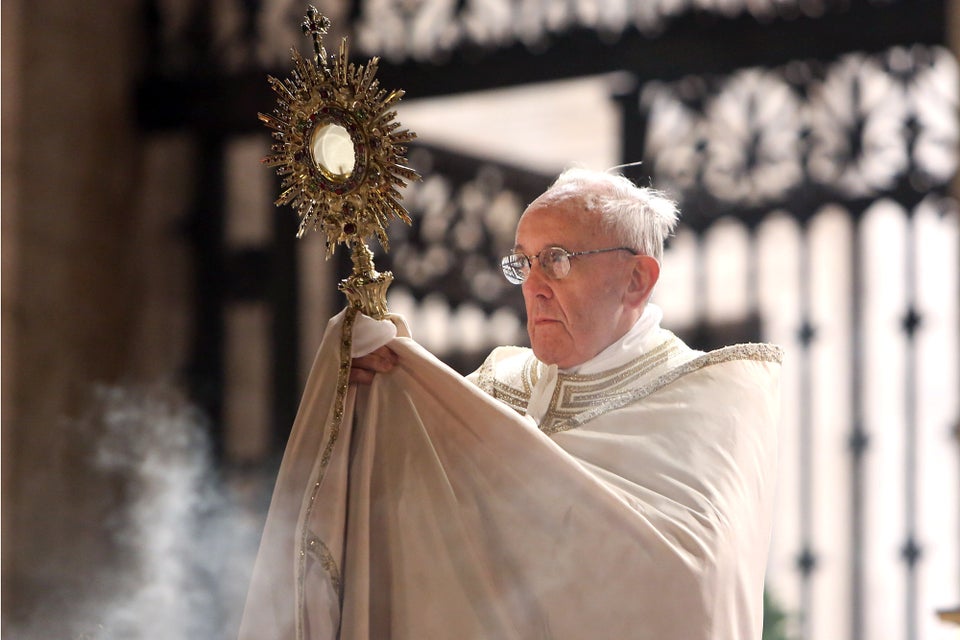 Religious Calendar 2015
Related
Popular in the Community