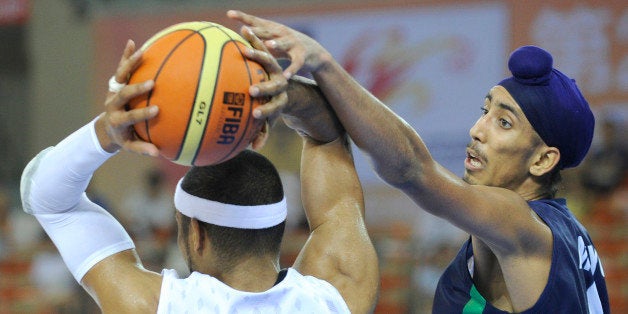 FIBA ruled that the religious objects violated Article 4.4.2 of its official rules which state, "Players shall not wear equipment (objects) that may cause injury to other players."
The players, Amrit Pal Singh and Amjyot Singh, agreed to remove their turbans and stepped aside to tie their hair back. The Sikh faith requires adherents to keep their hair in its natural uncut state, which is viewed as a "gift from God."
Speaking to Indian basketball blogger, Karan Madhok, Singh said:
""It felt very bad that they did this right before the game. At least, eventually, they let us fix it with a band, but even that felt very awkward… I find it to be much more comfortable playing with turban, of course – that is part of my habit.""
Head coach Scott Fleming also expressed his distress at the decision to Madhok, saying he felt that the players handled the situation gracefully.
"I spent a long time advocating for our players the day before the Japan game and finally thought we got the ok for [them] to wear their turbans. I was then told right before the game there was a misunderstanding on what we agreed to. I again pleaded for our players on this ruling. Finally, the FIBA official made the ruling and we had no choice. I would never make our players do anything they were uncomfortable with according to their religious practices. It was up to them. They both decided to adjust to play in the game. It was disruptive but I thought they both handled it well."
Sikhs and other advocates for religious freedom took to Twitter, however, saying that athletes should not be made to decide between sports and faith -- no matter how well the players may have handled FIBA's ruling. Many also noted that other major sports organizations do allow players to wear turbans, including FIFA and the NCAA.
In addition to its ban on turbans, FIBA has banned the wearing of hijabs by female athletes. The Council on American-Islamic Relations (CAIR) submitted a request to the organization to overturn the ban which essentially prevents many observant Muslim women from ever pursuing an international basketball career.
Religious freedom is not something that should be denied in the athletics, as sports have been a way to unify people for years #LetSikhsPlay

— Harleen Kaur (@Harleeple) July 16, 2014