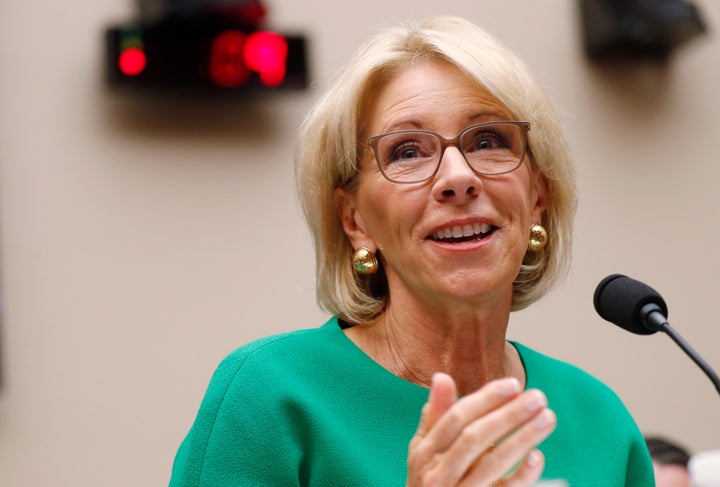 Over a week after the Department of Education indicated it would start embracing a definition of Judaism as both a religion and an ethnicity, another religious group asked for the same treatment, HuffPost has learned.
In late August, the head of the U.S. Department of Education's Office for Civil Rights (OCR) wrote to the Zionist Organization of America saying that the department would re-open a civil rights complaint filed in 2011 alleging anti-Semitism at Rutgers University. In this letter, the head of OCR, Kenneth Marcus, also said the department would use an expanded definition of what constitutes as anti-Semitism, and indicated it would consider Judaism both a religion and an ethnicity.
The controversial move, first reported by The New York Times, has drawn fierce criticism, especially from free speech and pro-Palestine groups, who say it will stifle the First Amendment rights of students.
But HuffPost has learned that earlier this month, members of a Sikh group called United Sikhs also asked the Department of Education to treat their religion as an ethnicity when considering civil rights cases. The event was unrelated to the department's recent moves on Judaism.
The ask took place during a meeting between United Sikhs and Marcus. A representative from the Sikh American Legal Defense and Education Fund was also present. At the time, Marcus did not indicate whether or not the department would heed the request, although he seemed "very receptive" to the idea, said Megan Daly, United Sikhs' director of public policy and communications.
The Department of Education's Office for Civil Rights is charged with enforcing civil rights laws in schools. But the office's jurisdiction does not extend to religious discrimination, only discrimination on the basis of race, ethnicity or national origin. Treating certain religions also as ethnicities could ensure that instances of prejudice against these groups are treated more seriously. A recent report found that Sikh students are bullied at a rate about twice the national average.
Data from a HuffPost FOIA request shows that between January 2009 and June 2018, the Office for Civil Rights received 118 complaints of "national origin discrimination involving religion."
The Department of Education makes determinations on these complaints on a "case-by-case basis," said department spokeswoman Elizabeth Hill.
"Discrimination against students who belong to groups that share ethnic characteristics as well as religious beliefs, including Arab Muslim, Jewish and Sikh students, may be prohibited under Title VI," the law that outlaws racial discrimination in schools, said Hill. "Secretary DeVos has made clear that OCR will look at the specific facts of each case and make determinations accordingly."
Hill also noted that a piece of 2004 guidance addressing this issue still stands. Marcus issued the guidance when he held the same position under the George W. Bush administration. This guidance said the department "must remain particularly attentive to the claims of students who may be targeted for harassment based on their membership in groups that exhibit both ethnic and religious characteristics, such as Arab Muslims, Jewish Americans and Sikhs."
"OCR aggressively investigates alleged race or ethnic harassment against Arab Muslim, Sikh and Jewish students," says the guidance.
Daly said her group had also asked previous administrations to treat Sikhism as an ethnicity. Marcus initiated contact with her group to better understand the experiences of Sikh students, she said. Under the Bush administration, Marcus played a key role in addressing instances of discrimination against Sikh students.
In the coming weeks, Daly said her group is going to formally petition Marcus for a new definition of Sikhism in which it is treated as an ethnicity.
"That was always the goal for us," said Daly, whose advocacy group is affiliated with the United Nations.
Marcus also met with Zainab Al-Suwaij, executive director of the American Islamic Congress, last month to discuss discrimination against Muslim students, but the issue of treating the religion as an ethnicity did not come up, Al-Suwaij told HuffPost.
On Tuesday, The New York Times first reported that the Department of Education would re-open the 2011 Rutgers case, which was closed in 2014 and involves the issue of anti-Israel protests on campus.
In a letter sent to the Zionist Organization of America, which brought the complaint, Marcus said the Education Department would adopt a broader definition of anti-Semitism, used in agencies like the State Department. This definition says "denying the Jewish people their right to self-determination," and "applying double standards" to Israel "not expected or demanded of any other democratic nation" are examples of anti-Semitism.
Pro-Israel groups have applauded the decision, saying it will make campuses more safe for Jewish students. In the past, Marcus has been deeply critical of anti-Israel activism at universities and has largely spent his career trying to protect Jewish students on campus.
But other groups say that equating criticism of Israel with anti-Semitism will have a devastating effect on free speech on college campuses.
"Marcus is sending a clear signal that attacking free speech for Palestinian rights is at the top of his agenda at OCR," said Dima Khalidi, director of Palestine Legal, in a press release. "This is a perverse use of government resources. Especially at a time when white supremacist attacks are rampant on college campuses, we need to use the meager resources we have to protect – not attack - civil rights."
Popular in the Community