Going off the beaten track can be intimidating and frustrating. But what if I told you there was a magical place in India with a one-of-a-kind attraction that not only houses you for free, but feeds you for free as well?
Welcome to The Golden Temple.
The Golden Temple, or Harmandir Sahib in Punjabi, is the holiest temple in the Sikh faith. The Sikhs number some 30 million and are the fifth largest organized religion in the world.
The faith was founded by Guru Nanak Dev and expanded upon by ten more gurus. Sikhs follow the five K's: kes (uncut hair), kangha (small wooden comb), kaṛa (circular steel or iron bracelet), kirpan (sword/dagger), and kacchera (special undergarment).
The Golden Temple offers stunning views at sunrise, sunset, throughout the day, and at night. You really can't go wrong, but each view offers something special.
The easiest way to take in all four views, and the friendliest to a budget traveler's wallet, is to stay on site at the temple. Sikh hospitality is renowned throughout India and their temples reflect this.
The Golden Temple offers Indians very basic, barebones accommodation in the form of a large, shared open space to sleep on with a shared bathroom to use.
There is a special room for foreigners. Though it would be rated 0 stars, if you're on a budget it won't be terribly different from a hostel in India. There are several beds in the main room and five adjoining rooms where a group could set up camp. Lockers are also available to keep your belongings safe, but bring your own lock. There is a shower there with warm water. The public bathrooms are among the cleanest you'll find in India. A donation is appreciated at the end of your stay.
Sikh warriors patrol the temple. You'll notice them right away in their blue uniforms carrying various weapons. They are friendly and if you're lucky they'll even pose for a picture.
As you explore the temple, I beg of you, let this be the only time in India when you accept the unsolicited help of a guide. The Sikhs are aware that they have an image problem. Many young people eager to practice English and teach foreigners about their faith will greet you and offer to take you on a tour of the temple. You'll get great explanations and discover areas not in a guide book. You'll also meet a local person!
Another way to meet local people is to eat at the public kitchen on the temple grounds. The temple, as well as just about all Sikh temples, serves free, warm meals throughout the day. It is standard Punjabi cuisine - chapatis, dhal, and raitha, or Indian flat bread, lentils, and yogurt with fried chick peas. All food put on your plate must be eaten, so if you don't want something or don't want seconds, just put your hand over your plate when the server comes around.
After eating you take your dishes outside. All the cooking and cleaning is done by volunteers. Though cooking in the industrial kitchen would probably be too difficult, to help clean you need only walk over to a trough and roll up your sleeves. You won't appreciate the scale of this operation until you wash hundreds of dishes in what seems like minutes.
The Golden Temple is a strictly barefoot zone. You'll need to leave your shoes behind in the accommodation or check them with a volunteer at the shoe station. But I think this adds to the experience. Visiting a faith's most important site, being housed and fed by volunteering adherents, and meeting tons of nice people along the way, it's hard to think of a more grounding experience than that.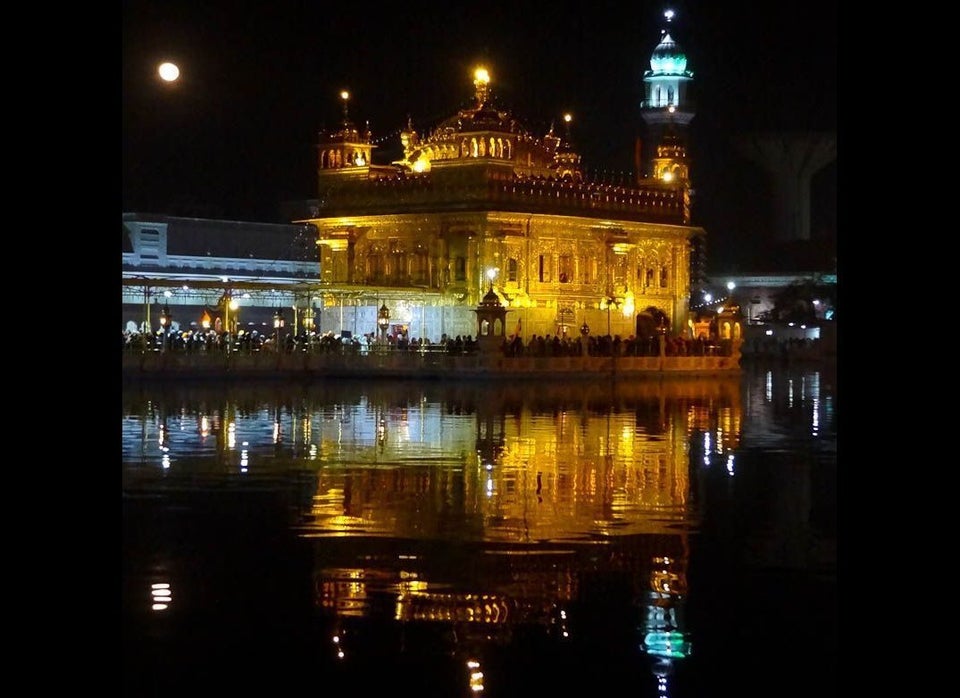 A Weekend At The Golden Temple
Related