A neck is a narrow thing but that does not stop Avtar Singh Mauni from loading 100 pounds of turban onto his. A Sikh, in the city of Patiala, in the Indian state of Punjab, Mauni looks to have broken the current world record for turban size. Eyes (downturned from head-weight) on the prize!
Unwrapped, Mauni's turban measures about 645 meters (2115 feet), "the same length," points out one turbanmetrician, "as 13 Olympic-sized swimming pools." The current Guinness record holder is, frankly, not close. That's the legendary Major Singh, whose pride and joy unwinds to 400 m -- or a mere nine Olympic pools.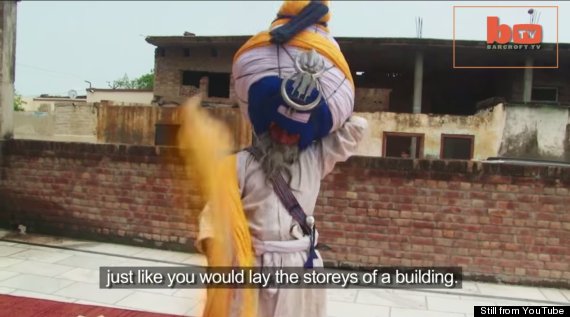 Demonstrating the steps to success.
Why is Mauni so possessed? Based on the weapons and jewelry he weaves into his headgear, it's likely that he, like Singh, belongs to the Nihang branch of Sikhs, famed warriors known for wearing outsized turbans and clothes of electric blue. All Sikhs are called by their religion to wear turbans out of respect for the divine gift of hair. The devout also abstain from cutting their hair (including this wise bearded woman).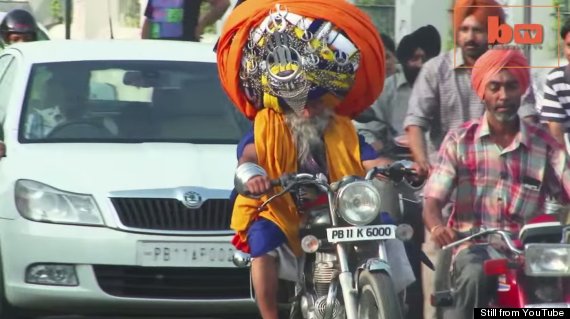 Not fitting in as a literal condition: Too large for cars, Mauni goes everywhere on his trusty motorbike.
Mauni's extreme look yields interesting responses. Turbans aren't exactly de rigeur for young Sikhs anymore and in the clip above, a few express appreciation for what appears to be a willful display of extreme religiosity. For his part, Mauni implies that he has transcended the earthly realm, claiming that he feels no discomfort, and misses the turban when it's not on his head.
More often than not though, observers aren't interested in deep conversation. This is the age of the camera phone. "It takes me six hours to tie my turban," Mauni laments. "And some people just click a photo and run away after a minute."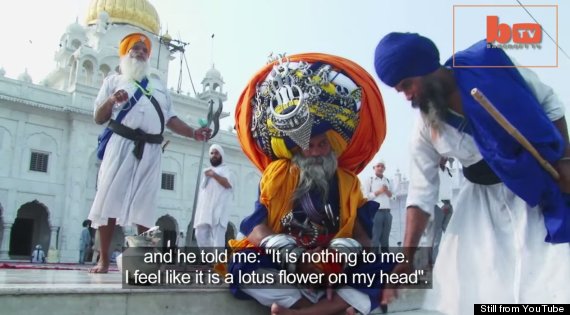 One of the few onlookers who gets it. A fellow Sikh touches Mauni's feet in the classic request for blessings.
Related
Popular in the Community