Two Sikh men in Punjab, India, are being applauded for saving four boys from drowning during a religious ceremony.
Inderpal Singh and Kanwaljit Singh were sitting on an embankment above a canal, where Hindu devotees gathered on Sunday for a religious ceremony in which idols of the god Ganesha, or Ganesh, are immersed in water. Four boys accidentally fell into the canal's swift current and were dragged under. The two men rushed to their aid.
"I had no time to think and quickly removed my turban and threw at the drowning boys and pulled them in," Inderpal Singh told NDTV.
Ganesha is an elephant-headed deity widely revered for his wisdom, wealth and ability to destroy obstacles. Hindus celebrate the god's birthday with a 10-day festival called Ganesh Chaturthi that concludes with the idol immersion ceremony.
The ritual can be a dangerous. On Monday night off the coast of Georgia, two men died, two were injured and one went missing during a ceremony of the same nature. The men were reportedly trapped on Tybee Island, off the Atlantic coast of Savannah, and were swept away by a high tide.
Cellphone footage of the Punjab ceremony in India appears to show the boys clinging to the long fabric of the turbans as the men pulled them from the water.
Kanwaljit Singh explained to NDTV that his first thought was to jump into the water to save the boys, but he doesn't know how to swim. He decided to use his turban instead.
Harman Singh, a New Zealand man, made headlines in May when he removed his turban to help a child who had been hit by a car. Speaking with The New Zealand Herald after the accident, Singh said: "I wasn't thinking about the turban. I was thinking about the accident and I just thought, 'He needs something on his head because he's bleeding.' That's my job -- to help."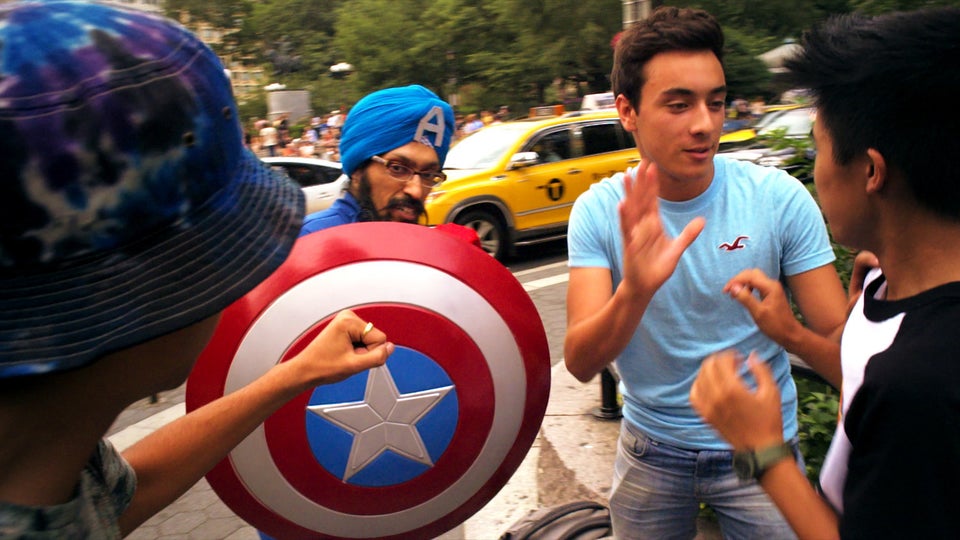 Sikh Captain America
Popular in the Community