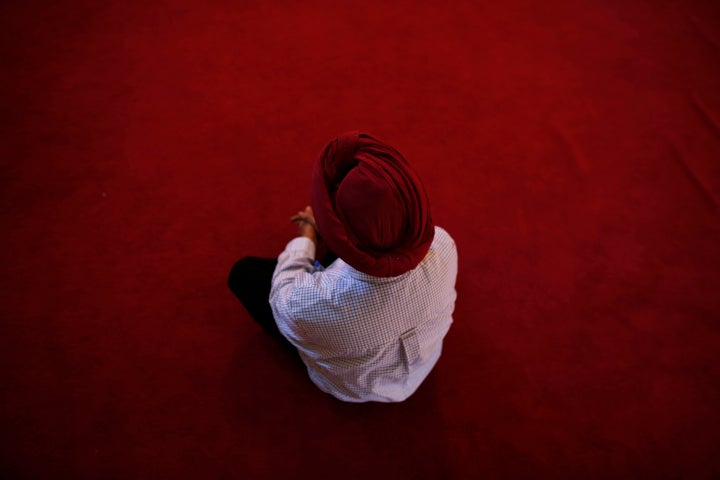 Walking on campus as an enthusiastic first-year, I was overwhelmed by the beautiful architecture, unique energy, and endless opportunities that exist here. Being a student at Columbia has definitely been one of the most challenging, rewarding and amazing experiences of my life. The classes I am taking, the connections that I am making, and the memories I will leave with are helping to cultivate who I am as a scholar, leader and individual.
Although I have had the privilege to establish myself through different organizations, there is still a part of this university that makes me uncomfortable and pushes me in ways I haven't really felt before. Whether it has been walking down College Walk to Butler or waiting in the pasta line in Ferris, heads fitted with cautious and questioning eyes instantly turn to look at what sits atop my head -- my vibrantly colored turban, part of my identity as a Sikh.
While I have been blessed never to have faced direct discrimination, the visual expression of my faith through my unshorn hair kept within my turban and my long beard attract cautious and potentially critical looks wherever I go. For a lot of people who do not necessarily understand the significance that my turban and beard hold, it is as if there is consistently a huge question mark above my head. Even though I am proud of my religion and more than happy to help spread awareness of it, many unspoken and negative expressions have made me feel quite isolated within the community at different points during my college experience.
Compared to the other religions practiced within the Columbia student body, Sikhismis still a relatively underrepresented religion throughout elite institutes of education. For those who may not know, Sikhism is the fifth largest religion in the world and is a monotheistic, progressive religion that believes in the universal values of truthful living, equality of mankind, social justice and remembrance of Waheguru, or God. Although every individual may have different interpretations of the religion itself, and this is simply mine, a fundamental tenet of the faith that works to set us apart from the rest of the community is our turbans. While the reasons why Sikhs choose to wear turbans are complex, one of the reasons why I choose to keep my hair is because it allows people to recognize the positive values of peace, love, and openness that my faith teaches.
Being representative of your whole religion wherever you go can become extremely challenging. Though there are many Sikhs in all corners of the country, there are few in Ivy League institutions. While many people have respected and welcomed my decision to follow Sikhism, the struggles of appearing different do create the possibility for subliminal micro-aggressions that the larger community might not necessarily be aware of. From my experience, there still exists a certain edge for those who do not fit into the stereotypical representation of a Columbia student -- an edge that is simply detrimental to the safety and acceptance of all students within our campus community.
However, the different values of openness and positivity ingrained within me have pushed me to work past the negativity that may exist throughout campus and focus on the positivity and potential for growth that exists. Most of my friends and peers have been naturally curious to learn about Sikhism. Being one of a handful of Sikhs on campus pushes me to learn more about my religion so that I can happily answer any questions that may come up.
Although the number of Sikhs are limited, they are growing, and many of them are working hard to shed light on pertinent issues. Through the recently expanding organization Columbia University Sewa, which is based on the values of social justice and community service, students like myself are coming together to help Columbia become a more open, understanding and positive space. Not only does my faith allow me create a unique identity on campus, it is giving me the passion and values to work toward making Columbia safer, better and more critically conscious about the beautiful diversity that exists all around us.
The author is a Columbia College sophomore and president of CU Sewa.
Calling all HuffPost superfans!
Sign up for membership to become a founding member and help shape HuffPost's next chapter