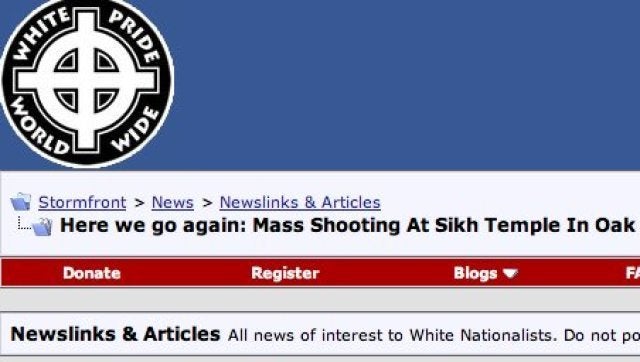 The posts, first surfaced by the blogger Chauncey DeVega at the site We Are Respectable Negroes, show nationalists worried that Sunday's mass killing, in which a gunman opened fire on a Sikh temple a Milwaukee suburb would reflect poorly on white supremacists. A thread on Stormfront, the popular white supremacist message board, called "Here We Go Again: Mass Shooting at Sikh Temple In Oak Creek, Wisconsin," is filled with anxious racists, who also worried that the massacre will result in a government crackdown on white power groups.
Said one poster named Unlearn:
The hits keep coming. White males of America, I know you're frustrated, but channel that anger into productive, positive ways of helping your people. People say it's poor black males that need role models. WE need role models. We've forgotten how to act when stress goes through the roof.

Said another poster named glord:
This guy is a grade A scumbag, I pray to god he was not a member on here....can you imagine the media? Please anybody, do not sympathise with what this man did, it just makes us all look really bad and puts many people off coming around to our views, and the truth.
...

The man is scum and the exact opposite type of people we should be aligning ourselves with. If he turns out to be a white nationalist, it will hurt us so, so much. This is not the answer.

Added a poster named Hyperborean Warrior:
Disgusting. I hope he gets arrested.

Said another poster named Bellatrix:
These are the people I hate most. They are too stupid to realize the harm they are doing to us. We must absolutely shun anyone on this site who so much as hints at causing injury to other races. They are poison.

Their fears turned out to be justified: the shooter has been identified as Wade Michael Page, a neo-Nazi who made white nationalist music with a band called End Apathy. "End Apathy began in 2005 and the concept was based on trying to figure out what it would take to actually accomplish positive results in society and what is holding us back," Page said in a 2010 interview with Label 56, a white supremacist music label. "A lot of what I realized at the time was that if we could figure out how to end peoples [sic] apathetic ways it would be the start towards moving forward."
Wade, a 40-year-old army veteran, was killed by a police officer at the scene of the shootings.
But other posters were sympathetic to Page's rampage:
finally a man whos got some nerve, hows this non violent crap been working for all u guys who are slamming this guy, spread all the propaganda u want, the message isnt getting out, this is how points are made

Jim Berger, a national security expert who focuses on homegrown extremism, tweeted that white power sites are already putting distance between themselves and Page.
Before You Go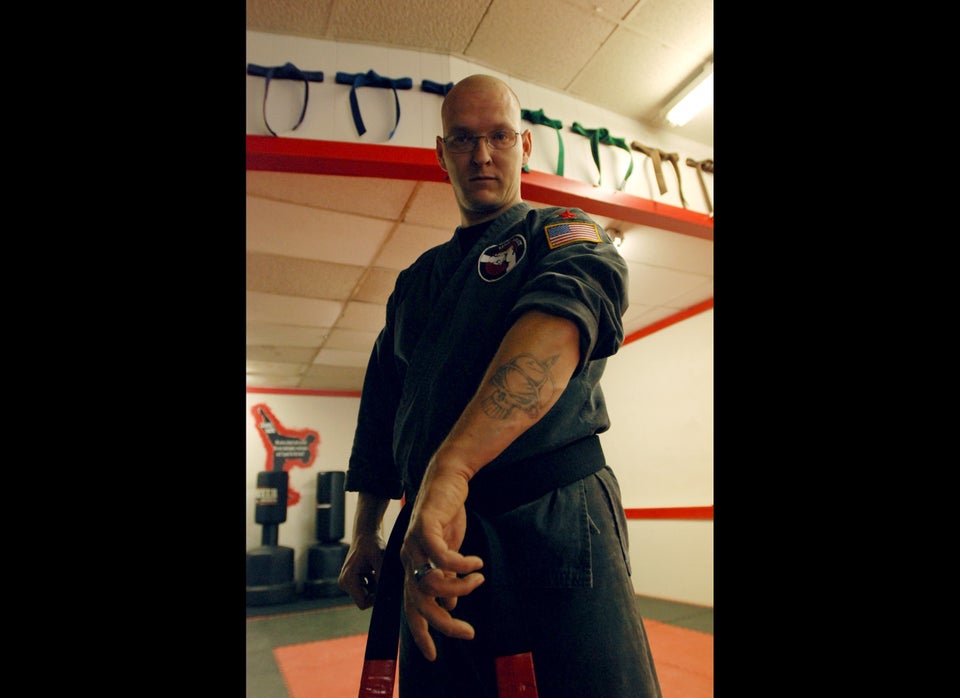 Weird White Supremacist News
Popular in the Community