One year ago this morning, a lone gunman walked into a house of worship and stalked the prayer hall, communal kitchen and living rooms. Wherever he saw people, he lifted his gun without expression and fired. He killed six people and critically wounded others, including a police officer.
The August 5, 2012 mass shooting in Oak Creek, Wisconsin received national attention for a few days, but then faded into the background as one in a list of mass shootings last year. One year later, people I meet know Aurora and Newtown but draw a blank when I use the shorthand "Oak Creek."
If the gunman were seen as Muslim, and the victims Christians, gathered in a Sunday church service, we may still be talking about Oak Creek today. But the gunman was a white supremacist. And the victims were Sikh Americans whose men wear turbans as part of their faith.

Today, on the one-year anniversary, we must remember Oak Creek as the largest act of violence on a faith community since the 1963 church bombings. We must remember the Sikh community's response to the shooting because it offers a model for how one small community can rise from the ashes of tragedy to bring people together in forgiveness and healing - and even effect policy change. But most of all, we must remember the story of Oak Creek because it could happen again.
In the immediate aftermath of the Oak Creek tragedy, the Sikh community entered the national spotlight for the first time. In the midst of grief, the community found the courage to explain their faith, respond with forgiveness, and call for healing. Sikh youth of Oak Creek stepped before news cameras to call for an end to hate - not just against Sikhs but against all people. The families cleaned the gurdwara themselves, turning a site of massacre back into a house of worship, and gathered to pray for the departed, including the gunman.
"Last year, we prayed for the soul of Wade Michael Page," said Raghuvinder Singh, whose father Punjab Singh remains hospitalized one year after the shooting, unable to move or speak except to blink his eyes. "Our faith teaches us compassion for every person. We continue to pray that his soul goes in peace."
In the last year, many Sikh Americans have extended the ethic of compassion into seva or sacred service. In Oak Creek, Sikhs have formed new organizations including Serve2Unite and Sikh Healing Collective. Pardeep Kaleka, whose father was killed fighting the gunman, has teamed up with Arno Michaelis, a former white supremacist, speaking to young people about combatting hate.
Another victim's son, Harpreet Saini, whose mother was killed in the shooting, became the first Sikh in U.S. history to testify before Congress in a historic Senate hearing last September. He asked the government to give his mother the dignity of at least being counted as a hate crime statistic, to measure the problem so that we can begin to address it. The Sikh Coalition, joined by civil rights and faith-based organizations, including Groundswell at Auburn Seminary, led a campaign calling for the FBI to track hate crimes against Sikhs and other communities - and won.
"We've made progress in the last year," said Amardeep Singh Bhalla of the Sikh Coalition. "But one year later, the underlying conditions that allowed Oak Creek to happen are still in play."
Hate groups in America are on an alarming rise by almost 70 percent since 2000, according to the Southern Poverty Law Center. In the last year, Sikhs have continued to endure discrimination, bullying, vandalism, racial profiling, and gun violence. In Fresno, California, an 81-year-old Sikh man, Piara Singh, was badly beaten with steel pipe while walking home from temple. In a Florida attack, Kanwaljit Singh sustained multiple gunshot wounds from an unidentified shooter while driving with his 13-year-old son. In Washington, a turban-wearing Sikh cab driver was brutally attacked and beaten by a man screaming anti-Muslim and racial slurs. Just days ago, the walls of a Sikh house of worship in Sacramento were defaced by graffiti spelling out "terrorist."
Oak Creek is not an isolated incident. Yet, remarkably, rather than retreating into itself or thickening its walls against a future attack, Sikh gurdwaras in Wisconsin and across the country have opened up to the broader community in the last year.
In Oak Creek this weekend, thousands of people of all faiths and backgrounds attended the anniversary events - a federal observance on Friday, a memorial run on Saturday, prayer services on Sunday, and a candlelight vigil on Monday. The gurdwara has been bustling with Sikhs from Milwaukee and around the country, a wide array of Wisconsin residents, police officers, government officials, and survivors of other mass shootings. This openness embodies a sense that all people can share in the Sikh spirit of Chardi Kala--everlasting optimism and ever-rising high spirits, even in the face of suffering.
"I'm proud to represent Oak Creek," said Oak Creek Mayor Steve Scaffidi at the federal observance. "Not as a scene of violence, but as a symbol of what one small community can do."
Today, the gurdwara shows no sign of the massacre that took place there one year ago - except for a single bullet hole in the entrance to the prayer hall. The plaque below it reads "We are One." The Oak Creek tragedy calls us to fulfill that promise, but first, we must choose to remember it.
Remember Oak Creek. Watch the Film. Spread the Word.
http://www.groundswell-movement.org/the-one-year-anniversary-of-oak-creek
...
Valarie Kaur is an award-winning filmmaker, civil rights advocate, and interfaith leader. She is Senior Fellow at Auburn Seminary, where she founded Groundswell to help mobilize faith communities in social action. Kaur studied religion and law at Stanford University, Harvard Divinity School, and Yale Law School, where she founded the Yale Visual Law Project. You can find her at www.valariekaur.com/blog and @valariekaur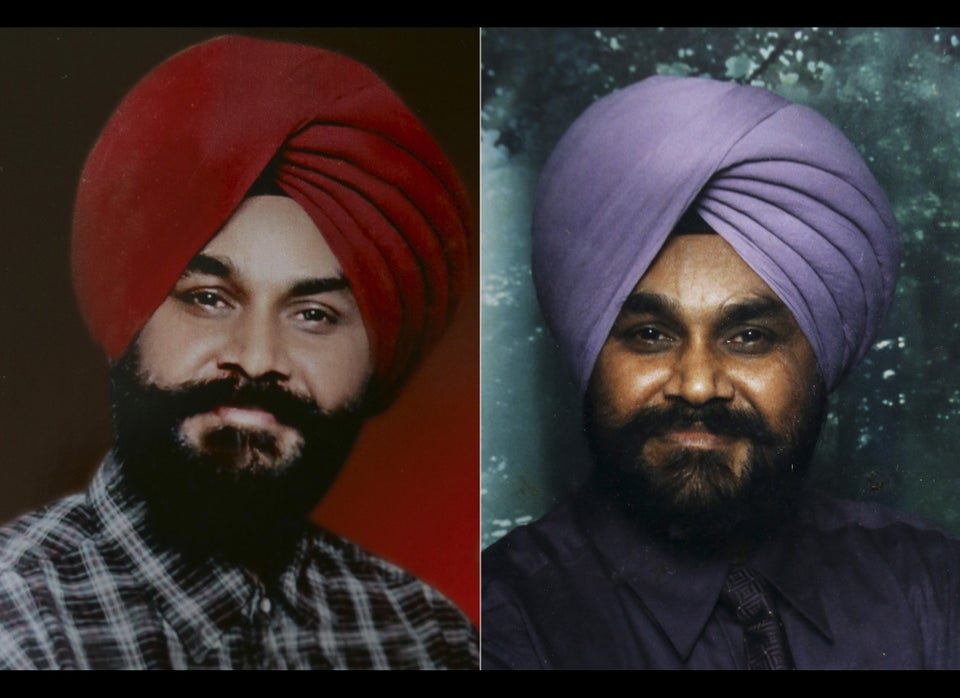 Sikh Temple Shooting Victims and Families
Related
Popular in the Community