In honor of the Sikh holiday of Vaisakhi, more than 500 Sikh volunteers gathered in New York City's Times Square on Saturday to teach tourists and passers-by about their faith in a memorable way. 
The volunteers claim to have tied 8,000 turbans during the event. 
The campaign is the brainchild of Chanpreet Singh, the 24-year-old founder of Sikhs of New York. The group got its start as a student club at Baruch College, Singh's alma mater. The first Turban Day took place at the university five years ago, and the event has been growing ever since.
Singh said the idea for an event to educate people about Sikhism came from his personal experiences.
"I've been called names like terrorist, ISIS. I've heard things like 'Go back to your country,'" he told HuffPost. "All throughout high school and middle school."
He believes it's up to Sikhs to educate others about their religion.
"I take the fault on ourselves. We haven't done enough to educate."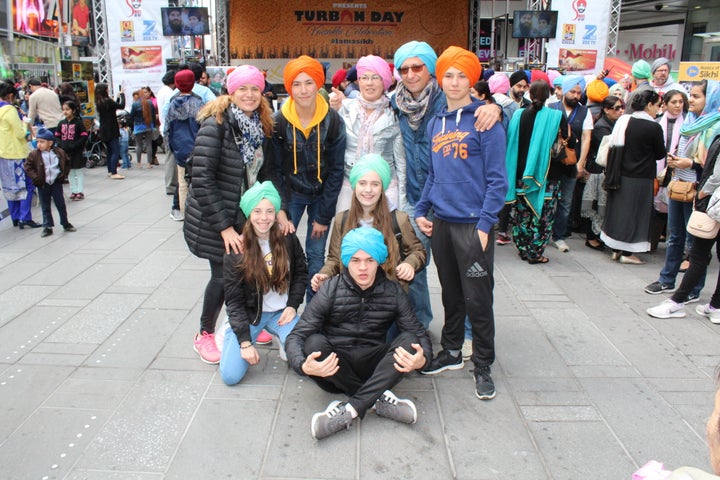 The religion's roots can be traced back to Guru Nanak Dev Ji, a 15th century spiritual leader who lived in the Punjab region, which lies in modern-day India and Pakistan. In those days, a turban was often worn by members of the rich, upper class. Guru Nanak encouraged all his followers to wear turbans, as a symbol of devotion and to promote equality.
Sikhs have been part of America's religious landscape for over 100 years. Yet, many Americans are unfamiliar with the religion, or confuse Sikhs with Muslims. A 2015 survey from the National Sikh Campaign, which partnered with Sikhs of New York for Turban Day, found that 60 percent of Americans said they knew nothing at all about Sikh Americans. Americans were more likely to assume that a man wearing a turban was Muslim (20 percent) or of Middle Eastern descent (28 percent), than they were to assume the turbaned man was Sikh (11 percent).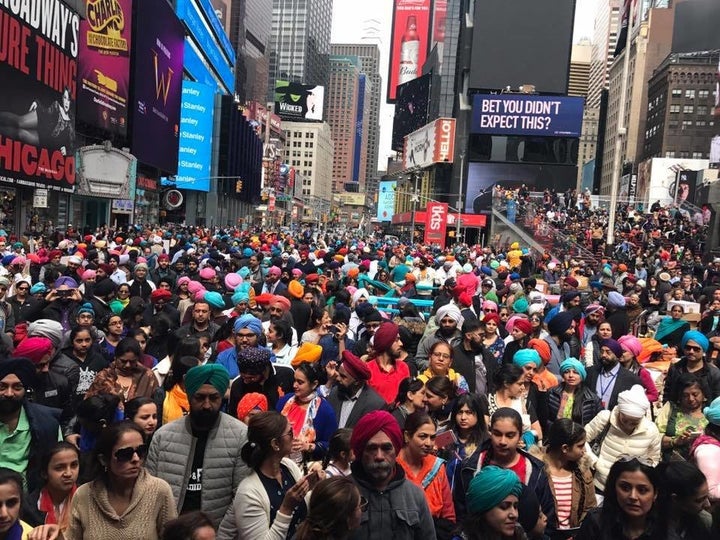 Sikhs have also been victims of discrimination and hate crimes, often because of the turbans they wear as part of their faith. About 67 percent of turbaned Sikh youth in Massachusetts, Indiana, Washington, and California say they've been bullied.
Singh hopes that Turban Day will help educate people about his religion. 
It takes between two to five minutes for each turban to be wrapped properly. During that time, a Sikh volunteer presents information about Turban Day and about Sikhism. After the turban is tied, the volunteer asks for reactions and fields any lingering questions.
"I thought, how about giving the firsthand experience of what a turban feels like. If someone takes a turban away with them, they'll always remember that it was a Sikh person who gave it to them," Singh said. 
Since he started the project five years ago, Singh said that it has expanded tremendously. Singh said that at the last Turban Day, held in 2015, his team tied 3,500 turbans.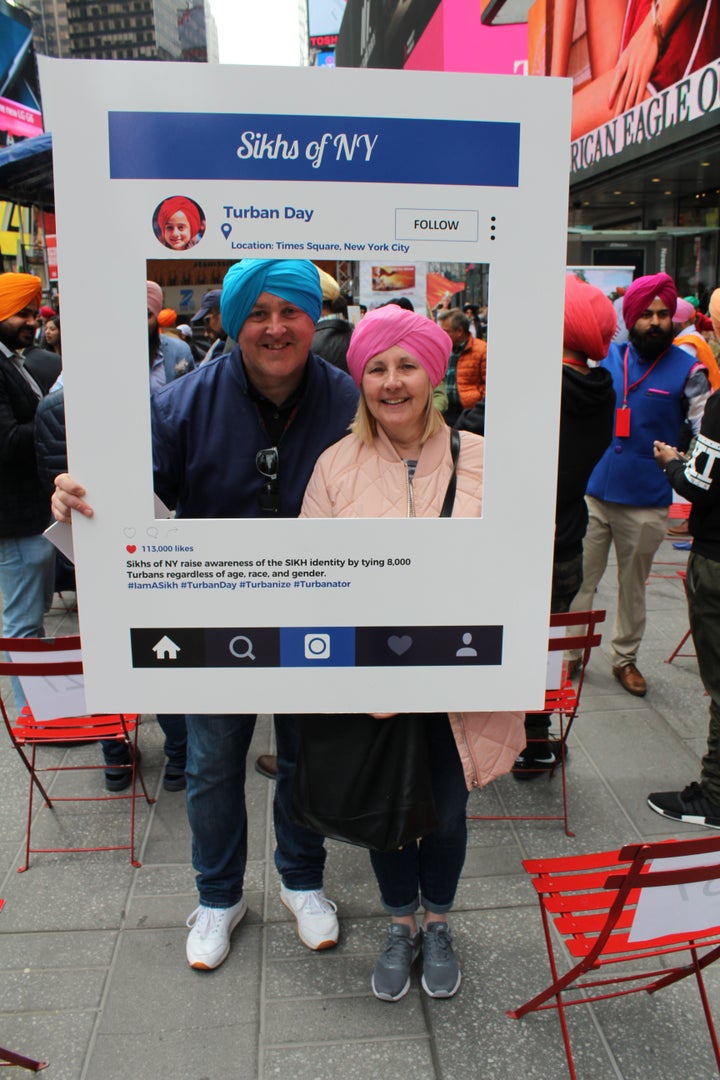 Singh said that the event has received some critical feedback from Sikhs who wondered whether the participants would walk away with a full understanding of what a turban means in the Sikh religion. Singh said that his team tries to address this by asking participants to treat the turban as an honor and a crown, and to refrain from smoking and drinking alcohol while wearing it. 
"It shouldn't be just, you get a turban tied to take a picture," Singh said. ""They should know who is tying the turban and what the turban is." 
Calling all HuffPost superfans!
Sign up for membership to become a founding member and help shape HuffPost's next chapter
BEFORE YOU GO
PHOTO GALLERY
10 Books On The Sikh Faith