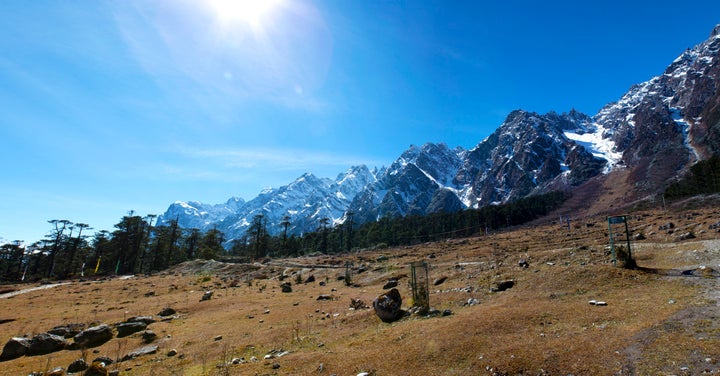 You know those agonizing grocery store moments when you wonder if it's worth it to shell out an extra 60 cents for an organic apple? That's a decision some Indians may never have to make again, because every farm in their state is now organic.
As of December 2015, all land in the tiny, Himalayan state of Sikkim is free of chemical pesticides and fertilizers, Indian Prime Minister Narendra Modi officially announced at this week's Sikkim Organic Festival.
"Sikkim has already achieved that feat of living in harmony with nature, and is therefore a model of development which also protects nature," Modi said.
Under guidelines put forth by the National Programme for Organic Production -- the government body in charge of organic accreditation in India -- organic farming involves eliminating pesticides, chemical fertilizers and GMOs, and working closely with the local ecosystem to preserve biodiversity and prevent erosion. All of Sikkim's farmland has been certified organic under NPOP regulations, the Press Trust of India reported. 
Pesticides are a major issue in India, where they are less regulated than in other large countries. In 2013, 23 children infamously died from a pesticide-laced school lunch in Bihar. And a recent agriculture report found that the number of food products with unacceptable amounts of chemical residue has doubled in recent years.
Sikkim's organic crusade started 12 years ago, when its Chief Minister Pawan Chamling declared his intent to make Sikkim India's first organic state.
Chamling has been reelected five times, so he was able to oversee the entire process. First, the state officially banned the sale of pesticides and synthetic fertilizers, forcing its farmers to go organic. And it ran a number of events like a two-day workshop in March 2010 where organic experts and scientists advised farmers on making the transition.
But Sikkim's organic switch is not just good for public health; it's also good for the economy as organic produce has higher profit margins for farmers.
"As we are a small state, the landholdings of our farmers are also very small ... Organic farming has come as an appropriate option for us as we can send our produce to niche markets not just in India, but also abroad to get maximum returns for farmers," Brijendra Swaroop, an Indian environmental minister, told The Hindu in 2010.
Furthermore, the move is expected to stimulate organic "agri-tourism." Sikkim is a picturesque state nestled among the Himalayas, and home to a variety of produce and spices, like cardamom, ginger, oranges and corn. There are already resorts marketing their farms and gardens where travelers can pick and cook fresh organic produce.
"The tourism sector in Sikkim is definitely flourishing more thanks to our organic credentials," Suresh Lama, who runs the Eco-Paradise Resort and Spa in East Sikkim, told The Huffington Post. "We've only been doing organic farming for one year on our grounds, and our guests, plus our restaurant, have all noticed the difference."
Calling all HuffPost superfans!
Sign up for membership to become a founding member and help shape HuffPost's next chapter