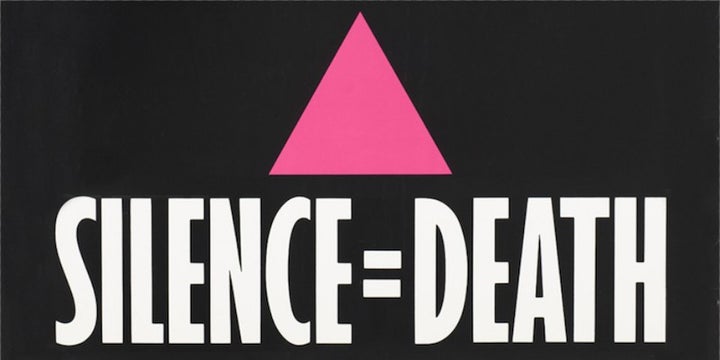 Thirty years ago, gay activists in New York inverted the pink triangle used to identify homosexuals in Nazi concentration camps and added the slogan "SILENCE = DEATH." During the height of the AIDS crisis, they plastered this image around the city and released a manifesto declaring "silence about the oppression and annihilation of gay people, then and now, must be broken as a matter of our survival."
On Tuesday, as I joined the March to Confront White Supremacy from Charlottesville to Washington, D.C., I wore my "SILENCE = DEATH" t-shirt to draw the connection to that dark period in our country's history. As a white gay man, I was honored and angered to be there, marching behind the people of color who organized the protest. Charlottesville exposed the racism and bigotry that has gone from simmer to boil with white supremacists in the White House.
Once again, silence = death.
How are we talking with our friends about Charlottesville? How are we engaging our parents and family about white supremacists, the KKK, and neo-Nazis? While Facebook and Twitter make it easy to "heart" and "angry face" our reactions to events like Charlottesville (and Boston, and Ferguson, and the next Ferguson), we need to go old school on this one. We need to talk face to face or over the phone to break the silence. Like coming out of the closet, the first few words might be terrifying and awkward, but there's a power in simply saying them.
Silence in this moment is more than complicity; it empowers white supremacists.
We need to not only speak out against these harmful actions as individuals, we need to talk with and engage those around us. The poet Audre Lorde once said: "I have come to believe over and over again that what is most important to me must be spoken, made verbal and shared, even at the risk of having it bruised or misunderstood." The fear of not saying the right thing or engaging in uncomfortable conversations should not hold us back. We've passed the point where we can afford that luxury.
As Republican leaders continue to roll out cruel and divisive policies, silence about the oppression and annihilation of people of color must be broken as a matter of survival.
Popular in the Community