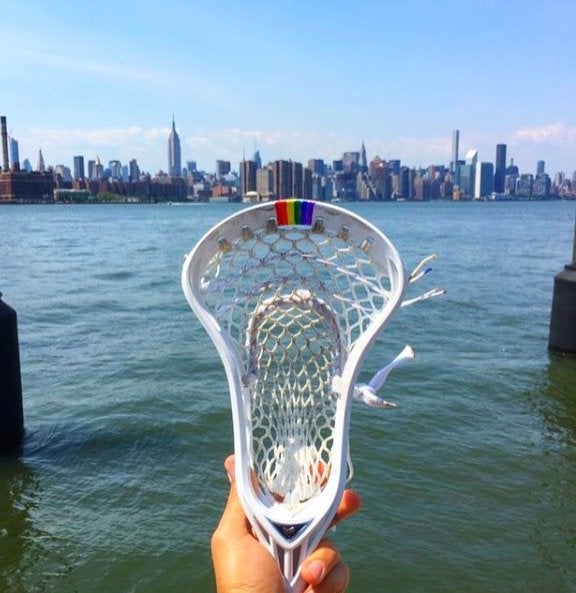 My name's Paul Rabil, and I'm a professional lacrosse player for the New York Lizards and the US Men's National Team. Over the course of my career, I've been fortunate to play on six championship teams across college, professional, and international competition.
"I'm lucky enough to have a job where I get to encourage change."
As my on-field journeys continue, off the field, I'm investing in media, business, and the pursuit of personal and intellectual growth. It's taken me a while to figure out why I'm so passionate about what I do. It's because I'm lucky enough to have a job where I get to encourage change. There are over one million youth lacrosse players in the United States, and my collective social media following consists of mostly young men and women.
I'm a straight male athlete, and ally to the LGBTQ community. My hope is that my story below can create more awareness, and more allies.
On Sunday June 25, I posted an image of my lacrosse stick to show support for Pride Day. I drew rainbow colors along a plastic lacrosse head and held it over a portrait of Manhattan. The following is a snapshot of what ensued on my Instagram page.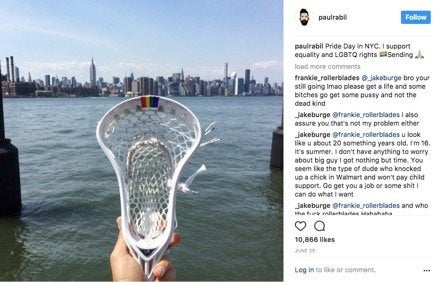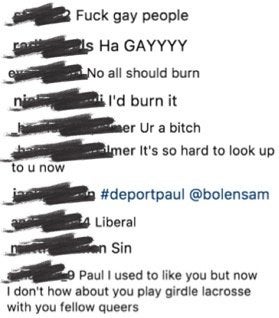 These are only some. The comments were hateful – and the volume was loud.
According to DoSomething.org, nearly 43 percent of kids are victim to cyber bullying; girls are twice as likely to be targeted; and all victims are two to nine times likely to commit suicide. Moreover, 90 percent of teens who have seen cyber bullying say they have ignored it.
When the Instagram commentary began, I started having flashbacks to my adolescent sports days, particularly the "locker room talk" that occurred. There was gender, racial, religious and sexual orientation epithets flung around, pseudo-protectively labeled as "trash talk" between opponents.
When I was younger, I was insecure, was emotionally reactive, and would occasionally participate in this form of "trash talk." It's unfair and hurtful. I deeply regret it.
"In men's sports culture there's so much pressure to be an alpha male – to be the toughest guy in the room."
In men's sports culture there's so much pressure to be an alpha male – to be the toughest guy in the room. I've learned toughness and trash talk are not mutually inclusive. You can be an assertive leader, work hard, standup for your teammates, and do so with integrity, courage, and empathy.
My personal experiences in locker rooms are supplemented by research. Many non-heteronormative behaviors are ridiculed in sports culture.
The NCAA suspects that university campuses are sources of specific concerns for queer-spectrum and trans-spectrum students and provides athletic departments with educational curriculum and LGBTQ resources.
In 2015, 'Out on the Fields' was the first international study, and the largest conducted on discrimination against LGBTQ participants in sports. Its findings uncovered that
one in four gay men said they had received verbal threats of harm or had been bullied while participating in sports, and around 80 percent of those surveyed said they had witnessed such discrimination.
The study also showed one in four gay men did not play youth sports, because they feared they would be criticized for their sexuality.
Verbal threats to LGBTQ athletes paired with fear-induced rejection in sports are unacceptable. Lindsey Hoskins, PhD, LCMFT, has worked with LGBTQ athletes in her practice, sharing that
during a time when young people are exploring themselves and how they fit into the world around them, it is imperative that their experiences in sports encourage them to find their authentic voices and aid them in discovering their potential.
Youth sports can and should be a safe, welcoming and active environment that encourages equality, diversity, hard work, discipline, leadership, camaraderie, learning how to win, and exploring ways to cope with loss.
Often, change begins with professional leadership.
Billie Jean King was a tennis champion and National Hall-of-Famer, winning 129 titles and 39 Grand Slams. Off the court, her advocacy for gender and LGBTQ equality helped make the sports world more open, equal, and accepting. Life Magazine labeled King one of the "100 Most Important Americans of the 20 Century."
The first LGBTQ professional team sport athletes to publicize their sexual orientation were Major League Soccer's Robbie Rogers, the NBA's Jason Collins, and the NFL's Michael Sam. WNBA star Brittney Griner was Nike's first openly gay athlete, and published a book about the peace she's found from being authentically herself. These athletes have taken an early leadership role in redefining social expectations of top-tier athletes.
While an undergraduate at Johns Hopkins, I remember reading about a Dartmouth lacrosse player named Andrew Goldstein, who as an upperclassman, revealed his homosexuality to his teammates. Prior to his disclosure, Andrew told ESPN he
would lie awake thinking (about his homosexuality), like, 'God, I can't live that life'…I could hide, I could do this, or I could just end it and no one would ever know.'
He was the first Division 1 lacrosse player to publicly come out. Later that season, Andrew (a goalie) scored a coast-to-coast goal – a rarity in and of itself – in the prestigious NCAA tournament. Today, with his PhD in Molecular Biology, Doctor Goldstein spends his time away from UCLA's Department of Urology mentoring other young, LGBTQ athletes.
Mentorship and public support are two ways we can promote equality and inclusion. Moreover, there are many people and organizations that dedicate their lives to the betterment of the LGBTQ community, and deserve endless gratitude for their service. If you are encouraged to stand in solidarity with the LGBTQ community, two organizations worth learning more about are Athlete's Ally and You Can Play.
Comprised of a growing community of athletes, coaches and fans who are committed to making sports inclusive to everyone, these organizations challenge the culture of locker rooms and spectator areas by working with gay and straight athletes to promote equality and respect. Brian Kitts, co-founder of You Can Play, said, "this is going to take the same effort as other civil rights causes have in the past, including race and gender issues."
If you see cyber bullying on any social media page, consider taking action. Here are three ways you can do that:
Write a supporting comment on your friend's post.
Join a dedicated Facebook page and submit examples of positive acts that promote a better culture of diversity and equality on and offline.
Report bullying to the internet service provider and block those accounts.
No matter your sexual orientation, gender, race, religious affiliation or political views, people are people, and love is love. Tearing others down is never helpful. Building others up, is.
Popular in the Community