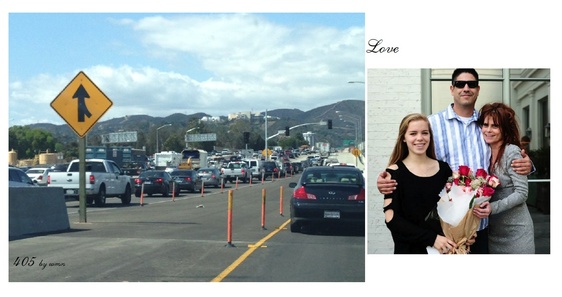 The most recent drama in the West Los Angeles community is awesome. It is a perfect picture of what is evolving in our immediate community but more importantly in our society as a whole. We all know that when drugs step into any situation it doesn't end well. And clearly on April 4, 2014 in a morning class at Santa Monica High School when drugs entered into a situation it didn't end well and the mess is huge. The good news about messes is that you get to clean them up and when you're cleaning them up you get to work things out and hopefully when you work things out you end up with a beautiful ending. If not a beautiful ending, certainly a new ending and new is good- complicated, but good.
Since the dissolving of informal juvenile courts in Southern California due to the severe budget cuts in 2012, which by the way again, is taking money away from "mental health family court, kids court, etc.", everything has gotten worse and a lot of things are a mess; all of us lost our partner and ally of structure and strength, the courts. Our schools are suffering, our communities are suffering, our programs are challenged, families are suffering, and saddest of all kids are suffering. In turn our entire social fabric is going to pay a huge price for budget cuts infiltrating the most precious of things, family and mental health.
And hey, I don't mean to be sarcastic, but I figure why not. Why didn't they, the California state, cut the budget on the development of the 405 freeway or the Santa Monica 10 freeway and whatever else "concrete" they could have cut instead of cutting the budget on family and the heart. Who can say? I don't know. I guess it's because driving people to the blink and the brink and one step short of drive by shootings, plus daily irritation, anger, and probably rage is more acceptable than facing the fact that there are extreme drug problems at schools, broken families, kids hurting, and more. Obviously, as always, mental health and heart, the things you cannot see, take the fall, they get robbed, and it's the worst and it doesn't make any sense anymore. It's almost funny when everyone acts surprised and shocked when something like April 4, 2014 happens and things go wrong, awry, or astray. What do they expect when something is ignored?
So April has been action packed and maybe a lot of the drama has nothing to do with anything we can pinpoint, but I tend to think that at least what happened at Santa Monica High School to that brave teacher Mark Black, and actually sadly indirectly to those students and their families, has a lot to do with what has been happening over the last two years in Southern California with all of the budget cuts. What I think is that it is all connected, even if it is distantly, it's correlated. Sad stories are always born out of a lack of acknowledgement of some piece of the story, some part of the puzzle, something important being excluded or ignored.
Before 2012 our programs were huge, they were daunting. They were basically so big that we could not help everybody, we could not absorb all of the families that needed help, even Didi Hirsch was overwhelmed, our community was saturated with need.
In 2013 we all knew things were getting worse and the Santa Monica Police Department knew it too.
In 2014, not one student showed up to our Santa Monica high school lunch time prevention education program and only one family showed up to our Angels at Risk primary prevention education program for parents and their kids on Monday nights. What is suspect is that while other schools continued to send families like they had for the past 17 years, Santa Monica High School simply reported that they didn't seem to have any busts or any problems at this point in time.
These Angels at Risk programs that we mentioned above were implemented specifically this year by the principal of Santa Monica High School, Eva Mayoral, and Dr. Mark Kelly of SMMUSD and me, of Angels at Risk. All of our intentions were great, all of our intentions were to help and all of our intentions were of big heart.
In regards to why nobody is participating in the drug and alcohol programs like they did for 17 years and in regards to what occurred on April 4, 2014, I can't say that there is a bad guy or someone to point the finger at. The problem is a broken system and what looks to be a seemingly splintered arrangement. Definitely, a disintegration of mental health support and not enough collaboration for this critical issue of drug and alcohol use and abuse.
Hopefully the reframing of Santa Monica High School will settle everything down and something new will be born. All of the chaos and inhumane behavior should start to dissipate and order will again be renewed and find its way.
Great Blessings often come in the most magnificent and profound styles. Maybe what happened that morning in a classroom at Santa Monica High School and maybe the closing of informal juvenile courts in 2012, and the ignoring of the drug and alcohol use and abuse will now turn into, just that, a really magnificent, profound and very great blessing.
May, officially the month of mental health on this year's calendar says silent no more. I guess this will be the month when this huge mess starts getting cleaned up and there is a new beautiful something born because it seems none of us are silent anymore.
-Up until 2012 and the 15-16 years before Southern California informal juveniles court were dissolved, the below quote best describes the overwhelming need for prevention education in our community.
"Unfortunately still, the overpopulation and demand for our programs is stunning. There are lines outside the classroom door and often not enough seats, with people standing in the back or sometimes sitting on the floor, we have up to 65 kids in one classroom, some of them sitting on the floor, and up to 50 parents in the other, some of them standing in the back. Every week, due to the excessive attendance, there are teens and parents whose' voices are not heard and whose' stories the counselors cannot address. The dramatic truth remains that this grand but neglected issue is pervasive throughout all communities."
-And in 2013, a year later, "What we knew then with the courts being ransacked and families being offered no help was that there would be a substantial movement in the mental health status of teenagers and their families. It has become a true story."
-And then in 2014, two radical things: One, April 4, 2014 at Santa Monica High School and two, the quest and movement to reinstate the juvenile courts by government officials because of the obvious, everyone knows on the Westside from Inglewood to Malibu that we have all lost our partner and ally that everybody comments everywhere in the community that all of us have lost our partner; all of us meaning the police, our schools, parents, programs and mostly the kids... all lost our partner and informal juvenile courts.
The timeline above clearly evidences our ideas about this drama detour continuum in April.
Calling all HuffPost superfans!
Sign up for membership to become a founding member and help shape HuffPost's next chapter