When I first laid eyes on Silent Sam, he made me uncomfortable. As I looked up at the Confederate soldier who stands watch over students in the upper quad of the University of North Carolina at Chapel Hill, I wondered if the university where I chose to spend four years of my life still secretly supported the legacy he represents.
The bronze statue doesn't just raise the question of whether Confederate imagery belongs in the public sphere, a debate that's swept the nation in the aftermath of a massacre at a historically black church in Charleston, South Carolina. When Silent Sam was dedicated in 1913, the university unambiguously tied itself to the persistent Southern ideal that slavery was right -- a simple function of racial order. Civil War veteran Julian Carr spoke at at the ceremony. Then the president of North Carolina's United Confederate Veterans, Carr applauded rebel soldiers for preserving "the very life of the Anglo-Saxon race in the South" and ensuring that the "the purest strain of the Anglo Saxon" lived on there. Carr concluded his speech with an anecdote:
One hundred yards from where we stand, less than ninety days perhaps after my return from Appomattox, I horse-whipped a negro wench until her skirts hung in shreds, because upon the streets of this quiet village she had publicly insulted and maligned a Southern lady, and then rushed for protection to these University buildings where was stationed a garrison of 100 Federal soldiers. I performed the pleasing duty in the immediate presence of the entire garrison, and for thirty nights afterward slept with a double-barrel shotgun under my head.
It is this tradition of white supremacy that gave birth to Silent Sam. And for more than a century, the university's administration has left the statue untouched, despite calls from the student body to add some much-needed context about how Carr's comments no longer represent the school's official position. Over the Fourth of July weekend, someone did what the UNC administration has consistently refused to do: They made the dispute over Silent Sam's true meaning impossible to ignore by spraypainting "BLACK LIVES MATTER," "KKK" and "MURDERER" on the statue's base.
Rick White, associate vice chancellor of communications and public affairs for the university, released a statement condemning the person who tagged the statue.
"We welcome all points of view, but damaging or defacing statues is not the way to go about it," he said after noting race is a painful topic for some.
It's incredibly easy to write this off as vandalism of public property, instead of acknowledging that Silent Sam has never stopped representing the belief that black people should have remained property. It's even easier to say the tags hit on unrelated issues -- though murder, the KKK anti-black terror campaign following the Civil War and the crux of the Black Lives Matter movement are intertwined. Perhaps easiest of all, however, is using the law to insist that black people shouldn't aggressively challenge the system of white supremacy that allows Silent Sam to stand undisturbed.
America's history of state-sanctioned racial oppression should not be forgotten, but it shouldn't be celebrated either. Confederate memorials are as endemic to the Southern landscape as poplar trees -- but just as strange fruit once hung from those trees, blood from that legacy is now on Silent Sam's hands, as well as UNC's. And instead of acknowledging why someone would deface a monument representative of a murderous legacy, the UNC administration opted for the safe, cowardly answer.
As an alumna and former campus reporter for The Daily Tar Heel, I can't say I'm shocked by such a response. Over the past few years, students have unsuccessfully pushed the UNC administration to contextualize Silent Sam as a product of the white supremacy movement of the 1910s.
The Real Silent Sam Coalition, a UNC student group, requested Sam be amended with a plaque referencing Carr's speech. But former university chancellor Holden Thorp wrote off the students' discomfort with Sam and decided it would be best to place the plaque in front of the Unsung Founders Monument -- a small table depicting the enslaved Africans who built the university as they hold up the table's top.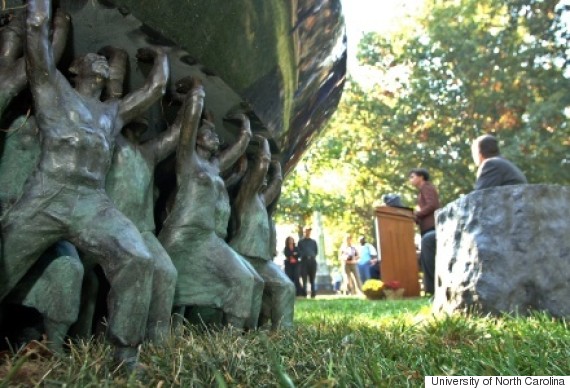 "I think it's important for us to know our own history and to be honest about it," former UNC chancellor Dr. James Moeser said about the university's 2005 decision to disclose its ties to slavery. "This university was built by enslaved and free Blacks. We need to be candid about that, acknowledge their contributions."
But what good is such acknowledgement if black students feel unwanted because the university still honors the racist alumni who condoned slavery and institutional racism -- and, some would argue, gives a nod to the institutions themselves by refusing to offer additional context to the monuments commemorating them?
It's time for UNC, like many other institutions, to directly confront this history and how it affects the university's current relationship with race and racism. Silent Sam was defaced because he represents a legacy of vandalizing and terrorizing black bodies. Eventually, someone was going to append their own context -- the university was certainly in no rush to do so.
Following the incident, the graffiti was covered with plastic. Another UNC alumna, and friend, Mariah Monsanto had a compelling take on this move:
By not contextualizing this history, the university is saying the concerns of black students matter less than tipping their hat to a tradition that fought to the death for the enslavement of those students' ancestors.
Carolina, if you honor diversity and having black students on campus as much as you claim to, I suggest you acknowledge our personhood and our pain. You are accountable for the well-being of your students -- current and former -- who do not feel welcomed in a place we call home. It's time to stop being stubborn and fully acknowledge how the administration's silence on the matter is helping perpetuate the violent history Sam was built upon.
Before You Go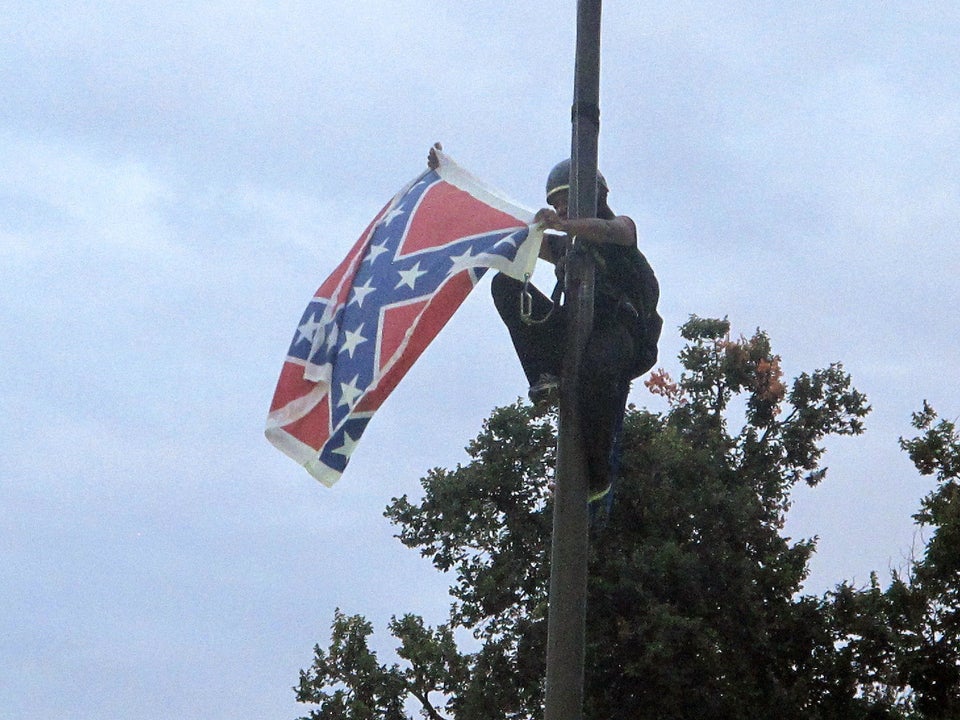 Confederate Flag
Popular in the Community