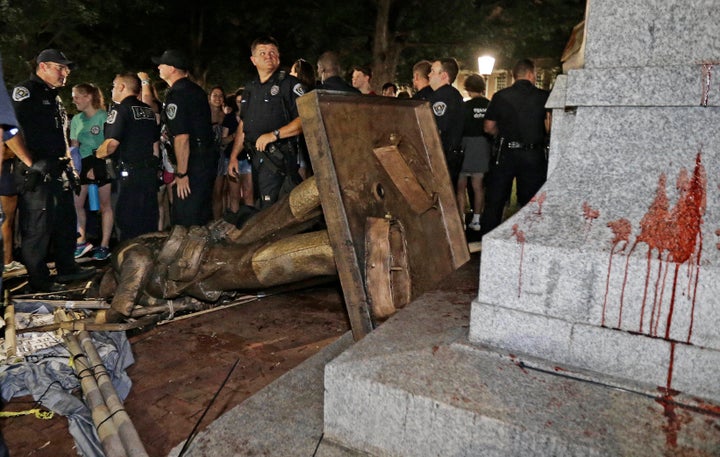 Months after a controversial Confederate statue was pulled from its pedestal by a crowd of protesting students at the University of North Carolina at Chapel Hill, fresh protests erupted on the school's campus on Monday in opposition to the university's plan to keep the statue on campus, housed in a new $5 million building.
WITN-TV estimated that a "couple hundred" students and community members took part in Monday night's protest. Videos shared on social media showed students and others chanting "Stand up, fight back!" and other slogans as they marched through downtown Chapel Hill before making their way onto the UNC campus.
Police officers, some of them in riot gear, surrounded a barricaded area where the Confederate statue, known as Silent Sam, had once stood. Videos shared on Twitter by the university's newspaper The Daily Tar Heel showed tensions mounting between protesters and police.
No major clashes or incidents of violence been reported by late Monday.
The Silent Sam monument, erected in 1913 and funded by the United Daughters of the Confederacy, was toppled by student protesters in August. The students used a rope to pull the statue to the ground.
"It's time to tear down Silent Sam. It's time to tear down UNC's institutional white supremacy," Maya Little, a UNC doctoral student who was arrested in April for dousing the statue with red ink and her own blood, told the crowd at one point during Monday's rally.
After Silent Sam's toppling, UNC, which had long refused to remove or relocate the monument despite years of protests, labeled the protesters' actions "dangerous" and a form of vandalism.
"While we respect that protesters have the right to demonstrate, they do not have the right to damage state property," UNC leaders said in an August statement, adding: "We do not support lawlessness."
"The Center would be in a new, free-standing building with state-of-the-art security and outstanding programming," said a statement issued by the office of Chancellor Carol Folt.
Folt's office described the plan as the "best legal option" for the school and one that would protect public safety while "preserving the monument and its history." As the Raleigh News & Observer noted, a 2015 state law prohibits the removal of historic objects of remembrance on state property except in cases of preservation or construction, and it limits options for relocation.
"We have a long and important history to tell, and the Center will offer us an excellent opportunity to tell it all," Folt's office said of the plan. "We are the only public university to have experienced our nation's history from the start ― war, slavery, Jim Crow laws, suffrage, civil unrest, as well as hope, freedom, emancipation, civil rights, opportunity, access, learning, and great discoveries fostered here. All of these subjects will be covered in the proposed Center."
Many students, however, lambasted the plan as evidence of the university's continued tolerance for racism. Some also criticized the school for proposing such a hefty investment given rising student fees and tuition rates, reported WITN.
"They are building a safe space for white supremacy and forcing us to pay for it," several student groups, including UNC Black Congress and Defend UNC, said in a statement.
According to the News & Observer, the UNC system's Board of Governors and the North Carolina Historical Commission will need to approve the proposal for the statue's relocation before it can go ahead. The Board of Governors is scheduled to review the plan on Dec. 14.
Popular in the Community