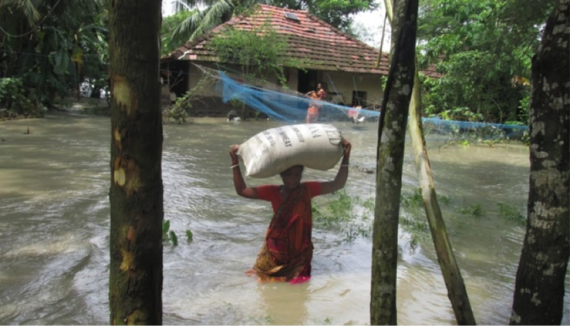 Photo: A resident of Sagar island is able to save just one bag of wheat as she is forced out of her home by the high tide.
Tarun Das, a resident of Silpara village of Sagar island in West Bengal, and his family are now living in a temporary shed at the backyard of his house after staying in a flood shelter for about three months because his house "is no more" after an unprecedented flood in mid-July.
Like Das, thousands in Sagar are still living in temporarily refurbished parts of their damage­­­­­­d houses as they do not have any place to run away to they also need to look after whatever livestock is still left. Others are either living in relatives' homes or have left the island on the mouth of the Ganga.
The disaster has hardly been highlighted by government agencies or the media, possibly because no one died. It has not even been acknowledged as a disaster by authorities. Experts point out that it is quite ironic that while Maldives, an island country around 300 square kilometers, is in the global spotlight for potential climate change impacts especially from sea level rise, the recent disaster in Sagar island, slightly smaller with around 225 square kilometers, hardly attracted even local attention when a rising Bay of Bengal inflicted the "unprecedented" flood on the island considered holy by Hindus.
The disaster struck Sagar island, part of Sunderbans delta and about 100 km downstream of Kolkata, during the night of July 12 and early morning next day, forcing almost 30,000 to become homeless. Experts describe it as a tell-tale impact of changing climate especially rising sea level. Sunderbans is a global climate change hotspot.
Locals confirm that there was no cyclone, no major rainfall and definitely no prediction. But suddenly during a routine high tide the river Muriganga swelled and jumped -- and also breached -- the mud embankment and flooded nearly 30 square kilometers covering around 14 villages within Muriganga I block located in the eastern side of Sagar island. It caused huge devastation. No one remembers such a wave. Mousuni Island, in Namkhana, was also affected but the damage was more pronounced in Sagar. The affected areas are less than 20 km upstream of Muriganga's confluence with sea.
"During that fateful night, suddenly the saline high tidal water jumped over the river bank and flooded many villages on the eastern bank of Sagar island triggering unprecedented damage in the area," said Amalesh Mishra of the NGO Paribesh Unnayan Parisad which has been working in the area for close to one and a half decades. Mishra claimed that the water rushed in by both jumping the embankments as well as breaching it at a number of points. Local authorities confirmed that about five kilometers of the embankment was vulnerable and breached at various points.
"I have never seen such high level of water in the river," Das told indiaclimatedialogue.net. "The river jumped over the 10-foot-high embankment." "We have never seen anything like this before," echoed Madan Pal, another resident.
"Suddenly the saline water gushed in damaging thousands of houses, inundating a vast spread of agricultural fields, destroying wide-ranging betel plantations and filling in the freshwater ponds. Lives may not be lost but thousands of livelihoods were killed instantly," said Chhaya Pradhan, a Panchayat member from the area.
Agriculture along with betel production and fishery are the main livelihoods in the area and all have taken a tremendous beating due to the sudden flood. "We have found that the not only the salinity level has increased in the soil but it has also turned alkaline. These factors will perhaps affect local agriculture for a number of years," said Sudipta Bhattacharya from another NGO called Specialised and Advanced Foundation of Education (SAFE).
Official reports corroborate the locals.
"Due to sudden rise in water level causing inundation under Sagar Development Block from 13.07.2014 to 17.07.2014 some GPs (gram panchayats) namely Muriganga-I, Dhaspara, Sumatinagar-II, Muriganga-II, Gangasagar, Dhablar were badly affected...near about 30,000 people are affected and they took to temporary relief camps," says the report of Block Development Office of Sagar, a copy of which is with indiaclimatedialogue.net.
The initial calculated damage is staggering.
Official reports say over 25,000 people had to take shelter in camps, 327 hectares of farmland were destroyed, 108 hectares of betel vine land was devastated and 5,100 freshwater ponds were destroyed. The reports further confirmed that 4,500 houses were either fully or partially damaged and 2,500 cattle were either dead or lost. Unofficially the damage is manifold. "The loss must be in tune of Rs 100 crores ($16 million)," said Mishra. Local authorities however received far less to distribute among the affected people.
According to experts changing climate was to blame for the flood. They warn that July 12 was only a trailer of things to come in the near future.
"The sea level rise in the area is around 8 mm per year, which is not only highest in the country but also one of the highest in Asia and more than double the global average of 3.2 mm per year," observed Sugata Hazra, a professor of oceanography and a climate change expert from Jadavpur University in Kolkata. "Add to that, an annual subsidence of 4 mm and you are sitting on a volcano. It is only natural that Sagar and Sunderbans will have to face such climate change triggered inundation more frequently."
"Sunderbans (within which Sagar falls) has long been identified globally as a climate change hotspot and recent sudden inundation in Sagar without any prior forecast can be linked with changing climate," agreed Anurag Danda, in charge of Sunderbans division in WWF-India.
Over the past century, the burning of fossil fuels and other human and natural activities has released lot of heat trapping gases (called greenhouse gases) into the atmosphere; over 80% of that has been absorbed by oceans. This has led to huge thermal expansion and sea level rise. The warming climate has also triggered melting of glaciers and polar ice cap adding further water to sea and causing it to rise. Incidentally the area -- Sunderbans and its immediate neighborhood - has been identified in a series of international reports including the recently published Intergovernmental Panel on Climate Change report as a "climate hotspot".
The climate action plan of the West Bengal government also warned of rising sea level in the area and predicted that even a 25-foot water surge was possible.
"A 12 feet surge has devastated Sagar, earlier a 110 km strong Cyclone Aila had all but destroyed south Bengal including Kolkata. Much stronger climate events are predicted for the area. I do not know what can happen if truly such events hit the area," Hazra told indiaclimatedialogue.net.
The experts observed that the state government has not yet taken any significant steps to counter climate inflicted calamities. "There has been no awareness at all. The money for embankment has gone back; there has been no effort on either adaptation or mitigation. The Sagar event is just a small reminder of what can happen," said one expert.
In response, Javed Khan, the state's minister in charge of disaster management, said, "We are planning to soon organize an international level meeting to finalize our roadmap for preparing and countering events triggered by climate change."
Calling all HuffPost superfans!
Sign up for membership to become a founding member and help shape HuffPost's next chapter