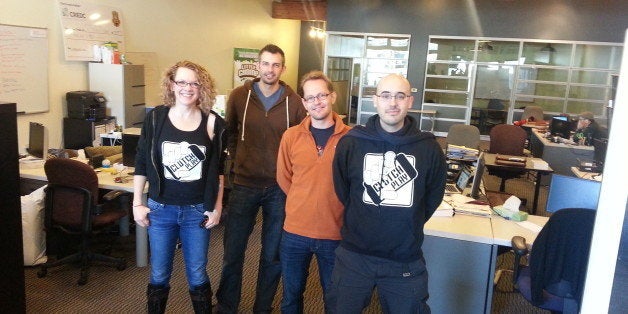 PORTLAND, Ore. -- Until they moved into their office on the ground floor of a former factory in an industrial zone known as Produce Row, the four founding members of a startup video game developer suffered a gnawing sense that they were a company in name only.
They had all previously worked together in a decked-out loft space on the downtown side of the Willamette River, in a hipster-yuppie enclave rife with fair trade espresso bars and artisanal chocolatiers. But their former company, a game studio, was purchased by a California firm, rolled into a giant Japanese gaming conglomerate, and then shut down. It was early 2012, and they were all suddenly jobless. So the group hatched a plan to start their own company: ClutchPlay LLC.
During the first year, they worked from their homes. The lack of office space complicated operations and undermined their sense that they were really doing what they were ostensibly doing: building a business.
The team used Skype to fine-tune designs for new games and pursue fixes to problems. But without being able to point to the screen and physically indicate what element they were discussing, communication proved frustrating and prone to time-consuming misunderstanding. Isolated in their homes, they lacked the sorts of spontaneous exchanges that can provoke ideas. What was supposed to be a shared creative endeavor often felt like a futile exercise in logistics.
"I think back, and I wonder how we were able to get it done," says Jonathan Guest, 36, one of the four ClutchPlay LLC founders. "It's so much easier to be in the same room."
They are in the same room now by dint of having won a new competition known as the Startup PDX Challenge. The brainchild of the Portland Development Commission -- a quasi-public agency chartered to attract investment and generate jobs -- the contest delivered a year's worth of free office space, donated furniture, a $10,000 stipend, and free legal, accounting and human relations services.
The existence of the competition and the dose of entrepreneurial energy it has injected into Produce Row underscores the aggressive role city governments are increasingly playing in catalyzing the creation of startups in a bid to generate quality jobs.
Portland's latest campaign to accelerate the local technology scene -- now known, perhaps inevitably, as Silicon Forest -- kicked off in February when the development commission put out invitations for young companies to join the Startup PDX Challenge.
In May, the commission announced the six winners. The list included CoPatient, which combs through medical bills in pursuit of errors and overcharges; Safi Water Works, which is developing a bicycle-powered water treatment system for the developing world; Walker Tracker, which customizes programs designed to encourage walking; OnTheGo Platforms, which builds apps for Google Glass; and Alum.ni Inc., an Israeli company that later received funding and moved to the Bay Area, to be replaced by Seamus Golf, which makes hand-crafted woolen golf accessories.
This is how a modest, 2,900-square-foot space in a building long ago used to assemble cars, later occupied by a rug dealership, and most recently employed as a campaign field office by Portland's current mayor came to be full of young entrepreneurs wearing jeans, fleece pullovers and hoodies.
On a recent morning, a dozen people sat in the space, peering at computer screens, scribbling on white boards, studying their prototype products and huddling in a windowless conference room as they plotted the future of their fledgling companies. Collectively, they represent the fruits of a city effort to update Portland's economy as it adjusts to globalization and technological change. They're also a testament to the difficult process of evolving an idea into a going concern.
"The big thing is just feeling like a real company," says Bernie Rissmiller, 34, one of the ClutchPlay founders. "Being four people working from home, it was like we were just in the ether. Having a space where we're interacting with people as a company and just being chosen for this is a validation of our business plan."
FROM FRUIT TO VIDEO GAMES
Despite its reputation as a bohemian paradise for perpetually young people inclined to lie around in flannel shirts while awaiting the next farm-to-table meal, Portland is in reality a relatively traditional Pacific Northwest economy. It remains heavily dependent on exports for its sustenance. More than 40 percent of those exports are computer chips forged locally -- Intel has a major presence -- and destined for electronics factories in Asia. This is the sort of commerce susceptible to the ebbs and flows of global demand, and the ebbs have proven unpleasant: The local unemployment rate peaked at 11.3 percent in June 2009, amid a punishing global downturn, before dropping back down near 7 percent in recent months.
"We're trying to diversify," says Patrick Quinton, executive director of the Portland Development Commission. "We've definitely been pushing ourselves to think of ways to generate more buzz around startups and tech in Portland."
Ask Quinton how he and his colleagues dreamed up plans for what became the PDX Challenge, and he does not play coy.
The contest was largely modeled on a competition run by MassChallenge, a Boston-based nonprofit that this year plans to award some $1.5 million in seed capital to promising startup companies.
Portland added a uniquely local element. It would to use its inaugural contest to accelerate the transformation of Produce Row, a key new area in the city's relentless refashioning.
Hugging the east bank of the Willamette and threaded by railroad tracks, the area took shape (along with its name) as an offloading point for fruits and vegetables hauled in from inland farm country. In later decades, Produce Row evolved into a hub of warehouses holding tiles, rubber, plumbing supplies and glass. Today, the warehouses remain, though their function tilts increasingly toward Portland's modern-day incarnation as an icon of the culinary pleasures. Microbreweries have established themselves here, alongside restaurant equipment merchants and a processor of high-end meat products. Stumptown Coffee, a local brand with a major following, is headquartered in Produce Row.
This sort of evolution has become a familiar thread of the American story. From Detroit to Oakland, former factories and warehouses within the city core have been turned into condominiums and eateries, their plain brick walls and exposed plumbing retained as urban chic accents.
Portland, a metropolitan area of 2.2 million people, stands out as a particularly dedicated practitioner of this variety of urban re-imagination. The efforts are central to the city's work to attract investment and generate employment.
As most western American cities have over the decades embraced car culture, adding freeways to exploit access to abundant land as cheap housing stock, Portland has famously axed planned highway expansions while emphasizing public transportation and pedestrian walkways. In the early 1970s, Portland adopted one of the toughest urban growth boundaries in the nation, limiting development beyond the urban core and effectively preempting the suburban sprawl that has devoured the outer rings of major metropolises like Los Angeles, Phoenix and Atlanta. Developers and rural landowners protested, but the result was precisely the sort of development favored by the urban planning set: densely clustered, laced with bicycle lanes, and endowed with a wealth of parks and landscaped walkways. This sort of living has attracted people -- and their money -- from California, New York and elsewhere.
In recent years, the Pearl District, a cluster of old warehouses in the city's northwest, has been reborn as a hive of glass-fronted condos, designer home-furnishing outlets, boutiques and wine bars. In neighborhoods once written off as dilapidated or rife with crime, moneyed professionals have descended, renovating Victorian homes on leafy streets.
Now, city leaders have set their sites on Produce Row. They plan for it to remain an industrial sanctuary, with housing confined to the periphery. But the nature of industry now tends toward the local technology scene. The commission sought to harness the startup contest as a way to work towards two goals at once: boosting startups and elevating Produce Row.
"We wanted to specifically get the word out about the district outside of Portland," Quinton says.
For Portland, nurturing a startup culture may depend upon emphasizing the city as a pleasing place to live and work, in order to compensate for some missing elements.
Throughout the country, technology startups tend to be clustered around world-class research universities that spawn entrepreneurial undertakings and then feed them with breakthroughs and talented recruits. Researchers at Stanford and the University of California, Berkeley, have long stocked Silicon Valley with talent and ideas. The University of North Carolina-Chapel Hill, Duke, and Wake Forest have played a foundational role in the state's thriving biotechnology industry, much as M.I.T. has crystallized growth in the Boston area.
Portland has Oregon Health Sciences University, a respected institution, but it is narrowly focused on its area of expertise. Beyond that, no campus fits the bill. So city leaders have found themselves having to work harder to catalyze startup culture. In essence, they need to sell the community as a desirable place to wake up in the morning, and draw a contrast to the other places startups tend to proliferate.
Quinton, the development commission chief, cannot resist an implicit dig at northern California, a place now known just as much for its temperate weather as it is for epic traffic jams and seven-figure prices for modest homes.
"Why not start a business in a place you'd really like to live as opposed to Silicon Valley?" Quinton says (assiduously avoiding the fact that it rains approximately 400 days a year in his town). "Everybody gets the Portland story."
As the commission designed the contest, it had to settle one question: Where in Produce Row would the new companies land?
Commission staff began hunting for a space, one with room for all six winners. They settled on the ground floor of the two-story former factory on a major thoroughfare, Grand Avenue. Aside from its previous life as a campaign office and before that a rug dealership, it had been vacant for most of the previous two decades.
The building's owner, Lori Livingston, immediately saw the merits of the proposed deal: The commission would furnish $100,000 in renovations -- carpeting, new tile, a little kitchen space, and new bathrooms -- in exchange for her agreeing to a year's worth of free rent.
"I like having those startups down there," Livingston says. "Maybe one of them will wind up being a tenant for us long-term. If not, we're left with an improved space."
Livingston was included on the selection committee that picked the winners. She joined two local venture capitalists, a founder of a Portland startup incubator, and a partner from a Portland seed fund that takes stakes in early-stage companies and provides mentoring.
Once the commission began inviting applications, measured expectations for participation were quickly exceeded.
"We were thinking maybe 100," says Katherine Krajnak, the contest's project manager. "We got 240."
Most of the applicants were already in Portland. But about 20 came from other states -- including California, New York, Washington, Connecticut and Utah.
The winners moved in on July 1. By the commission's reckoning, it remains too early to assess the program's success. What happens to these companies a year out is what matters. Will they unleash successful products, hire new employees, and add fresh paychecks to the Portland economy?
But in the estimation of the startups themselves, the contest has already yielded positive results. The companies are benefiting from simply being in one shared space and having access to financial and legal expertise.
Amy Dallas, who oversees ClutchPlay's business development, had been mulling whether to seek funding for the new company. Winning the contest put her in touch with an experienced lawyer at a major local firm who bluntly laid out the pros and cons. Yes, extra cash can be useful for obvious reasons, but outside investors bring pressures to succeed or fail quickly. They may want to realize their gains too swiftly and find an exit, with their immediate interests potentially conflicting with the company's long-term aims. The investors might press to release new games too quickly, before the designers are fully satisfied that they have achieved the best gaming experience.
"Once you get funding, it's no longer your own company," Dallas says. "It was really useful to be able to have a totally candid conversation with someone who has faced all these issues before. I don't think we need funding right now. For us, continuing to have autonomy was really important."
ClutchPlay could by now have afforded its own office space. After losing their last jobs, the four founders plowed everything they had into launching the new company -- their severance, their savings, and their so-called self employment assistance, an Oregon program that provides unemployment benefits to people who are not looking for work but rather seeking to start their own business. Last fall, they released their first game, Little Chomp, a sort of cross between Angry Birds and the children's classic book The Very Hungry Caterpillar. The title was soon spotlighted by a prestigious video game venue, the Pax East Indie Showcase. The partners have since been flooded with contract work from other gaming studios, bringing in some $900,000 this year alone, they say. They figure they have enough on hand to keep operating solo for another year.
The ClutchPlay founders say building their business in a shared space is beneficial, just by virtue of working in close proximity with others facing similar early-stage challenges.
"You hear people's pitches over and over again, and, just by osmosis, it helps," says John Worsley, 35, another ClutchPlay founder. On this morning, he is working on a new title they are calling the "skull game," in which a skeleton wanders around trying to recover his treasure. Eight empty cans of Red Bull are lined up on his desk, alongside three unopened ones.
On the other side of the room, Katie Vahle, 36, one of two co-founders of CoPatient, tends to her burgeoning database of medical records. It's the key asset in the company's arsenal.
Hiring people to handle medical billing and pursue potential savings is not new, but the idea behind CoPatient is to crowdsource the data: Ordinary people are invited to scan their bills and send them in. With the information, CoPatient can amass a picture of what medical procedures are covered from community to community, and see which procedures are covered by insurance companies and at what rates of reimbursement.
The company farms out individual cases to current and former medical professionals who are familiar with different aspects of care, and the professionals seek out errors and overcharges. While CoPatient does not charge a fee, it hangs on to 30 percent of whatever savings it finds, and kicks out a portion to the advocates who work on the cases.
"We want to be the trusted health care adviser to consumers," Vahle says. "We essentially want to take business away from the collection agents."
Vahle did not lack for resources when she applied for the startup contest. With an M.B.A. from Wharton and a background in biotechnology and health care management, she speaks with the polished confidence of someone well-versed in her subject -- not arrogant, but fully accustomed to being the authority. Vahle and her co-founder began CoPatient in Boston, where both had worked in the corporate ranks of health care management. They moved to Portland a year ago, when a local insurance company extended investment and offered office space.
But cubicle culture did not suit them. They felt isolated amid a sea of people with clearly delineated roles helping a large insurance company run its business. The startup challenge offered a way in to a different experience.
"This was a great way to be around other startups," Vahle says.
She values the monthly roundtables with her counterparts, where they discuss how to get their websites higher in Google searches, which technologies are useful in building their products, and how to tap into new markets.
No more than 20 feet from her desk, the Walker Tracker team has been selling their product to corporate wellness programs, a channel Vahle is pursuing as well.
"It's the knowing you're not alone," Vahle says. "When you leave corporate America and leave a steady paycheck and health benefits, it's just a little unsettling, and it's good to be around other people in the same situation. It reminds you that you need to be scrappy, that you need to push the boundaries."
This story has been updated to reflect Safi Water Works' name change. This story appears in Issue 74 of our weekly iPad magazine, Huffington, available Friday, Nov. 8 in the iTunes App store.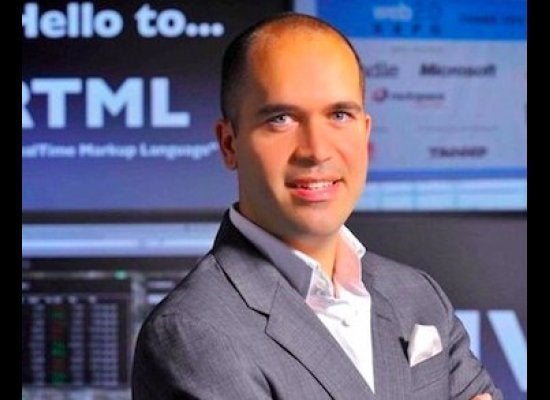 12 Most Valuable Startups