At 19 percent of the U.S. population, people with disabilities represent the largest minority group in the country, but basic technologies are often inaccessible to them. Despite an increasing number of tools, a lack of industry-wide expertise in accessibility development still stands as a barrier to creating technology everyone can truly use.
As we near the 25th anniversary of the landmark Americans with Disabilities Act (ADA), which prohibits discrimination based on physical or mental disability, the giants of Silicon Valley are stepping up their commitment to accessible tech.
Companies like Facebook, Microsoft, Dropbox, Yahoo and LinkedIn are banding together with disability advocates and academic institutions to launch the Teaching Accessibility initiative. The project, announced Thursday, seeks to boost accessibility in tech by teaching engineers, designers and researchers "to think and build inclusively."
We believe that technology is integral to our culture, our society and our workplace and should be usable by everyone, regardless of their abilities or disabilities. While there has been progress in a variety of applications, standards and regulations, accessibility is still not systemic in the development of new and emerging technologies.

Today, knowledge of accessible development is limited to a handful of domain experts. To reach the goal of making technology accessible to everyone, we must broaden expertise across industry. Accessibility must become mainstream.
In order to build the foundation for accessible technology, schools like Stanford University and Carnegie Mellon University will make sure accessibility and universal design principles are included in the academic curricula for computer science and design courses.
In addition, the tech companies announced they will develop "standardized job descriptions that include preference for accessibility knowledge." The goal is to focus recruitment efforts on candidates who have an understanding of accessibility issues, and to provide them with "on the job training" in product and service development.
"Only then will technology reach its true potential for connecting and enabling everyone in the world," the companies said in a statement.
The American Association of People with Disabilities, the nation's largest disability rights organization, commended the joint initiative. "Increasing awareness and accessibility learning through core education, academic leadership, learning tools, industry initiatives, and partnerships with disability organizations will further enable graduates in relevant disciplines to enter the workforce and begin creating future technologies that are truly inclusive," Eva LaManna, policy manager for AAPD, said in a statement.
The White House is currently reviewing rules for how the Americans With Disabilities Act -- which took effect July 26, 1990 -- would apply to websites, apps or social media. Currently, tech companies are not required to make all their products accessible, though Silicon Valley giants have been vocal about their commitment to accessibility. Larry Goldberg, director of accessible media at Yahoo, put it best in a recent blog post:
While making all tech products accessible is not mandated by law, Yahoo and our peers believe that it is simply the right thing to do. We want to make sure that our users have equal access to the services we provide, whether or not they're disabled.
One name was missing from the roster of companies joining the Teaching Accessibility initiative: Apple.
A spokesperson for the iPhone maker said that its engineers receive training in the development and implementation of accessibility features. The company also equips its mobile devices with free assistive technologies such as a screen reader and magnifier, dictation support and hearing aids.
In observance of the Americans With Disabilities Act anniversary, Apple unveiled a new section in the App Store to spotlight its selection of third-party apps that allow people with disabilities to access iPhones and other Apple devices more comfortably. This Accessibility page is broken down into sections, featuring apps dedicated to vision, hearing, speech, learning and literacy, and physical and motor skills.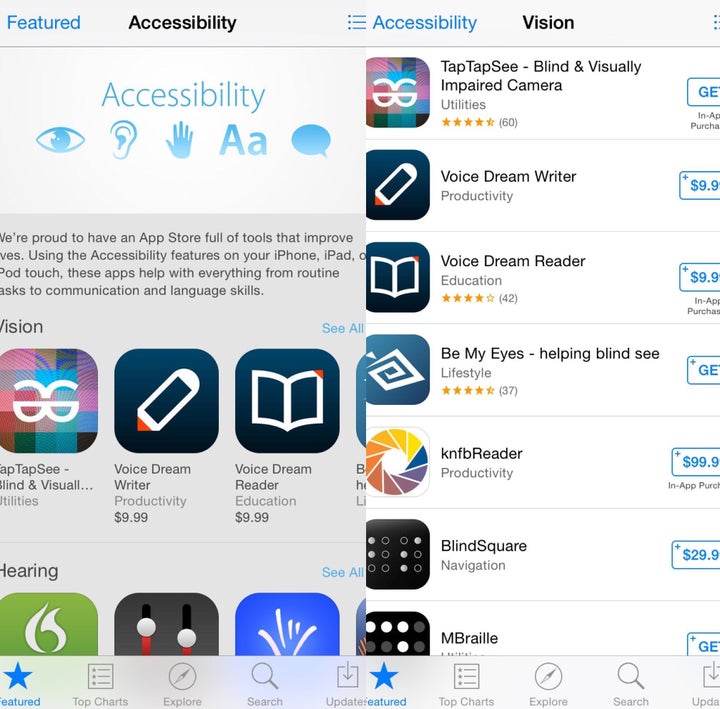 Related
Popular in the Community