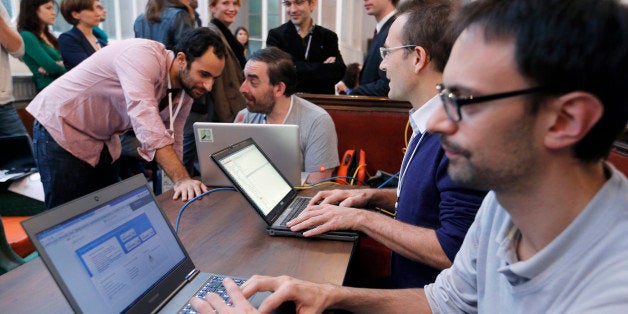 WASHINGTON -- A pair of young conservative tech entrepreneurs who set out in 2013 to connect conservatives in Silicon Valley aim to put their fledgling organization on the map this summer with a three-day conference that is the first of its kind.
Since 2006, progressives have targeted and cultivated digital activists and the tech community with the Netroots Nation and Roots Camp conferences. Conservatives launched Right Online in 2008 to do some of the same things. But they have not had any event aimed squarely at technologists, those who work in the industry and build digital tools.
This year, conservatives are finally getting around to doing that. Aaron Ginn, 26, and Garrett Johnson, 29, both work full time at tech startups. Ginn worked for several months on Mitt Romney's presidential campaign. In their spare time, Ginn and Johnson run Lincoln Labs, dedicated solely to connecting conservative and libertarian technologists, with an emphasis on Silicon Valley.
It's their attempt to catch Democrats in the new culture war: The battle to cultivate and build a network of young, tech-savvy digital natives who may be open to working for conservative or libertarian causes or candidates.
Lincoln Labs will host a three-day conference in San Francisco from July 18 to July 20. Johnson said the conference, called Reboot, will be most like Netroots, because it is " focused on the decision-makers, thought leaders and builders."
A big focus of Lincoln Labs is on recruiting tech talent, and Reboot will be built around a hackathon. The organization held a series of hackathons last year as standalone events in San Francisco, Miami, Chicago and at Microsoft headquarters in Redmond, Washington. Entrants in this summer's hackathon will be presented with a real-world problem or challenge, and will seek to build a piece of technology to try to address the issue, in a 24-hour period. The winner of the competition will receive a $10,000 prize, Johnson said.
The hackathon will be held at the offices of Causes, an online fundraising and organizing platform founded by Sean Parker and Joe Green. The judges include Evan Baehr, co-founder of Outbox; Jessica Dahl, director of campaigns at Causes; Katie Biber, former general counsel on the Romney campaign; John Burke, co-founder of True Ventures; and Paul Martino, managing director at Bullpen Capital.
"The number one goal is to put on a real technology conference," Johnson said. "Real software will be built. This software will be solving real problems."
The aim also is to build relationships and make connections in an industry that has generally been hostile or indifferent to conservatives and their ideas. When Johnson and Ginn started their effort, it was "really informal, trying to build a community of libertarian and conservatives who work in or were interested in technology," Johnson said.
"Aaron and I knew there were others out there, but we didn't know each other very well. There wasn't a meet up group. So we decided to create one," Johnson said.
It's a long way from the firepower that the left has for years brought to these types of events. But if Republicans and conservatives want to match Democrats in creating a farm system of talented data and tech nerds who have an ability to apply their knowledge and technical skills to politics, it's a start.
REAL LIFE. REAL NEWS. REAL VOICES.
Help us tell more of the stories that matter from voices that too often remain unheard.
BEFORE YOU GO
PHOTO GALLERY
CPAC 'All-Stars' Have A Way With Words