Silicon Valley Decoded- Teaching the lingo of tech business so EVERYONE is in the know. Each week, I'll dissect a current video news clip related to business and technology, explaining the terms you often hear from top execs, sharing links for you to further explore and asking reflection questions to deepen your understanding of the business side of technology.
Today, we're discussing a Bloomberg West news short on the 2016 Tech IPO Market. The big question? Will I have trouble getting my Angry Italian Mom Translator software company funded this year because investors are skittish? Should I get a bunch of users first, obtain a high valuation and go right to IPO? Let's see what Bloomberg's Cory Johnson says in his interview with chairman and co-founder of Sageworks, Brian Hamilton.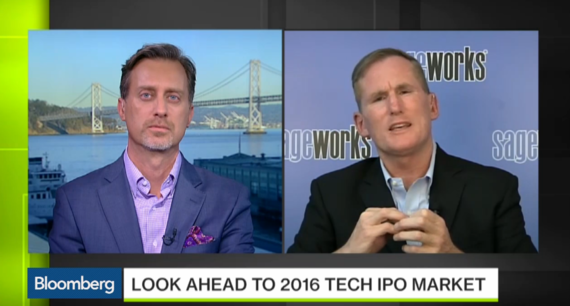 Watch Video HERE.
Terms in order of appearance on the video.
Venture Investor. A venture capitalist (VC) is an investor providing cash, typically, to startups in exchange for a piece of the company. Here's a good article that explains difference between venture capital and private equity (PE) funding.
Correction in the Market happens when stock prices decline to stop an upward trend. The amount of the decline is at least 10 percent. USA Today's, 6 things you should know about market correction, is a good read. Note that when the market corrects it usually sets back IPOs by about 90 days.
Unicorns are companies that have skyrocketed to valuations of $1 billion or higher, based mostly on fundraising. Here's the Unicorn list by Fortune.
Positive Cash Flow simply means cash coming into the business exceeds cash going out of the business during the same period. Here's an explanation of cash flow statement in under 4 minutes from Khan Academy.
Key points of the interview.
Unicorn companies are being discussed due to concerns there may be another tech bubble burst like the dot-com one we had around the year 2000. Do you remember some of those companies that were originally valued high then later went bankrupt or acquired for almost nothing? For more details take a look at, 10 big dot.com flops, by CNN Money.
Valuations and performance. Many start-ups over the last couple of years have received high valuations but may be underperforming. This means investment money could tighten up in 2016 resulting in start-ups pursuing IPOs for more funding.
IPO market is still an attractive alternative. Corey Johnson says in the clip,
Particularly because we've seen these offerings where you see them selling so little in terms of number of shares ... which gives them a little bump so they can go out with a secondary and actually cash out.
Small initial IPOs allow start-ups to issue new stock through a secondary public offering (SPO). They can then raise capital they may need for growth as an alternate to venture capital (VC) or private equity (PE) funding. You can check out current SPOs on NASDAQ here.
2016 Tech IPO watch list. Nutanix (simplifies enterprise datacenter infrastructure by integrating server and storage resources into a turnkey platform); Twilio (cloud communications platform for building voice & messaging applications on an API built for global scale); Uber (app based private car service).
So, do you believe 2016 is the year of the tech IPO return and that VCs will finally tighten their belt? Will my mom become angrier because I won't be able to get her app funded? Who do you believe will IPO besides those mentioned in the video? SpaceX? Cloudera? Spotify? Pinterest?
You don't have to be a financial analyst to discuss tech business topics. Next time you're hanging around the water cooler with your colleagues talk about your guesstimate for the next market correction. Who knows? Your CEO might just walk by and be impressed!
Questions or comments? Please feel free to add them to this blog or email me at mpopo18@gmail.com.
REAL LIFE. REAL NEWS. REAL VOICES.
Help us tell more of the stories that matter from voices that too often remain unheard.