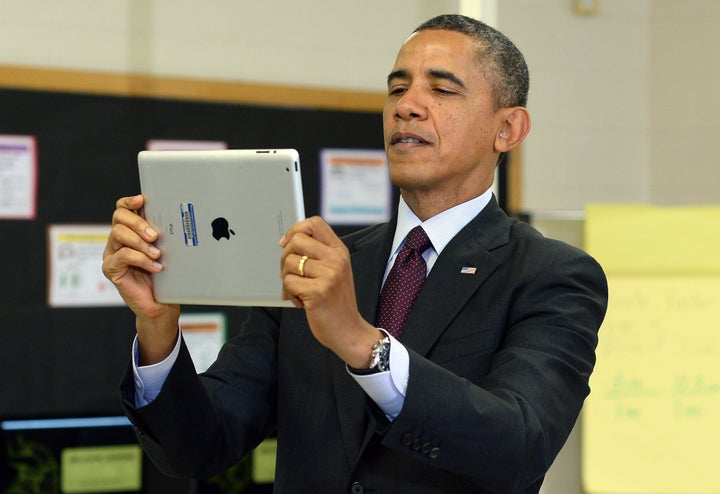 It is an industry known as an overwhelmingly white, male bastion — one that has been slow to hire African-Americans, Hispanics and women. It is also an industry that has pushed policies in Washington that some major labor leaders have warned will stifle job growth. And it is an industry that has been accused of labor practices that undercut workers.
In short, Silicon Valley, long celebrated as forward-thinking, is increasingly seen – particularly by bedrock Democratic constituencies – as turning back the clock on some issues.
Yet despite all this, the Democratic Party establishment in Washington, starting with President Obama's administration, has established an unusually close relationship with the sector's rich and powerful companies — one that has benefited the two sides immensely, both in financial and political terms.
The ties between top Democrats and the high-tech industry are unmistakable, with the industry pumping millions of dollars into the campaign coffers of Democrats, at the same time that a revolving door brings major industry players into key positions within the Obama administration — and vice versa.
Larry Cohen, the former president of the Communications Workers of America, sharply questioned whether some Democrats are losing their way ideologically as they attempt to foster a close relationship with an industry that has in ways undermined core Democratic constituencies like labor.
"Whether you're talking about Obama or Hillary or people in Congress or if you look at all the White House people who went to work at tech companies, whether Uber or Amazon, this notion that some Democrats can get unlimited amounts of money from these companies and still proclaim that they support workers, people have had it with that," he said.
For Democrats, the tech giants of Silicon Valley have become virtual ATMs of campaign cash. In the 2012 elections, Google, Facebook and other Internet companies and their executives tilted heavily toward the Democrats, giving them 73 percent of their donations, according to the Center for Responsive Politics.
Over the last two years, the tech industry has paid Hillary Clinton $3.2 million in speaking fees — she has appeared, among other places, at eBay, Qualcomm and Salesforce.com. And as her poll numbers were slipping, Clinton headed to Silicon Valley and San Francisco on Sept. 28 for a fundraising pick-me-up — one event cost $2,700 a ticket.
As for President Obama, he started courting Silicon Valley while still a senator and mined its deep pockets repeatedly in 2008 and 2012, with Google executives and employees giving $800,000 to his re-election campaign. And now Obama is again looking to Silicon Valley executives and venture capitalists, this time to help finance his presidential library.
The ties between Silicon Valley and top Democrats go far beyond campaign donations.
More than a dozen former Obama administration officials and aides have flocked to tech industry jobs. The most prominent examples are former White House press secretary Jay Carney, who has become Amazon's head of global corporate affairs, and David Plouffe, Obama's former campaign manager and then a White House senior adviser, who has joined Uber as its senior vice president for strategy.
In turn, Obama has tapped a number of Google executives to serve in his administration, including Megan Smith, whom he appointed to be the nation's technology czar. And earlier this year, the president even created a new position — chief data scientist and deputy chief technology officer for data policy — for D.J. Patil, Facebook's former engineering director and a veteran of LinkedIn, eBay and Skype.
Many Democrats are not thrilled by this cozy relationship between their party and the tech industry. Some bedrock Democrats — most notably organized labor and some staunch liberals — are concerned that Obama and other Democratic Party leaders have come to rely so heavily on the largesse of this single industry. They say the Obama Administration has largely turned a blind eye to an industry that has been criticized as hostile to unions and unfriendly to workers on a number of fronts.
In fact, on the labor front, Silicon Valley has mostly managed to avoid the political pressure from Democrats that has, for example, been directed at the telecommunications industry, where companies tend to "create and maintain far more, and typically better-paying, jobs than the application and content sectors, particularly for people of color," as the Communication Workers of America and the NAACP put it in a filing with the government. The best example of this was the organized and sharp protests that Verizon drew from top New York Democrats as the company engaged in contract negotiations with its unions.
The growing disenchantment with Silicon Valley among core Democratic constituencies reflects, in some respects, the growing pains of an industry that has gone from visionary upstart to an establishment player. Indeed, high-tech companies such as Google have come under attack for using their vast influence in Washington to slow their competitors and to limit scrutiny from authorities.
On the labor front, union leaders and some liberals have a long list of grievances against Silicon Valley (though tech companies have led the way on a number of workplace issues, including telecommuting, flexible hours and Facebook's decision to require its contractors to pay their employees a minimum of $15 an hour).
Near the top of union leaders' list of complaints is Silicon Valley's effort to bring in tens of thousands of H-1B guest worker engineers from India and elsewhere — which critics say takes away good jobs from Americans and pushes down wages.
Labor and many liberals also have harsh words for Amazon because of its aggressive efforts to beat back unionization drives and because of the punishing work pace it all but requires from its warehouse workers and white-collar staffers.
Some unions and liberals also demonize Uber, asserting that it illegally characterizes its drivers not as employees, but as independent contractors who don't qualify for minimum wage, overtime, workers' compensation or many other protections.
Some liberals and feminists criticize Silicon Valley for being a laggard in hiring women and minorities at a time when the workforce is 70 percent male at Google, a situation that reflects the industry in general.
Apple has faced sharp criticism for relying heavily on Foxconn factories in China that abused their employees in various ways — using child labor and often requiring extraordinary amounts of overtime. More recently labor and human rights advocates have criticized the electronics industry for using Malaysian factories that have been found to use trafficked workers.
In Washington's regulatory arena, Silicon Valley has also asserted its influence, sometimes to the detriment of labor. The industry, along with others, successfully pushed the Obama administration to regulate unionized Internet service providers (ISPs) like AT&T and Verizon under public utility rules that date back to the 1930s.
The rules, adopted by the Federal Communications Commission with the support of President Obama himself, are supposed to ensure "net neutrality," or open access to the Internet by all sources. But some labor critics argue that these rules are unnecessary, run contrary to the light regulatory touch that allowed the Internet to grow and flourish and potentially discourage investment in the building of broadband networks by ISPs.
Indeed, Democratic allies like the Communications Workers of America warned against any such regulations that would impose new burdens and could lead Internet service providers to scale back broadband investments and thus eliminate jobs for its members.
Closer to home in Silicon Valley, a major concern is that the high-tech boom and masses of high-paid young tech workers have sent housing prices in San Francisco soaring and pushed out many longtime blue-collar residents.
"The middle class is disappearing," said Russell Hancock, president of the Joint Venture Silicon Valley, an organization of business, government, academics and labor that analyzes pressing issues in the region. "A boom in the tech sector is not necessarily a tide that lifts all boats."
His group found that the region's high-skill workers have a median income of $118,700, compared with $27,000 for workers in low-skill jobs.
Rome Aloise, the top Teamsters union official in the San Francisco Bay Area, asserted that tech companies are not mindful enough of the soaring rents and other costs that are squeezing moderate-income people in the area. "It's almost as if some tech executives are oblivious to the real world," Aloise said.
He, too, is uneasy about the Democrats' reliance on tech industry donations. "Democrats and Republicans are going to take money from wherever they can get it," he said. "Money is something that controls most people. What worries me is the Democrats' ideals and concerns for workers get overpowered by the kind of money they can get from these companies."
Efforts to address these problems have been undertaken by groups like the Silicon Valley Leadership Group, an association of 390 companies seeking to improve the region's economy and quality of life. The group has created a $20 million housing trust to help thousands of teachers, police officers and firefighters afford housing in the region, some of it through mortgage subsidies, some by underwriting construction of moderate-income housing.
Steve Wright, senior vice president of the Silicon Valley Leadership Group, said his group has also pushed for high-density housing along rail lines and helped to engineer a sales tax increase to finance mass transit, including the extension of the Bay Area Rapid Transit system south to San Jose.
Still, the tensions between labor and high-tech companies have hardly abated. A recent flashpoint between the tech industry and labor has been the unionization fights involving the tech industry's shuttle bus drivers — as well as Google Express' delivery drivers.
Many shuttle bus drivers have complained that their income of around $45,000 a year made it hard to afford to live in one of the nation's most expensive regions, forcing some to commute an hour between home and their Silicon Valley job. Moreover, most of the drivers work split shifts requiring them to begin around 6 a.m. and, after a midday break, end around 9 p.m.
Tommy Leyva, a shuttle bus driver who takes around 40 Apple employees to and from work each day, said that for the last three years, Compass, Apple's transportation contractor, kept his pay frozen at $19.50 an hour — pay that made it hard for him to afford housing and caused him to drive charter busses on weekends. He said Compass refused to pay time-and-a-half for overtime even though he typically worked 47 hours a week. (The company said it's an interstate carrier and thus exempt from many overtime rules.)
Leyva said he was at first upset with Apple because it didn't intervene to stop what he said was Compass's all-out effort to defeat a unionization drive. Notwithstanding Compass's resistance, its drivers voted, 104 to 38, in February to join the Teamsters.
But now Leyva praises Apple for making money available so that Compass would provide a good union contract, which went into effect in August. His pay has jumped to $31.50 an hour, from $19.50. He no longer needs to work on weekends, he said, and he is confident he can now afford housing in the area. In addition, the new contract calls for 11 paid holidays — before there were none.
"This just went from a job to a career," Leyva said. "Not only do we have a good wage, we have health insurance and we hopefully will have a great benefits package by the time we finish negotiations. If it wasn't for the Teamsters, we would have still been at $19.50, and Apple would have never stepped up."
Steven Greenhouse was a New York Times reporter for 31 years and covered labor and workplace matters for The Times from 1995 through 2014. He served at a Times reporter in New York, Chicago, Washington and Paris. He is author of The Big Squeeze: Tough Times for the American Worker and is writing another book about the nation's workers. He wrote this for InsideSources.com.
Related
Popular in the Community