Apple may not make the smartphones with the biggest screens, but the company sure has the biggest cash stockpile.
With $146.6 billion in the bank, the tech behemoth had 10 percent of all the cash held by Corporate America in 2013 (not counting financial firms), according to an analysis by ratings agency Moody's.
Apple's Silicon Valley siblings also have enormous piles of dollars. Seventeen tech companies held one-third of all the money in corporate America last year, according to the analysis. Microsoft had the second highest cash holdings with $77 billion, followed by Google and Cisco Systems with $54.4 billion and $50.6 billion, respectively.
Check out the chart of absurd cash hoarding here (story continues below):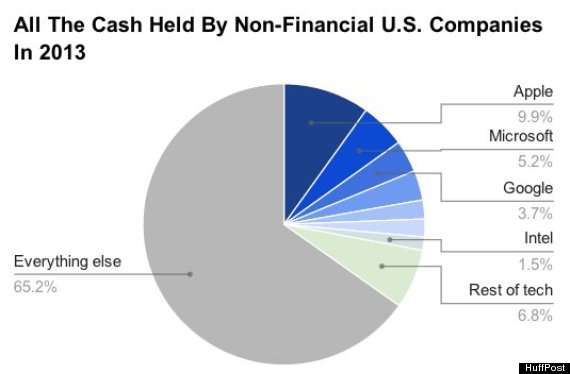 In recent years, Apple and Google cash stockpiles have seen stunning growth as corporate profits soared in the so-called economic recovery. According to Moody's, the company with the most cash made up less than 5 percent of the pie back in 2009.
A few factors helped tech companies accumulate cash. First, Apple and other tech firms don't like paying out dividends, convincing stockholders that the money is better spent acquiring startups, hiring engineers or making other investments. Apple issued its first dividend in its 36-year history in 2012 -- only after Steve Jobs' death.
Second, and more insidiously, much of that cash U.S. tech firms rake in never actually makes its way to the U.S. Apple, Google and Microsoft each keep billions in profits in overseas accounts to avoid paying U.S. taxes.
Not all of the tech industry's best innovations involve gadgets and software.
REAL LIFE. REAL NEWS. REAL VOICES.
Help us tell more of the stories that matter from voices that too often remain unheard.