It's pretty obvious by now that Silicon Valley is a cesspool of sexism, thanks to episodes like this, this, this and this. But this is not just about brogrammers being brogrammers: The sexism reaches to the very top of the corporate structure.
Women have shamefully little representation in the executive suites and corporate boards of Silicon Valley's biggest companies, according to a new study by law firm Fenwick & West. Such gender bias is a longstanding problem for Corporate America generally, but Silicon Valley makes other companies look almost progressive in comparison.
Here's a look at the distribution of women on the boards of directors at companies in the Silicon Valley 150 (the Valley's biggest companies by sales), compared to the boards of the 100 biggest public companies in the U.S., known as the Standard & Poor's 100 (story continues after chart):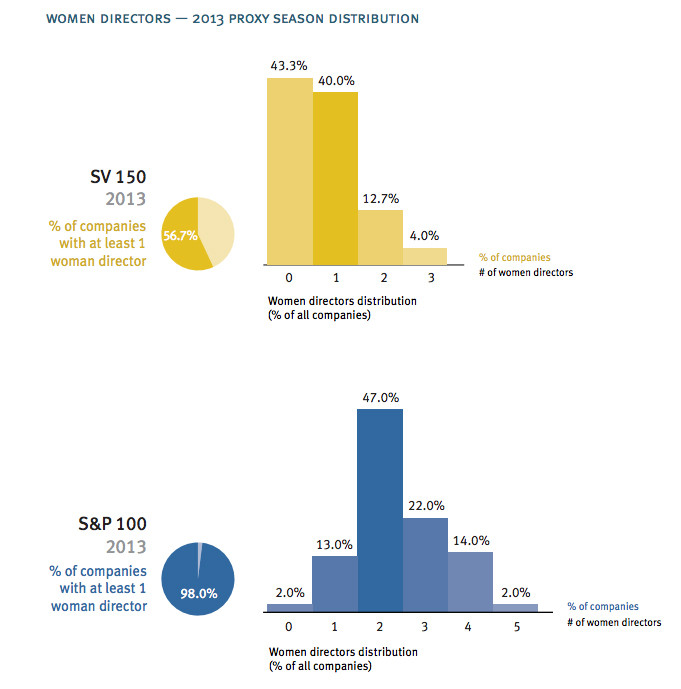 As you can see from the charts above, a plurality of SV 150 companies have no women on their boards, while nearly half of the S&P 100 companies have at least two women. Two women is still a low number, but mathematics reminds us that two women is at least more than zero women. Virtually all S&P 100 companies have at least one woman on their board, while barely more than half of SV 150 even reach that bare minimum.
And here's a look at how well women are represented in the executive suite: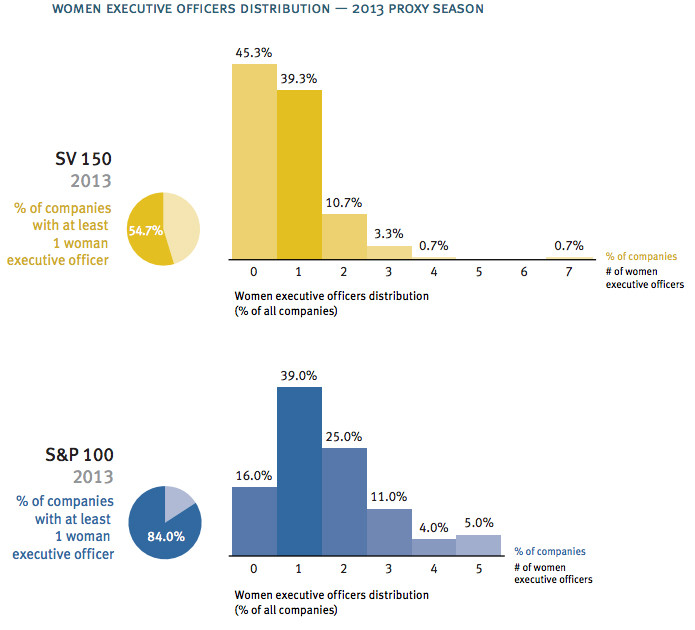 Please first take note of the breathtaking lack of women in executive positions across the entire corporate universe. But then look at just how much worse things are in Silicon Valley: Nearly half of the SV 150 companies have no female executives at all, while 84 percent of the S&P 500 manages to have at least one. That is an astounding number.
As Fenwick points out, women account for about half of the U.S. labor force and more than half of the workers in management and other professional jobs. And yet very few women make it through the door to the executive suite -- unless they work in Silicon Valley, where they'll probably never even see the door.
This dearth of women in tech means sexist culture perpetuates itself more easily. Maybe it also means our technology is not nearly as good as it could be.
Support HuffPost
The Stakes Have Never Been Higher
Related
Popular in the Community