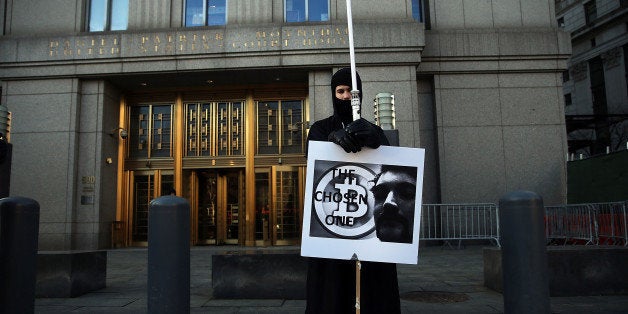 NEW YORK, Jan 14 (Reuters) - A federal agent told jurors on Wednesday he covertly became an employee of the website Silk Road, chatting with its operator about "damn regulators" minutes before authorities arrested the man they believe ran the online black market.
Jared Der-Yeghiayan, a U.S. Department of Homeland Security special agent, testified in Manhattan federal court that in July 2013 he took over a Silk Road moderator's account and participated in the arrest of its suspected operator, Ross Ulbricht.
The testimony came on the second day of Ulbricht's criminal trial. He faces seven counts including operating a continuing criminal enterprise and conspiracy to commit narcotics trafficking.
Silk Road was an online black market bazaar where users could anonymously buy drugs and other illicit goods using bitcoins. Prosecutors say it operated from 2011 to October 2013, generating $200 million in drug sales.
Ulbricht, 30, admits that he created Silk Road, but his lawyer said Tuesday he was the "fall guy" for its true operators at the time of his arrest in October 2013.
During the trial Wednesday, Der-Yeghiayan said he became a Silk Road moderator after a support staff member called "cirrus" gave him access to that account. He reported to the website's operator "Dread Pirate Roberts," and earned $1,000 a week in bitcoin, he said.
After an IRS agent flagged Ulbricht as the Dread Pirate Roberts' possible alter ego, Der-Yeghiayan said he became part of an operation to try to confirm that and arrest Ulbricht.
"The plan was to try to get in a position where we'd have the defendant in a public setting or cafe where he was required to use the Internet and initiate a chat with him," he told jurors.
Der-Yeghiayan said he monitored if Dread Pirate Roberts was logged on as agents staked out an Internet cafe in San Francisco that Ulbricht was seen entering before.
Der-Yeghiayan said Ulbricht eventually came, but after entering the crowded cafe, went into a library.
After Der-Yeghiayan initiated a chat, Dread Pirate Roberts asked cirrus, "you did bitcoin exchange before you started working for me, right?"
Cirrus responded he had stopped because of "reporting requirements."
Dread Pirate Roberts replied, "damn regulators, eh"
The message was sent moments before the FBI arrested Ulbricht and grabbed his laptop. Prosecutors say the laptop showed Ulbricht was logged into Silk Road as Dread Pirate Roberts.
The case is U.S. v. Ulbricht, U.S. District Court, Southern District of New York, No. 13-06919. (Reporting by Nate Raymond in New York; Editing by Bernard Orr)
Calling all HuffPost superfans!
Sign up for membership to become a founding member and help shape HuffPost's next chapter