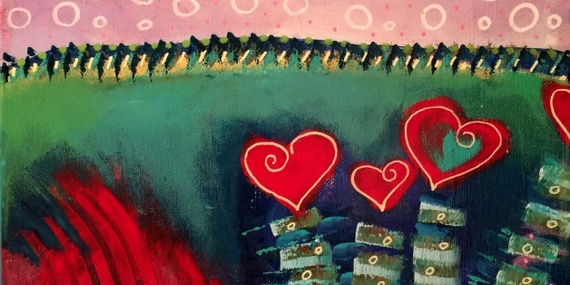 (art by Diane Sherman)
Hear me reading this Silly Poem:


When do you know it is time to move on?
Pack up your stuff, and tell them you're gone
You loved them so much, you gave it your best
It's just not the same, you just need the rest
Love is illusive, a traitorous game
Things are now different, just not the same
You love them as people, like a good friend
You're just not in love, it cannot be mend
Breaking their hearts just doesn't seem right
But staying together mean nothing but fight
You two different people who want different things,
How do you know when to take off the rings?
Is love about passion, a red burning heart?
Or is it about not ending apart?
Love is an art, not about being smart
Deep in your heart you just want a fresh start
What if we fall in love with our mirror
Who shows us ourselves just a bit clearer
Reflecting the lack we have in our hearts
Until we can find all the lost parts
The moment we find the path to self-loving
We no longer need the continuous shoving
What if self-love means not needing a lover,
As we no longer have imperfections to cover?
What if what's left when its all said and done
When the sex drive is lost and the passion is gone
A pure loving heart, not burning, not needy
Just simple love, not demanding or greedy

And all that you want is to grow old together
To live happy as besties, forever and ever
For no one else knows the path you have traveled
The layers within you've healed and unraveled
Is that not enough? Is it deemed insufficient?
If you're not in love, you're surly deficient
So society say, which is simply not true
Being in-love is a phase you pass through
What if you really don't want to move on
Pack up your stuff, and tell them you're gone
You love them so much, you think they're the best
The perfect companion to have in your nest
REAL LIFE. REAL NEWS. REAL VOICES.
Help us tell more of the stories that matter from voices that too often remain unheard.