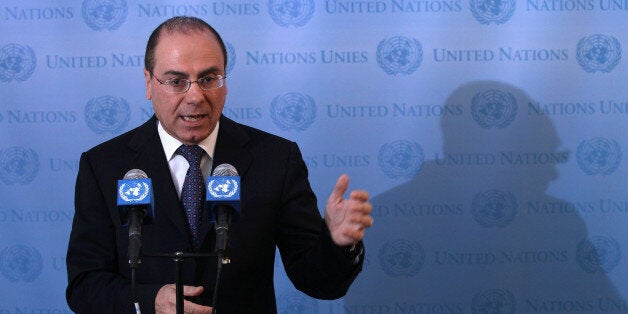 WASHINGTON -- Israeli Prime Minister Benjamin Netanyahu, under increasing pressure from President Barack Obama to prove his commitment to a two-state solution, is likely to name a new top negotiator for talks with the Palestinians. But Netanyahu's pick is no peacenik.
An Israeli official told The Times of Israel on Monday that Netanyahu had chosen recently appointed Interior Minister Silvan Shalom to oversee peace talks.
The choice is unlikely to appease the White House. Shalom has made comments in direct opposition to Palestinian statehood. In 2012, while serving as a member of the Knesset in the Likud party, Shalom told party activists, "We are all against a Palestinian state, there is no question about it."
More recently, as minister of national infrastructure, Shalom blocked the water supply to the newly constructed West Bank town of Rawabi, despite approval by the Defense Ministry.
Shalom on Monday said his assignment proves Netanyahu's dedication to peace.
"The appointment indicates the desire of the prime minister and Israel to have negotiations with the Palestinians, in contrast to the accusations that Israel refuses peace, and in contrast to the Palestinian claims that they cannot avoid unilateral actions in order to advance the establishment of a Palestinian state," Shalom said, according to a translation provided by The Times of Israel.
Palestinians are unlikely to see it that way. While they have yet to comment on Shalom's post, Palestinian negotiator Saeb Erekat earlier slammed Netanyahu's appointment of Naftali Bennett as education minister and Ayelet Shaked as justice minister.
"With the dust beginning to settle on the new Israeli coalition government, the face of a new form of racist and discriminatory Israel has been revealed; Benjamin Netanyahu vehemently leading the charge to bury the two-state solution and impose a perpetual Apartheid regime …" Erekat told WAFA, a Palestinian news agency, this month.
At the moment, Shalom's appointment has little practical significance. Peace talks are stalled and there is no indication that they are likely to resume in the near future. Rather, the post is further evidence of Netanyahu's rightward lurch in an effort to maintain his fragile majority within the Israeli government.
The controversial appointment comes two months after Netanyahu clinched re-election, in part by reassuring right-wing voters in the settlement blocs that he would not allow for the creation of a Palestinian state. Though he has since walked back his comments, the Obama administration has said that it is reevaluating its policy toward Israel and the Palestinian territories in relation to the two-state solution.
According to The Times of Israel, Shalom's portfolio also will include strategic dialogue with the U.S.
J Street, a pro-Israel organization in the U.S., on Monday called on the Obama administration to hold Netanyahu accountable for appointing Shalom.
"Appointing an opponent of two states to manage negotiations with the Palestinians is yet another sign of Prime Minister Netanyahu's expectation that he can successfully defy the international community in this upcoming term. It is up to the Obama administration to demonstrate that he has badly miscalculated," said Alan Elsner, J Street's vice president for communications.
The White House has been quiet on details of its policy reevaluation, but there is growing speculation that the U.S. may soften longstanding opposition to Palestinian efforts to secure statehood through through the United Nations in lieu of a negotiated settlement with the Israelis.
Calling all HuffPost superfans!
Sign up for membership to become a founding member and help shape HuffPost's next chapter
BEFORE YOU GO
PHOTO GALLERY
Israeli Election 2015