In 1933 Felix Silva went legit. In the previous decade, as a younger man, Felix had been a bootlegger and moonshiner, but now that prohibition was over, he decided to open a small, neighborhood bar -- Silva's Saloon -- along the old Route 66 in Bernalillo, New Mexico.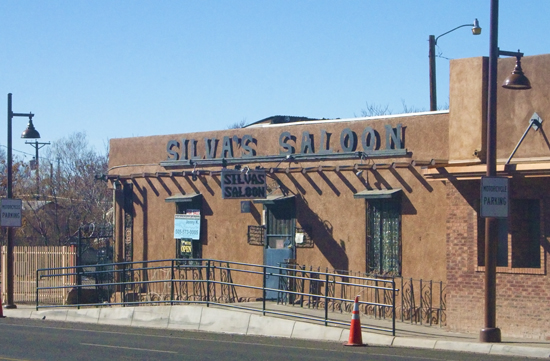 He didn't go completely, legit, of course. There were still the Sunday liquor sales (illegal in New Mexico at the time) and the sales to local Native Americans (also illegal in New Mexico) but at least he'd stopped making booze in the apple orchard and running it up to Oklahoma.
The small, nondescript bar became Felix's life, and before too long his son, Felix Jr., began helping out. Felix Jr. remembers sweeping the place after school and then tending the bar when he came of legal age. He also remembers letting regulars through the back door to take a seat at the illicit card games his father was running. Together Felix Sr. and Jr. would become fixtures in the small community.
Felix Sr. proved a tough barkeep who wore an apron behind the bar every day and wouldn't tolerate bad manners. As far as we know he never used the nine guns he had stashed around the bar for protection, but there were some episodes involving a pipe and the side of a guy's head.
The two of them -- father and son -- would eventually spend almost a century in the old saloon. And in 1995 Felix Jr. found his father passed away in the bar, but he told us that he feels his dad's presence every day -- he's just not ready to leave his place.
Today, the saloon is a beloved stop for locals from the surrounding communities of Rio Rancho and Albuquerque. In fact, they pack the place to capacity every day around 5:00 p.m. during the work week.
Felix Jr. seems to know each of them by name. If he doesn't, he introduces himself and begins to ask them questions.
"Where are you from? Who are your parents? Who are your grandparents?"
Before too long Felix Jr. has somehow found a connection with them. He might have known someone they went to school with. He might know their doctor. The man is a master of finding common ground.
And this connection -- maybe a love for the place or maybe just some type of bond -- seems true among the patrons as well. No one swears or raises their voice in anger. If people get out of line others will happily show them the door. People who drink here are respectful of the place, as if it's some kind of sacred or holy space.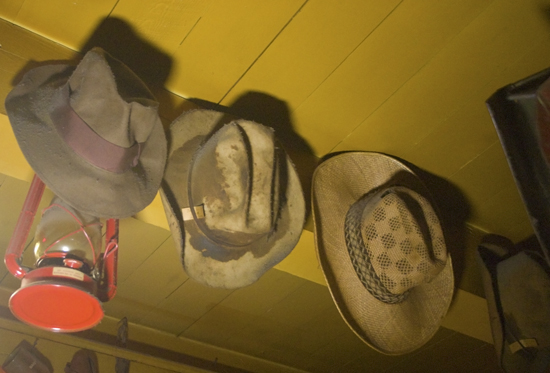 In some sense, the reverence is deserved. The walls of the bar are lined with mementos of past customers. Cowboy hats, stained with years of sweat from a life of hard work, hang from the ceiling. Pictures and driver's licenses are pinned to the wall in a haphazard sort of organization.
Each of these belonged to people who spent much of their time here but have since, like Felix Sr., passed on. Their loved ones, knowing the importance of Silva's Saloon, wanted to leave a piece of them here. They are memorialized along the saloon's walls.
Beyond the horseshoe-shaped bar, above the wall of booze, is a row of dusty old bottles lining the uppermost shelf. These bottles have been around since the '30s and Felix Jr. long ago dipped each in wax to preserve the contents. If you're lucky he'll pull one down and share with you.
On the wall across from the bar is a pay phone. Nothing too odd about that unless you think of the last time you've seen a coin-operated pay phone in a bar. Felix keeps it because it played a part in some real-life spy drama in the 1990s. It was used by an agent working out of the area to make calls to headquarters. The stories Felix can tell about it makes up for the monthly fee the phone company charges him.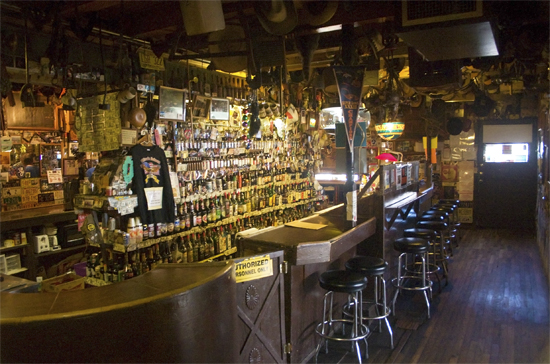 They don't serve food at Silva's, only drinks. But most any night of the week patrons will bring in a buffet to share with others. On the night we visited it was soup and tortilla chips. Someone sat the bowls on the bar (along with spoons, soup bowls and napkins) and then walked away. Other patrons slowly shuffled over and began serving themselves. On the next morning the first customer (after us) sat four or five burritos on the bar for others who might come in after him.
Silva's is a welcoming place. It's a place that judges you only by the way you act toward the people around you. And the people here are honest and kind and are the type of people that stop at a restaurant after work to buy food for people they don't know.
The place isn't loud, flashy or ostentatious. Instead it's more like its proprietor: conservative, quiet and thoughtful. Thus it's easy to miss if you weren't looking for it. You have to try to find the place. But once you find it and visit it, it will be worth any effort you put into your journey. You won't want to leave. You'll want to stay and talk to Felix or some random stranger sitting next you. You'll want to spend hours perusing the walls, looking at the knickknacks and bric-à-brac, like the pictures of long-gone customers or Felix Sr.'s old still and fruit press.
When you leave you'll find yourself doing the same thing we've done ever since we visited. You'll find yourself measuring just about every other bar you go to by the warmth, welcome and camaraderie you found at Silva's Saloon.
Below is a brief documentary we made about Silva's, it was that special to us. We hope you find it special to.
How to Get Here
Silva's Saloon is located at 955 S. Camino Del Pueblo Bernalillo, NM. It will take you about 20 minutes to make the trek from Albuquerque. They're open from 11 a.m. to 8 p.m. Monday-Saturday, and noon to 6pm on Sundays. Keep a sharp eye out while you're driving as it's easy to miss (it sits across from an hardware store that's been there as long as the saloon). We can't stress enough how important it is to have a designated driver or some other means of transportation, this is a very rural community with lots of dark, winding roads. Please be responsible.
When to Go
This is the desert, true enough, but Northern New Mexico can have wet, snowy winters, meaning ice-packed roads, so check the weather. Also, be aware that certain events in the area, like the famous Albuquerque Balloon Fiesta or Bernalillo Wide Festival -- can clog the streets and snarl traffic.
Nearby Distractions
There's plenty to do to keep you busy in the area, much of it enjoying the beautiful outdoors surrounding New Mexico's biggest city. One of the most famous attractions is the nearby Sandia Tram, the world's longest tram. The views are amazing and there's a restaurant at the top. Another nearby, outdoor-centric activity is paddling the famous Rio Grande. Boat rentals and guides are available at Quiet Waters Paddling Adventures (reserve in advance).
Related