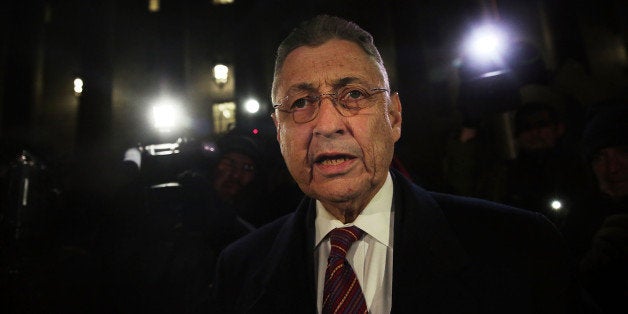 The need for honest politicians serving the public's interests is at the core of the American system of democracy. Nevertheless, in the US, as in every country, politics and corruption too often go hand-in-hand. Now a New York jury has brought in a historic set of verdicts. Will it change the New York game?
The global anticorruption organization, Transparency International, is waging a campaign on the slogan of Unmask the Corrupt. Well, for many years, Sheldon Silver, 71, believed that he was above the law. He enjoyed impunity and he prospered. Now, he has been "unmasked" and found guilty of seven counts of corruption, including fraud, money laundering and extortion. He will appeal the verdicts, but he could well face up to 20 years in prison.
Mr. Silver was an elected Democratic Party member of the New York State Assembly and for 20 of these years he was that Assembly's Speaker and thus its most powerful member. He used his office to steal and enrich himself, pocketing at least $4 million. He used his power to secure contracts for various business people who paid him well in return.
His power was enormous. Such people as former U.S. Senator Hillary Clinton representing New York, and former New York City Major Michael Bloomberg, and many more who have been prominent in New York political life in recent decades, had to befriend Silver to ensure support.
New York State, with a gross domestic product of around $1.5 billion would rank among the world's top 20 if it were country. The Speaker had a key say - often the decisive voice - in thousands of public contracts and State grants over the years. And as his years in office increased, so did his hubris, which led to his downfall. He came to believe that he could act as if anti-corruption laws could never reach his lofty political heights.
But Silver the villain underestimated Preetinder Singh "Preet" Bharara the hero. Appointed in 2009 by President Obama as the United States Attorney for the Southern District of New York, Bharara was born in India, studied at Harvard College and at Columbia University Law School, served as chief counsel to U.S. Senator Chuck Schumer of New York, and then went on to work as a prosecutor in Manhattan.
There were no doubt significant political pressures on Bharara not to pursue the prosecution of Silver, but this prosecutor is one of a breed of U.S. public attorneys who sees corruption in politics as a top priority for his office. It was the hallmark of former U.S. attorney Patrick Fitzgerald, who successfully jailed Illinois governors, and of David Harbach, a former U.S. Justice Department attorney who successful prosecuted Virginia's Governor, Bob McDonnell, for corruption last year. There are many others like them and they are courageous and relentless.
Following the New York jury's verdict, Bharara released a statement: "Today, Sheldon Silver got justice, and at long last, so did the people of New York."
The New York Post noted, "Even in a state capital where more than 30 lawmakers have left office facing criminal charges or allegations of ethical misconduct since 2000, the case against Silver was an extraordinary turn."
Now, the challenge to the political parties in New York State and to Governor Andrew Cuomo, who closed down an investigation into corruption in the Assembly last year, is to restore public trust. The number of indictments of politicians, culminating in the Silver case, requires a wholesale review, perhaps even a revolution, in New York State politics. Will this happen, or will it soon be a return to business as usual?
My guess is that Bharara and other prosecutors in New York are going to be encouraged by this victory and will continue to turn on the heat to bring corrupt politicians to justice. The unfolding cases in New York will be widely watched by other public prosecutors, from the U.S. Department of Justice, to attorneys in such states as New Jersey, Illinois and Louisiana, and in many othersas they strive to "unmask" corrupt politicians, end impunity and bring the rogues to justice.
Calling all HuffPost superfans!
Sign up for membership to become a founding member and help shape HuffPost's next chapter