 Welcome to For Your Consideration, HuffPost Entertainment's weekly breakdown of all things Oscar. Between now and Feb. 25, 2013, executive arts and entertainment editor Michael Hogan and entertainment editor Christopher Rosen will chat about awards season and which films will make the most noise at the 85th annual Academy Awards.
Hogan: Hey, Chris, Oscar voting ends on Tuesday at 5 p.m. PST, which means the last-minute scramble is to persuade voters to rethink the conventional wisdom.
Last Thursday, influential film critic Roger Ebert offered a tantalizing hint of the behind-the-scenes maneuvering that can occur in the last stretch just before voting. Ebert, who had initially picked "Argo" for Best Picture and Jennifer Lawrence for Best Actress, wrote that he he wished he had chosen, respectively, "Silver Linings Playbook" and Emmanuelle Riva instead.
"I sense a groundswell," Ebert said of "Silver Linings Playbook." And he's not the only one. Harvey Weinstein, the acknowledged master of awards-season strategy, has successfully equated a vote for "Silver Linings Playbook" with a vote for tolerance and understanding toward those with autism, bipolar disorder, obsessive-compulsive disorder and other common ailments. Director David O. Russell, previously known as the guy who called Lily Tomlin the "c"-word and may or may not have headbutted George Clooney, has spoken out about his son's struggles with autism, lending the film an air of authenticity and inviting Hollywood to do what it does best: forgive a former bad boy.
I still don't see "Silver Linings" gaining the kind of momentum it would need to call "Argo" back to the runway (only one more week of this metaphor, Chris, I swear!), but the campaign could help Russell win Best Adapted Screenplay and even Best Director. The favorites in those categories -- Tony Kushner and Steven Spielberg, respectively -- both represent "Lincoln," a movie that seems to have aroused zero enthusiasm among voters. And while "Lincoln" leading man Daniel Day-Lewis is a mortal lock for Best Actor, Harvey has two dogs nipping at the heels of Day-Lewis' co-star Tommy Lee Jones in the Best Supporting Actor race. Christophe Waltz ("Django Unchained") has already prevailed at the Golden Globes and the BAFTA Awards, but Harvey's real hope is to snag a statuette for his TriBeCa neighbor Robert De Niro. You and I have talked about how easy it would be to adapt last year's successful campaign for Meryl Streep (its message: she's a national treasure, and it has been too long since we've recognized that) to De Niro. And it looks like The Weinstein Company has been listening. A quote by our own Mike Ryan -- "Robert De Niro hasn't won an Academy Award in 32 years" -- figures prominently in their ads for the film.
Speaking of Streep, however, it was her victory at the BAFTA Awards last year that made the Oscar for Best Actress feel inevitable -- and that's the award Emmanuelle Riva just won. Riva also happens to be the category's oldest nominee ever, giving voters a tempting chance to make history. So, Chris, with Ebert on Team Riva, do you think J-Law still has a chance?
Rosen: All due respect to Ebert, as well as Oscar pros Pete Hammond and Steve Pond, this shift to Riva is the stuff of 11th hour thumb-twiddling. Lawrence's only major loss throughout awards season was at BAFTA, and while that's where Streep turned the tide on her campaign last year, Riva is no Streep. The "Amour" star doesn't do interviews in English, hasn't really campaigned at all and is still relatively unknown in the grand scheme of things, despite her age and stature. Lawrence, on the other hand, is ubiquitous, charming and Hollywood's next great hope.
Look at recent Oscar history: Natalie Portman over Annette Bening in 2011, Marion Cotillard over Julie Christie in 2008, Hilary Swank over Annette Bening in 2005, Halle Berry over Sissy Spacek in 2002, Julia Roberts over Ellen Burstyn in 2001, Hilary Swank over Annette Bening in 2000 (poor Annette), Gwyneth Paltrow over Fernanda Montenegro in 1999. Time and again, the young upstart has defeated the crafty veteran in the Best Actress category. There's no reason to think this trend won't continue. I've still got Lawrence written on my ballot in permanent marker.
As for "Silver Linings Playbook," put me in the category who is starting to believe the narrative. (Whether that's a result of my own 11th hour thumb-twiddling is unclear.) Back when the nominations were announced, and Affleck's Best Director snub had everyone jumping off the "Argo" bandwagon, I wrote that "Silver Linings Playbook" was the one film that could top "Lincoln," thanks to its strong support from the actors branch. That's still the film's biggest strength, but Harvey Weinstein has supplemented that baseline with the mental health discussion. Toss in the fact that "Silver Linings Playbook" is a certifiable hit, and I think it could very well win Best Picture -- especially if you subscribe to the long-held theory that movies don't win Best Picture without Best Director. That's another reason why "Silver Linings Playbook" seems like a legitimate threat: Russell, buoyed by support from the actors branch, could win Best Director -- a category that neither Spielberg nor Lee has been able to lock down.
In the end, the most important category on Oscar night might be Best Adapted Screenplay: "Argo," "Lincoln" and "Silver Linings Playbook" are all competing in that one, and the winner could also carry Best Picture. (For my money, Chris Terrio's "Argo" script, which won at the Writers Guild of America awards on Sunday night, is still ahead of the pack; if Russell wins on Oscar Sunday, though, fasten your seat belts.)
Speaking of "Lincoln" -- oh, wait: we weren't. In fact, no one is -- save Sasha Stone -- unless it's to wonder what went wrong with "Lincoln." So, what did go wrong? Was "Lincoln" miscast as an Oscar favorite after grabbing a leading 12 nominations, a number less indicative of AMPAS love and more indicative of a dearth of Oscar-friendly period pieces in 2012? Was the non-campaign campaign a problem? (With the exception of "60 Minutes," where has Spielberg been the last six weeks?) Did Spielberg and company overplay their hand when it came to the influence of politicians? Was not enough made of the fact that "Lincoln" is the peoples' choice for Best Picture -- a bigger box office hit than both "Argo" and "Silver Linings Playbook"? After all, those charges of "Lincoln" being boring can't be that true; the film earned only 11 percent of its total gross from opening weekend. People do love this one -- it just seems that no one on Team "Lincoln" has been able to express that to anyone with an Oscar vote.
Hogan: One theory floating around holds that Disney's marketing campaign for "Lincoln," which you have to believe was orchestrated by Spielberg himself, was a misfire with the Academy. When I saw the film, I immediately saw it as a (much-needed) rebuke to the sitting president. "Look what our 16th president managed to achieve in the brief period between his re-election and his second inauguration," Spielberg seemed to be telling Barack Obama. "Stop playing small-ball, clothe yourself in immense power and sign your name to a few pages of history!"
I liked that about "Lincoln," but the marketing campaign never articulated that message. Instead, there was a vague notion that a vote for "Lincoln" was a vote for Obama, which is a vote for America. And apparently that offended some Academy members, especially those who think Obama is arrogant enough as it is, thank you, and doesn't need a Best Picture Oscar to further inflate his ego.
Meanwhile, the accuracy complaints that once dogged "Argo" feel like old news at this point, whereas Spielberg and Kushner are getting whacked in the face with rhetorical two-by-fours in, of all places, Maureen Dowd's recent New York Times op-ed. Sure, she starts by pointing out a mild discrepancy concerning Kyle Chandler's character in "Argo," but she concludes with a ringing condemnation of Kushner's decision to fudge the voting on the 13th Amendment -- and his defiant attacks on those who would dare question his poetic license.
I'm a princess-and-the-pea on this issue, but I think Spielberg should refilm the scene or dub in "Illinois" for "Connecticut" before he sends out his DVDs and leaves students everywhere thinking the Nutmeg State is nutty.

Kushner says that won't happen, because this is a "made-up issue" and a matter of "principle." But as Congressman Courtney notes: "It was Lincoln who said. 'Truth is generally the best vindication against slander.' "
I find Dowd's "princess-and-the-pea" insistence on absolute accuracy ridiculous, but that's irrelevant. This is the kind of talk that shifts votes, published in a column that pretty much every powerful person over 50 reads.
So, yes, "Lincoln" is looking bruised and battered. "Silver Linings Playbook" has renewed momentum (not being based on a true story, it escaped Dowd's scrutiny). But with "Argo" taking home yet another award on Sunday -- the aforementioned WGA prize -- I still consider it to be unstoppable.
Then again, I'm the guy who said "Lincoln" would win back when you were virtually the last man standing on Team "Argo"!
Rosen: Not that we need to be giving "Argo" any passes, but that's another reason why it seems like the Best Picture winner: While Team "Lincoln" initially presented the film as an unimpeachable historical record, Affleck acknowledged early on that he played loose with some minor details, but got the important stuff right. "There were no cars chasing them down the runway," he joked at an awards luncheon that you attended in December of 2012. "Those were my cars, and I wanted to get the rental [fees]. I was like, 'Maybe we use it, maybe we don't,' you know what I mean? Turned out to be good." That kind of tossed-off self-deprecation would have suited Kushner well.
But we were talking about "Silver Linings Playbook," and let's be real: If that film wins Best Picture on Sunday night it would count as one of the biggest upsets in Oscar history ... or would it? "Silver Linings Playbook" is one of only three films with nominations in Best Picture, Best Director and Best Editing, and the other two -- "Lincoln" and "Life of Pi" -- are flagging. What if Harvey got enough voters to "feel" "Silver Linings Playbook" in the same way they felt past winners like "The King's Speech" and "The Artist"? What if the actors branch really did love "Silver Linings Playbook" more than any other film? What if, when everyone was focused on Affleck, Russell snuck in with his own second-chance narrative?
What if? I'm not ready to go Roger Ebert on my Oscar picks (standing strong for Michael Haneke over here), but let's just say I won't be too surprised if "Silver Linings Playbook" dances away with Best Picture. As this wild awards season lurches toward its finale, one last Shyamalanian twist almost seems fitting.
EARLIER: Sept. 17, 2012: Has Harvey Weinstein Already Taken Over Oscar Season? Sept. 24, 2012: Will 'Les Miserables' Dream A Dream Of Oscar Gold? Oct. 1, 2012: Will 'Life Of Pi' Roar At The Oscars? Oct. 8, 2012: Will 'Lincoln' Reach Higher Office? Oct. 15, 2012: Is 'Argo' The Clear Front-Runner? Oct. 22, 2012: Should 'The Hunger Games' Get Nominated For Best Picture? Nov. 5, 2012: Can Denzel Washington Win Best Actor? Nov. 13, 2012: Can 'Skyfall' Crash The Academy Awards? Nov. 20, 2012: Has 'Lincoln' Become The Front-Runner? Nov. 27, 2012: Is 'Zero Dark Thirty A Serious Contender? Dec. 4, 2012: Reading The Critics Groups' Tea Leaves Dec. 11, 2012: Predicting The Golden Globes Dec. 18, 2012: Which Smear Campaigns Could Actually Work? Dec. 24, 2012: Will Torture Debate Hurt 'Zero Dark Thirty'? Jan. 1, 2013: Oscar E-Voting Causing Problems Jan. 8, 2013: Oscar Predictions! Jan. 15, 2013: Will The Golden Globes Affect The Oscars? Jan. 22, 2013: Which Sundance Film Festival Debuts Could Impact The 2014 Oscar Race? Jan. 29, 2013: Is 'Argo' The Front-Runner? (Yes) Jan. 31, 2013: Who Will Win At The Academy Awards? Feb. 4, 2013: Is 'Lincoln' Finished'? Feb. 12, 2013: A Look At Best Documentary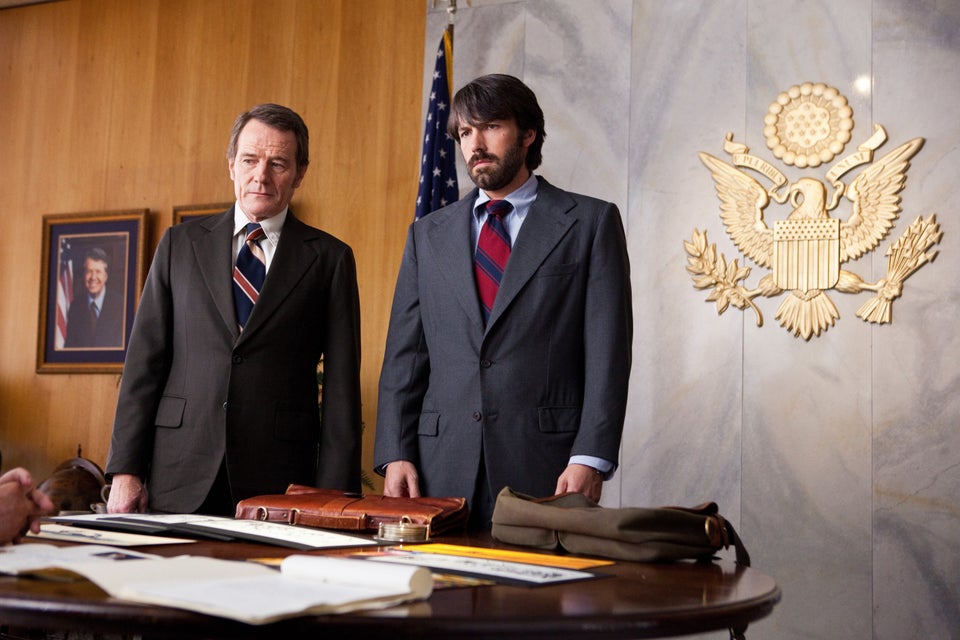 Oscar Nominees 2013