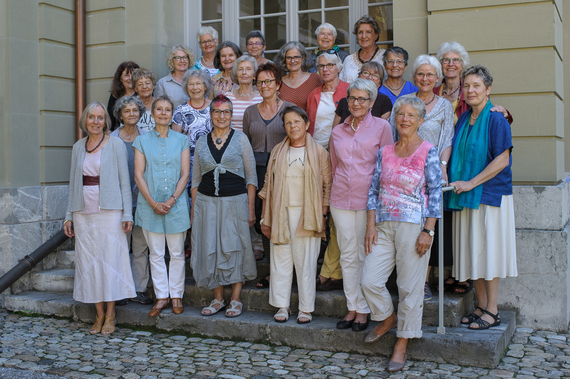 The Paris climate agreement got some new teeth today when more than 450 women age 65 and older submitted a legal petition to force the Swiss government to take stronger action on climate change. The complaint alleges that weak climate policies are violating their constitutional rights by failing to limit warming to politically-agreed safe levels.
Greenpeace Switzerland is supporting the new group of women, called KlimaSeniorinnen ("Senior Women for Climate Protection"), in their quest to hold their government accountable for climate inaction.
Older women are among the most vulnerable groups in a warming climate. Studies of heatwaves in Europe show they are more likely to get sick or die of dehydration, heatstroke, cardiac and circulatory problems.
While the women of KlimaSeniorinnen have initiated a legal challenge to protect their own lives, they are also doing it for the good of future generations. Without decisive action by all governments, generations to come will have to cope with the disastrous effects of future heatwaves, droughts, water shortages, crop failures, and extreme weather events.
According to the world's top scientists, human influence on the climate has more than doubled the probability of heat waves happening in some localities. Heat-related deaths have already increased in some regions. Sadly, we should count on heat waves occurring more often and lasting longer in the future.
By holding their government to account for failing to guarantee the basic human right to a safe climate, these elders are helping all of us in our fight to spark the real action needed to overcome the climate crisis.
This is not the first, and it will definitely not be the last lawsuit that uses the Paris Agreement as both a legal hammer and a beacon of hope to challenge governments and fossil fuel companies.
The Swiss elders join a wave of people-powered climate challenges that have sprung up to close the gap between what was committed to in Paris and actions that fly in the face of the aim to limit the increase in average global temperatures to 1.5°C.
The Swiss initiative shares the same aim as the investigation in the Philippines - the protection and empowerment of those most vulnerable to climate change. Among the petitioners in the Philippines are representatives from communities that have been devastated by super typhoons - like Tacloban in 2013, the world's strongest tropical cyclone ever to make landfall.
All of these legal battles have one thing in common: people are standing up to protect their right to a stable climate. They are fighting for radical climate solutions prescribed by science. They are willing to take bold steps now because there is no time to wait.

But it's not going to be easy. Despite the Paris Agreement, some governments are still going to fight very hard to do as little as possible. Companies that have long profited from extraction of oil, coal and gas will send in armies of lawyers.
That's why Greenpeace is proud to stand with the modern-day heroes leading these climate challenges. The people won't be deterred. Who do you stand with, our grandparents and children, or with those still blocking the action we all need to protect our climate from the threat of fossil fuels?
Join the growing global movement of people demanding climate justice, by signing up here.
Popular in the Community