Swimwear label Bfyne has accused Brazilian fashion designer Silvia Ulson of plagiarism after Ulson showed her latest swimwear collection at Miami Swim Week on July 12.
A representative for Bfyne told HuffPost in a statement that Ulson's latest collection bore a striking resemblance to its own 2017 "Sahara" collection, which was inspired by the brand's Nigerian culture.
"That was extremely important for us to execute properly. We wanted to bring sexy to dashiki print and change the way the print was being looked at, ultimately transforming it into something no one has ever seen before," Bfyne's rep said.
"We live and breathe our culture, and we made it our mission to showcase that through our designs and the dashiki print," Bfyne's rep added.
For reference, you can see one of Bfyne's suits on the left and Ulson's ― which were paired with feathered headdresses ― on the right: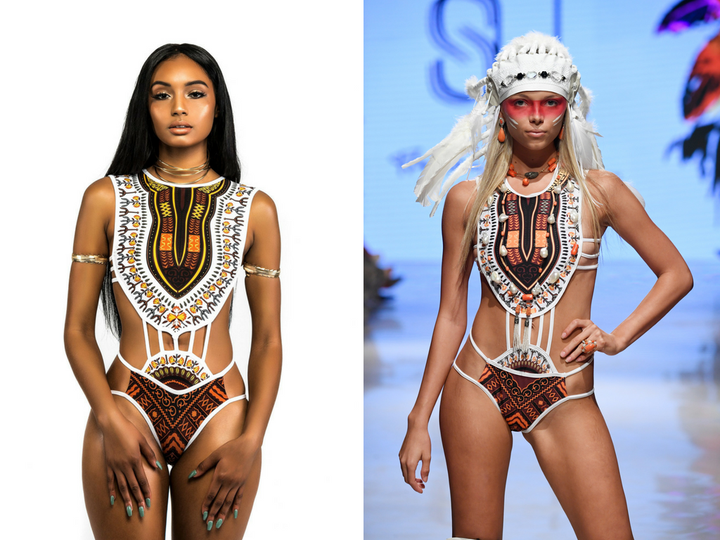 We must admit, the case against Ulson is very strong. Not only are the prints almost identical, but the cuts also appear to be the same. Here are a couple more comparisons: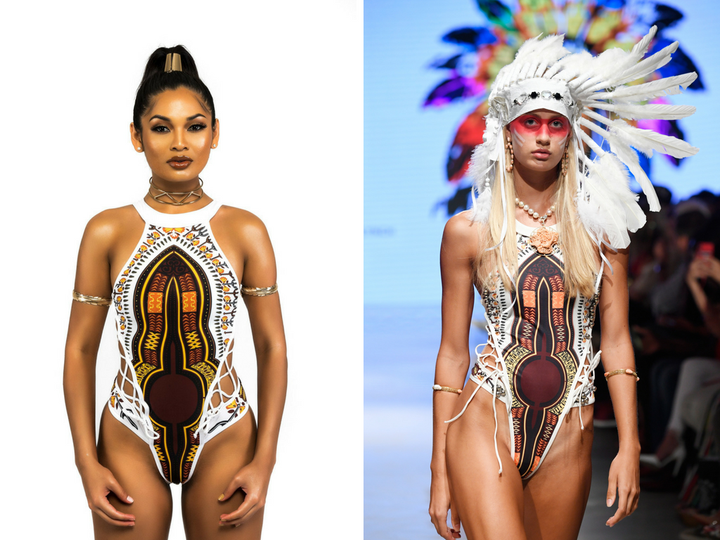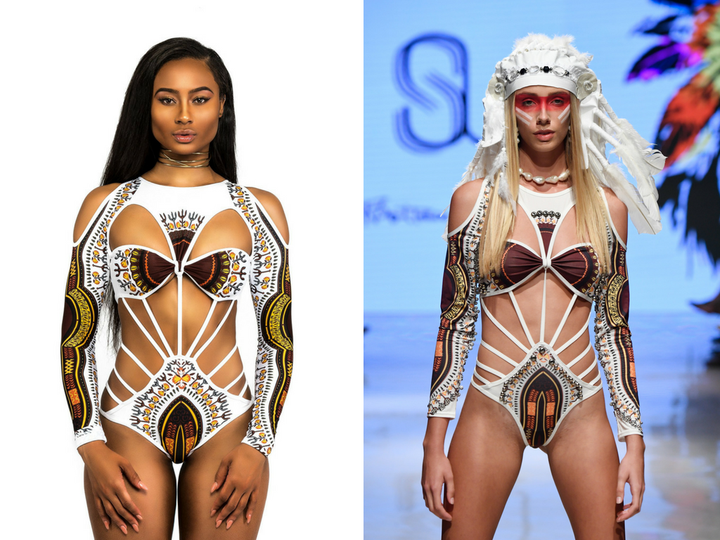 "It came to us as a complete surprise how another designer is allowed to showcase replicas and claim it as her work during Miami Swim Week," Bfyne's rep said, adding that she and her team were "completely flabbergasted."
The rep also called out Ulson for having models wear feather headdresses at the runway show, suggesting that the accessories were meant to "[deceive] people to think the print and design were Native American-inspired."
In the leadup to her presentation, Ulson shared what appear to be inspirational images for the collection on Instagram. (Ulson's account has since been set to private, which means only her followers are able to see the images.) The pictures showed various color swatches, beading details and images of indigenous people of Brazil wearing traditional headdresses.
"Brazilianness. The Indians used body paint as a means of expression linked to different cultural manifestations in their society," Ulson wrote in Portuguese in the caption, according to a HuffPost translation. "For each event, there's a specific type of painting: mourning, hunting, marriage, death. All indigenous ritual is expressed on their bodies in the form of painting, it's the Indians' most intense form of artistic expression. The paint is made from urucum [achiote, a red plant], jenipapo [a brown fruit] or babaçu [a Brazilian palm]. Living art!!!"
Bfyne's rep said they found out about Ulson's collection via Instagram, and were also alerted to it by models who previously worked for them and were present at Ulson's show. The rep also said that another member of the Bfyne team flew to Miami to meet with Ulson, who claimed the designs were her own original work and did not apologize.
HuffPost has reached out to Ulson's team in regards to Bfyne's accusations but did not receive a response at press time.
The Bfyne team would agree. When asked what they hope others can learn from their situation, the rep said, "Be inspired but don't replicate."
CORRECTION: A previous version of this story indicated that Ulson had removed her Instagram posts referencing her inspirations. In fact, her account is currently set to private.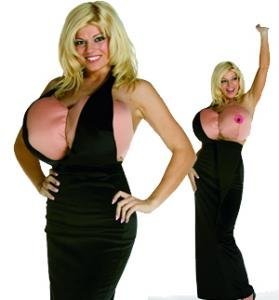 The Most Inappropriate Halloween Costumes Of All Time
Popular in the Community