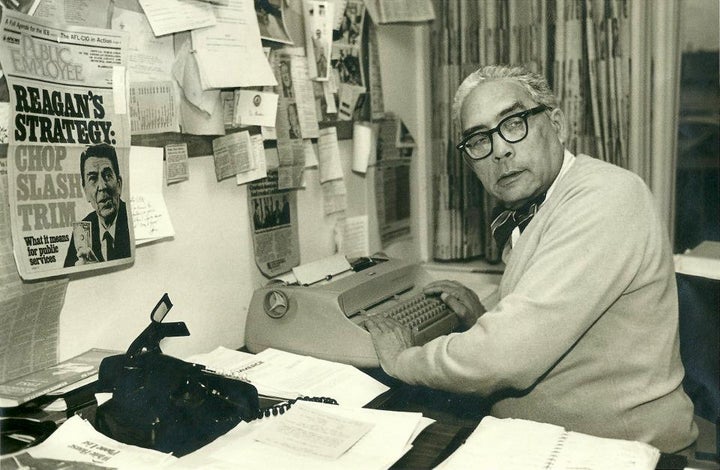 It is ironic that a man who scrupulously avoided the spotlight during his life would be illuminated so brightly by it in death. Ironic, indeed, that a man whose goal—for that matter, his driving ambition—was merely to narrate the struggle for racial justice in this country, would wind up becoming such a vital player in the action.
Simeon S. Booker, former Washington Bureau Chief for Jet and Ebony magazines, died at age 99 just this past week, a week that was filled with the kind of glowing tributes that Simeon Booker, the one I came to know as a mentor and friend, would have waved off.
Despite Simeon's dismissiveness, his reluctance to accept the admiration during his lifetime, his pioneering work in journalism speaks for itself. His award-winning and risk-taking reporting over the course of more than 60 years did what we can only hope the entire journalism profession might continue to do in this most challenging contemporary moment. He sought to turn the spotlight on the things that mattered most during a volatile period of social change. Clearly, he set the bar pretty high as he moved across the hostile frontlines of the national struggle for justice and equality and through the often equally tense domains of 10 presidents, beginning with Dwight D. Eisenhower.
Some people swore he was a Republican. An equal number swore he was a Democrat. Through my short time working with him and many years of friendship thereafter, I came to know the truth. He was just a damned good journalist. A reporter's reporter. One with a pipeline to exclusive information. Sources to die for. The kind who would call him with tips, or drop by our Washington Bureau offices to lay out some background information for his widely read weekly Ticker Tape column in Jet magazine.
He was generous in sharing these sources. In my early days as Washington Editor for Ebony, he would bring guests into my office and, with that deeply resonant southern baritone ("Come meet our young fella here"), introduce me to so many people who would make a difference in my own reporting success. In-coming Reagan Administration appointees, like Clarence Thomas, and outgoing Carter Administration appointees, like Ernie Green. It was something of a rite of passage for the significant players in each administration to pay a visit. To pay homage.
A 1950 Nieman Fellow (only the second African American), Simeon would move from that heady Harvard experience through a string of career firsts. The first Black reporter hired by The Washington Post (in 1951), and, thus, the first reporter to be subject to a, well, recommendation from editors on which restroom to use for his own wellbeing in the still-segregated Nation's Capital.
Later, with Jet magazine, he was the first Black reporter to be given White House press credentials, reportedly approved personally by President John F. Kennedy. And he scaled the Jim Crow barriers of the period to help establish the first Washington Bureau of an African American news organization in the central business district of the Nation's Capital—eventually winding up with a suite of offices on Pennsylvania Avenue, just a half block from the White House, and the place where an impressive list of dignitaries would gather to watch the parade during many presidential inaugurations. But these accomplishments pale in comparison to the "first" that helped shape modern American history.
While he would cover some of the greatest moments of the entire modern Civil Rights Movement, it began with a 1955 case that sent shock waves around the country and overseas.
When the mutilated remains of 14-year-old Emmett Till were returned to Chicago from the Mississippi Delta, where Emmett had been brutalized for whistling at a White woman, Carolyn Bryant, Simeon got permission from Emmett's mother, Mamie Till Bradley to view the body along with her and to have Jet photographer David Jackson photograph the remains.
Simeon recommended that the photos be published in Jet. Insisted on it. At first, the editors—including founding editor and publisher John H. Johnson—were reluctant. Jet, after all, was a relatively new publication, struggling to establish itself among advertisers, as well as readers. "Casket" shots and bodies typically were not seen in respectable newspapers and magazines. Besides, the horrific images of Emmett Till would never pass the so-called "breakfast test" of material too disturbing for readers to view over their morning coffee and toast.
That photo had to run, Simeon would tell me in our many talks about the case. Clearly, people no longer could turn away, refusing to face up to what this country had become. It was the responsibility of the press—especially the Black advocacy press—to look upon Emmett Till and see themselves. Those who had contributed to racial discrimination and its violent enforcement. Those who had done nothing to end it all.
As it turned out, the September 15, 1955 edition of Jet Magazine carrying the photos of Emmett Till, along with Simeon's gripping narrative, sold out. An immediate reprinting of that edition also sold out. And hundreds of thousands of people were moved to action, beginning with Rosa Parks, who later would say that thoughts of young Emmett Till were among those that motivated her to take her stand by keeping her seat on that bus in Montgomery, Alabama, only three months later. Many young activists would say they, too, were motivated to take a stand in the movement because of that photo.
Simeon covered the trial of Emmett's murderers and worked under cover—in sharecropper's overalls—with activists like newly named NAACP Mississippi Field Secretary Medgar Evers—to locate Black surprise witnesses who observed events connected to the murder. Witnesses who testified and then had to run for their lives, out of Mississippi, and up to Chicago. Witnesses who still were not believed by the all-White, all male jury. Roy Bryant and half-bother J.W. Milam were acquitted and later confessed in Look magazine for an interview fee of $4,000—nearly $37,000 in today's money.
My many hours of conversation with Simeon about the Emmett Till case changed my life. Ultimately, it was that background that informed my conversations with Mamie Till-Mobley as we worked together on her book during the last six months of her life. And it was that book that turned the page on yet another compelling Simeon Booker story.
When Ethel Kennedy called in 2014 to tell me Death of Innocence: The Story of the Hate Crime That Changed America, the book I had co-authored with the late Mamie Till-Mobley, had won a Robert F. Kennedy Book Award honor, I told her I wanted Simeon Booker and Moses Newson (a former reporter for the Baltimore Afro-American who also covered the Emmett Till murder trial) to be recognized at the event. After all, I had only written a book. They had risked their lives to document the story for books that one day might be written.
As it turned out, the co-chair of the book award, the late John Siegenthaler Sr., knew Simeon and Moses. Siegenthaler, the former editor of the Nashville Tennessean and aide to Attorney General Bobby Kennedy, was eager to recognize them. Unknown to me at the time, he also was eager to reunite. The problem, though, was Simeon. Did I mention his resistance to praise, adulation, backslapping attaboys? After all that conversation with Robert F. Kennedy Memorial Foundation organizers to set it all up, I was not sure that Simeon even would show up.
In fact, it was not until the evening of the event, when I turned around in my seat, next to co-honoree Scott Turow, when I saw Simeon seated there. His wife, Carol, had come through, and brought him to the event. I saw Moses Newson there, too. I began to feel the swell of the moment, a moment that had begun that week when the U.S. Department of Justice announced it was opening an investigation into the death of Emmett Till, a decision largely resulting from the methodical work of Kansas City activist Alvin Sykes in cooperation with Emmett's cousins, Simeon Wright and the Rev. Wheeler Parker, Jr.
When I stepped onstage to accept my award, I leaned in to Siegenthaler and said softly, "They're here." He nodded conspiratorially. He went on to sing the praises of Simeon and Moses, who stood for the ovation from the crowd.
After the ceremony and the photo opps as people in Washington did what people in Washington do at high-profile, power events, I searched the crowd for Simeon and finally found him with Moses and Siegenthaler, three veteran journalists, belly up to the bar, doing what journalists do at open bars—they were recounting war stories.
Like one that occurred on Mother's Day, May 14, 1961, in Anniston, Alabama, when the Freedom Riders were attacked by Ku Klux Klan members. One bus was firebombed. The demonstrators were beaten, while police looked on. The second bus—the one Simeon rode, as the only journalist aboard—that one was attacked. Simeon escaped, but desperately needed help getting out of Alabama. Clearly, the bus no longer was an option. His only ticket was the contact information he had been given for Bobby Kennedy, who dispatched Siegenthaler to rescue the stranded demonstrators.
An amazing story. One among so many in the life of Simeon Booker, as recorded now in the book Shocking the Conscience: A Reporter's Account of the Civil Rights Movement, which he co-authored with Carol in 2013. Ensuring that the life and the legacy will continue to inspire the rest of us—the journalists who follow—to step up, to never let up. Exposing the truth without fear or favor.
Related
Popular in the Community