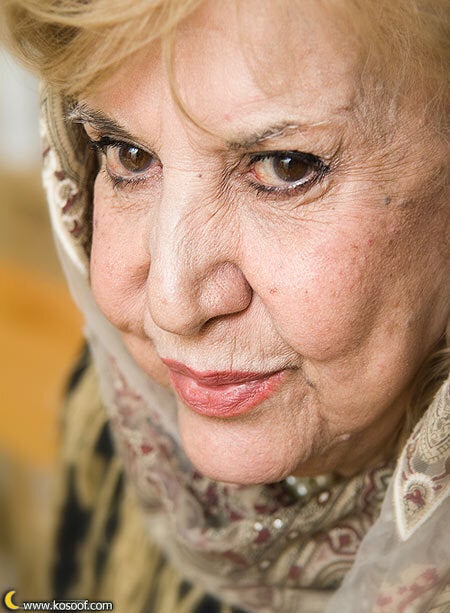 Simin Behbahani's poems paint one of the most nuanced narratives of modern Iranian society. Her poems offer apertures into the daily life of Iranians, and reveal its subtleties and paradoxes. "From the Street," a series of poems written between 1983-85, are realist representations of the uncomfortable economic and moral realities that plague Iran; the stories include a pregnant woman giving birth while waiting in line for rationed food (From the Street # 3) and the stoning of a woman by a cement block (# 6). In another poem, "The Child Trailed Behind," a boy stomps his foot on the floor and cries for pistachios. Embarrassed, the penniless mother leaves the store only to find him smiling with pockets full of pistachios. Momentarily relieved, the mother has a new predicament: has he stolen them? Spanned over 600 poems, Behbahani's concerns include war, peace, revolution, class disparities, gender discrimination, polygamy, marital life, domestic violence, patriotism, prostitution, aging, poverty, and global violence.
Born in 1927 in Tehran into a literary family, Behbahani is now in her mid eighties. Nearly blind, she always appears presentable; her warm and passionate voice never fails to mesmerize. She likens herself to an "Ancient Eve," whose mouth is "shut with kisses." With "wine" in hand and her "companion" by her side, she "rivals the twenty-year-old" Eve. Classical Persian poetry, traditionally coded as masculine, did not foreground issues of gender and sexuality. A masterful poet, Behbahani has mobilized her identity and experiences to highlight issues of gender hegemony and egalitarianism. Her story traces and illuminates gender apartheid and oppression as well as ground-breaking transgressions in Iran's cultural and literary history.
The Persian ghazal, historically known as a love lyric, has been recast and redefined several times, its elements made to serve new purposes, or sometimes done away with altogether. In her verse, Behbahani circumvents the social and cultural segregation of men and women (1), particularly by composing ghazal outside male centric conventions. She writes in the traditional ghazal form but allows her own personal and socio-political realities to permeate its universe and perhaps even take precedence over its conventions. In her essay, "We Await the Golden Dawn," she writes, "From early on, my poems have reflected my social milieu and conditions, though in effect, these reflections have been reflections of my individual and emotional reactions to the society and conditions in which I have lived."
Having consistently and courageously defended freedom of expression (2), Behbahani occupies an extraordinary place in Iranian society. Her poems have been turned into popular songs, used as daily aphorisms, rapidly circulated through mass emails, and memorized by Iranians of all walks of life. What revolutionizes Behbahani's verse is her unequivocal voice for economic egalitarianism and her bold violations of culturally accepted gender norms and dynamics. She has witnessed one of the longest wars of the twentieth century which consumed the lives of nearly one million Iranians and Iraqis (1980-88). Even the soul-numbing realities and horrors of war are chronicled through the melody and beauty of her verse. The immoral, the bad, the ugly are all expressed through her beautiful artistry. Though she is known for her social poems, idiosyncratic themes that celebrate femininity dominate the body of her works. In verse, she discusses issues otherwise unspeakable.
In "Ancient Eve," one of her more recent poems featured here, she likens herself to Eve. Like Eve, Behbahani, has violated many boundaries and crossed into previously forbidden realms. Unapologetic, prideful, she recites and claims her sexuality. Joyful and content, the eighty-year old Behbahani speaks of her desire to love and be loved. Throughout the poem, she challenges the convention that one must be of a certain age or look a certain way to love and to experience and express physical desire and fulfillment. She challenges traditional frameworks of morality and the rigidity of the dichotomies of virtue and sin, divine and godless, acceptable and unacceptable, and perhaps even heaven and hell. She speaks unabashedly of her "body warm with lust," of the "wholesome wine" of the company of her lover, making use of "burn[ing]" imagery and acknowledging implicitly that both are traditionally sinful--and, at her age, "bizarre"--ideas, but asserting in the end that they are all she needs to construct and dwell in her own heaven.
A revered form evoking male figures with the likes of Rumi, Sa'di and Hafez, it is now associated with a woman, banooy-e ghazal, the lady of ghazal. In a political climate where superficial and loud statements demand more and more authority and recognition, a profound sense of hope can be drawn from the verse and vision of Simin Behbahani. For over six decades, Behbahani has been living and writing in Iran. Farzaneh Milani, a professor of Persian literature at the University of Virginia, asserts that Behbahani's works show evidence of "Nightingale's Fever," a condition that the Russian poet, Osip Mandelstam (1891-1938), has described as an "inability to stop singing." With a fever "past any physician's cure," Simin Behbahani continues to recite Iran.
Love at Eighty?
Admit it: it's bizarre.
Ancient Eve is, once again
offering apples:
red lips and golden tresses.
Beautiful,
but not divine.
If my face has color
it's just makeup, a deceit.
But in my chest a heart
beats its wings wild with desire,
every seventy of its heartbeats
multiplied by two.
Love and shame and my body
warm with lust. I burn
with fever, a fever
past any physician's cure.
But at my side is bliss,
my lover
kind and faithful
and as long as he is here
I dwell in heaven.
I can't breathe a word;
my mouth's sealed
shut with your kisses,
their tongues of flame.
Oh, my thirsty lover!
Look at my happy fortune:
You, I, us tonight.
with a wine so delightful
where's the room for restraint?
Adam! Come see the spectacle.
Leave behind your denial and conceits
and watch as the Eve of eighty
rivals the twenty-year-old she.
Translation is by the authors. To read the poem in its original Persian, please click here.
1. Amongst Behbahani's predecessors, female poets who challenged gender roles and male-centric conventions in Persian poetry, are Táhirih Qurratu'l-ʿAyn (1814-1852), Parvin Eʿtesami (1907-1941) Forugh Farrokhzad (1935-1967), Tahereh Saffarzadeh (1936-2008).
2. In 1999, she was awarded the Carl von Ossietzky Medal for her struggle for freedom of expression.
Milani, Farzaneh (2011). Words Not Swords (Chapter 6: Gypsy Poet). Syracuse University Press. (quotation in narrative)
An Interrupted Speech," and "We Await the Golden Dawn" published in A Cup of Sin (Selected Poems of Simin Behbahani). Farzaneh Milani and Kaveh Safa, Syracuse, N.Y.: Syracuse University Press,1999. (quotations in narrative)
Related
Popular in the Community