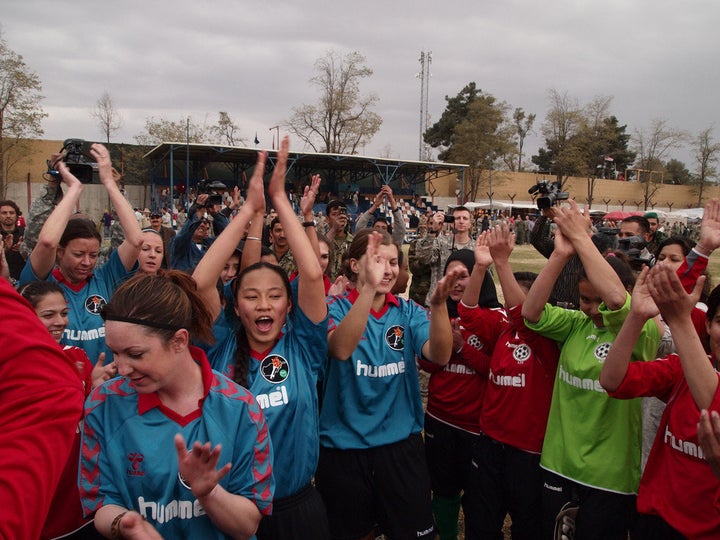 During the latest episode of the ExtraTime Radio podcast on MLSsoccer.com, one of the hosts -- Simon Borg -- made inappropriate remarks regarding female fans of Major League Soccer. These remarks were unacceptable and in no way reflect the values of MLS, its clubs, players, staff, or MLSsoccer.com. We apologize on behalf of our organization for those remarks. Respect for diversity is a core principle of MLS and we are proud of the diversity of our League and its fans.

Mr. Borg will be suspended from his position at MLSsoccer.com for seven days, effective immediately. All MLS employees undergo diversity and sensitivity training on an annual basis, and Mr. Borg and the entire MLS Digital group will receive additional sensitivity training promptly.
Women who love soccer aren't so hot -- at least according to Major League Soccer employee, Simon Borg.
Borg, a writer for MLSsoccer.com and a contributor to MLS' official podcast, ExtraTime, made airwaves when he decided to give some personal commentary on female soccer "superfans" during Monday evening's broadcast. About an hour into the podcast, transcribed by Jezebel, Borg said:
It's fine if you're a female and you want to be a super-fan. Clearly go for it, that's your choice. But there is something to be said for how appealing that might be to the other sex. Having a woman that's such a fan, like painting your face, tuning in to every podcast. I don't know how many males would be into that.

"It's great that in Kansas City there are a lot of women in the stands, it's great, but for the guy who wants maybe a serious relationship ... If you are following just casually, but if you're such a die-hard, I don't know, it comes a point that it is a bit of a [I don't want to say] turn-off ...
Later on in the segment, Borg said "The women are going to hate me. I apologize but … how many of you think the same way?"
Borgs comments immediately drew ire from the Twitterverse, especially from Women United FC, "a community for women in love with an MLS soccer team." Right after being alerted to the podcast, the group tweeted:
Later Tuesday, in response to another Twitter user's critique, Women United FC pointed out the potentially problematic nature of a paid MLS employee making the comments Borg did on an official MLS podcast:
If the blog posts men have written on the controversy for Yahoo! Sports and Jezebel are any indication, women aren't alone in vehemently disagreeing with Borg's sentiments. Jezebel's Hugo Schwyzer, who is married to a woman "who's a former soccer player turned LA Galaxy fanatic," called "bullshit" and wrote that "Borg gets both men and women wrong."
And Yahoo's Brooks Peck finds the entire premise of Borg's commentary to be flawed in itself: "Who … cares about how appealing your passions are to certain members of the opposite sex (as long as they're legal and not psychotic obsessions)? That's not how people should define themselves, female or male," he wrote.
Popular in the Community