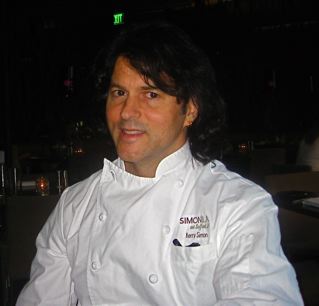 Kerry Simon's LA Restaurant - No Airs and Fabulous Food!
"He's movie-star handsome. Can he cook?" murmured my date as I introduced her to Chef Kerry Simon at a recent food function. "Yes, he's one of our finest and most successful chefs," I laughingly replied. But I could understand her inquiry: Kerry, at 53, is a great looking guy at the height of his powers as a chef and entrepreneur, and probably ready to seek new horizons....so serious acting in films or on TV is a natural move for him. But he defers my query when I suggest it; "I really don't have any interest in doing a cooking show on television, but as far as real dramatic acting ...I don't know, it's an intriguing possibility," he told me at a recent dinner at his SIMON LA RESTAURANT in the 295-room Sofitel Hotel at Beverly Blvd and La Cienega (8555 Beverly Blvd, right across from the Beverly Center (310) 358-3979) with valet parking).
I told my friend that Kerry had competed against Iron Chef Cat Cora on that iconic television show and defeated the champion with a hamburger! (something which people talk about to this day.) Three years ago I reviewed his local restaurant after he opened it to much acclaim, coming from his then-Las Vegas venue - Prime, at Steve Wynn's Bellagio Hotel (which Kerry then left after a change in management); he was seeking to achieve a higher presence in the L.A. market. From time to time, readers have reported having wonderful dinners here...but the restaurant doesn't seem to have achieved the wide acclaim Kerry has achieved in Las Vegas. On a recent trip there, I stopped in at Simon Palms Place at the Malouf's Palms Place hotel/condo just off the strip, but it was so jammed I couldn't get a table. (I did walk over to view the six shelves of potted herbs on a glass wall in the rear of the restaurant....talk about having a green environment.) And his second restaurant in Las Vegas, Cathouse at the Luxor Hotel, is equally hot, but not quite my thing. (Although decorated like a Parisian brothel, I'm told the food is serious.)
When Air France acquired the Sofitel Hotel in L.A. they were seeking a high-end steak house and offered the venue to Kerry, who was partnered with Jean-George Vongerichten at the Vegas Prime eatery. (Funny, the French have never been noted for their steak houses, despite the fact that their dish of steak frites is a standard in every bistro. When I visit Paris, I realize that not only don't they have any major steak restaurants, they don't even understand the concept...they never get it thick enough...they don't even have broilers in their kitchens.) Kerry had joined with partners Elizabeth Blau and her husband, Kim Canteenwalla, to open on Simon Kitchen and Bar at Peter Morton's Hard Rock Hotel in late 2002...when the Gallic guys came calling a few years later to come to L.A. Kerry, once called by Rolling Stone "The Rock 'n Roll Chef," told me that he had always wanted to come here. (The story behind that designation is fascinating: when Donald and Ivana Trump bought The Plaza Hotel in New York, she was in charge of selecting the new chef for the stately Edwardian Room. After interviewing every available chef in town, Kerry walked in, cooked her a dinner or two, easily charmed her, and manned the kitchen there for three years. When several rock star friends (David Bowe, Iman, Debbie Harry) came for dinner and ate at a table in the kitchen, the word got out and the 'Chef's Table' became the hottest spot in town...soon people were clamoring to eat there and it was booked two months in advance. Chef's Tables have since proliferated all over the world.)
The food at Simon LA is a reflection of Kerry's astute reading of what health-oriented Californians are seeking: organics, great seafood, some raw food...and the best steaks possible. Frankly, I find the environment so quirky that I feel stimulated just being there. As the L.A. Times reviewer once said: "It feels like the inside of a Moroccan lantern, with cut-out wooden panels in an abstract lace or foliage pattern casting shadows on the wall." Or, as someone said, "You feel you are dining in an early Gerhard Richter painting." At my recent dinner, Kerry told me his approach to the 180-seat place, which has two patios and serves breakfast and lunch as well as dinner. "We wanted a more adult, casually elegant restaurant, one without white tablecloths where you could come several times a week and feel comfortable doing so. He had objected to my calling it a steak house, and I suppose technically he is right...any restaurant which doesn't serve a Kobe beef or wagyu steak is not a real steak house...but once you've tasted his Roasted Prime New York Strip ($42), or the 10-oz Filet Mignon ($42) with its crispy shallots and little loaded baked potato, or even the Skirt Steak ($26), cumin-spiced and served with chick pea fries, beet greens and black olive aioli, you'll realize that this is a prime place for steaks.
But listen, for the table, any table, you must order Kerry's legendary Meat Loaf ($24), served with garlic mashed potatoes. The thick slice, from his mother's original recipe, is fabulous, and when I inquired, he revealed that it is ground pork and veal, which is handled gingerly with just a few spice added. But since my last visit, I see an added emphasis on seafood dishes, and at dinner with the hotel's p.r. woman, Jane Summer, I ordered the Bamboo Steamed Fish ($32), this night succulent black cod, steamed with lemon grass, ginger, kaffir lime and bok choy. Equal to any Chinese or Thai eatery. Ahi Tuna ($32) comes with wasabi mashed potatoes, roasted shiitakes, and baby bok choy, while others at the table raved about their Halibut ($29), a West Coast fish that was pan-roasted and served with sweet-and-sour baby peppers, toybox tomatoes, black rice, currents and pine nuts. My ex reports that she loved her Wild Red Pacific Salmon ($34), cooked in the tandoor oven, served with three preparations of California artichokes. I noted for my next dinner the Maine Lobster Carbonera ($52), linguine, English peas, pancetta, parmesan. Other entrees are: Roasted Loin of Veal ($36), Braised Lamb Shank ($28), and Organic Chicken Cacciatore ($23).
They don't serve the famed, fully-loaded 'Iron Chef Simon Burger' ($15) at dinner (the dish for which he won that ferocious TV competition) but I was told by my wait person that it could be special ordered...with a choice of aged cheddar (the only sensible choice for me), Swiss, or bleu cheese, and Tuscan fries. I've had one, and it is an unbelievable burger, a reason why so many foodies come here for lunch at least once a week...a mixture of ground beef, bacon, herbs and sweated celery. Awesome. They have a wood-burning pizza oven, so it would not be amiss to order one of the four: my favorite is the unusual Beef Carpaccio Pizza ($17), the beef topped with arugula, blue cheese and a drizzle of truffle oil. My friends loved another, the Wild Mushroom Pizza ($14) with stuffed artichoke hearts, smoked bacon, parmesan, lemon aioli. See what I mean: a unique take on everything he does. The signature Tuna Tartare ($16), yellowfin tuna coarsely chopped with lemongrass oil, ginger, and rice crisps. Lots of salads, of course, and a wonderful selection of starters: tuna dynamite ($16), with lump crab and red chili aioli..and a Colossal Crab Cake ($16),.
At dessert time, an amusing bowl of pink cotton candy arrives. A word about their desserts, all $11, except for the Simon Junk Food Sampler ($25), a tableful of old favorites which is mindblowing. I love the Lemon Marshmallow Pie, the Dark Chocolate Mousse Cake, and a classic Apple Tart. I brought a bottle of the new Laetitia Pinot Noir and, after tasting it, General Manager Klaus Doelling promised to consider adding it to his fine list. A word about Rande Gerber's Stone Rose Lounge, which is adjacent to the restraurant. It's a very hot, hip imaginative cocktail lounge which has caught on with the Cedars Sinai crowd as well as many celebrities.
SIMON LA has been a wonderful surprise to the Los Angeles hotel dining scene: remarkably good food in a relaxed, casually elegant setting...I find it to be warm, comfortable and inviting, and I can see mself lunching and dining here a few times a week...especially for that awesome hamburger. The prices are very reasonable for this level of food and setting. And after viewing their wonderful breakfast menu, you might just want to get up early and drive over for their organic eggs, waffles, pancakes and steel-cut oatmeal. If you spot a movie-star handsome dark-haired youngish guy in chef's whites wandering around, introduce yourself to Kerry Simon and say that we sent you.
The restaurant is open daily for breakfast at 6:30 am and serves until 11:30 am, then lunch until 2:30 pm, with dinner from 6pm to 11 pm daily.
To subscribe to Jay Weston's Restaurant Newsletter, email him at jayweston@sbcglobal.net.
Calling all HuffPost superfans!
Sign up for membership to become a founding member and help shape HuffPost's next chapter