But Parkes, who sits on the Whitby town council, makes Hellyer seem positively believable.
Parkes, who is set to star in a new documentary on alien abductions, told the Northern Echo that he has fathered a child with an alien. In fact, Parkes says he has sex with an extraterrestrial he calls the "Cat Queen" four times a year. In case you're wondering, the kid's name is Zarka.
Unsurprisingly, Parkes says the relationship has put some strain on his marriage with his human wife.
The attention for Parkes comes on the heels of former Canadian defence minister Paul Hellyer's testimony before six former congressmen at the Citizen Hearing On Disclosure in Washington D.C., in which he asserted that at least four species of aliens have been visiting Earth for thousands of years and that extraterrestrials are at this very moment working in concert with the U.S. government.
Hellyer's statements went viral. HuffPost Canada's story on his comments currently has more than 12,000 Facebook likes.
Do you think politicians speaking out about aliens is evidence that they really are visiting Earth? Or are politicians the last people you're likely to believe? Share your thoughts in the comments below.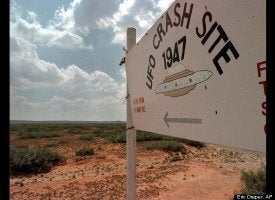 UFO Encounters
Popular in the Community