If you think the recipe of success for any children's book is an inspirational tale about a character we can relate to, something fun and entertaining yet thoughtful and educational, run…don't walk…and pick up a copy of "Simon the Snail." Written in rhyme, your children will love it, and so will you.
Naturally, you know the name Dr. Seuss and remember what an integral part of your childhood that book series was. "The Cat in the Hat," "Green Eggs and Ham," "Hop on Pop," among others, must ring a bell, and they still certainly resonate. Of course, there is also "Winnie the Pooh," "Madeline," "Charlotte's Web," "Peter Rabbit" (and anything written by Beatrix Potter), "Henry Huggins" (along with Ramona, Beezus and his dog Ribsy) in the book series by Beverly Cleary, and, old faithful, "Goodnight Moon."
And now there is "Simon the Snail."
Authored by Queens, New York native and current public school teacher Shari Bitterman, the main character in "Simon the Snail" is Simon, who has a shell "speckled with shimmering gold," according to his proud father, Mr. Snail. "Brilliant" is the word used by his three sisters. "As precious as he could be," notes a glowing Mrs. Snail about her beloved baby boy.
The encouragement and the love for Simon at home are bountiful.
Simon, however, is also a bit awkward and his pace is slow, as others tease and bully him at school. Even his teacher, Mrs. Slugly, is unsympathetic to his special needs. And that leads Mrs. Snail, depressed to see Simon singled out, to come to an important decision that will shape her son's future. She will accept Simon and love him just as he is, unconditionally, with the understanding and support that he needs to survive and, ultimately, thrive. A little extra encouragement is all he would need for Simon to triumph, decides Mrs. Snail.
"So, after every bedtime story as the stars twinkled up above, she'd give Simon an extra kiss each night to remind him of her love."
The moral of this beautiful story, packed with illuminating illustration by Shanté Clair is to never allow any potential potholes in the road in life discourage you. With his family's constant support and acceptance, Simon has a future paved with endless possibilities. And Shari Bitterman in her first book is destined for more chapters of this lovable new character who we can all relate to.
Bitterman, the mother of two daughters, was inspired to write "Simon the Snail" based on her own personal experience, ultimately creating the character of Simon after her younger daughter, Erica. "I was told that Erica would never go to college," remembered Bitterman, who shines with enthusiasm at the thought of Erica, a graduate of Queens College in New York, now applying for graduate school. "I wanted to encourage my daughter, we all did, and we wanted her to know that anything can be achieved."
"I could not be more proud of Erica," hawked Bitterman (who, of course, is the prototype for Mrs. Snail). "And I wrote 'Simon the Snail' as a way to inspire other children and their families who may face similar challenges. Never underestimate your child's future and always focus on the possibilities."
With Simon well on his way, children of all ages, and adult readers like myself are anxiously awaiting for more of this delightful snail. Shari Bitterman, and her daughter Erica, have inspired us all. And PBS Kids, which offers a slate of programs that both educate and inspire should stand up and take notice of "Simon the Snail," who is destined for a long animated life past this initial book.
This is only the beginning for Simon...and Shari Bitterman. And Erica Bitterman too!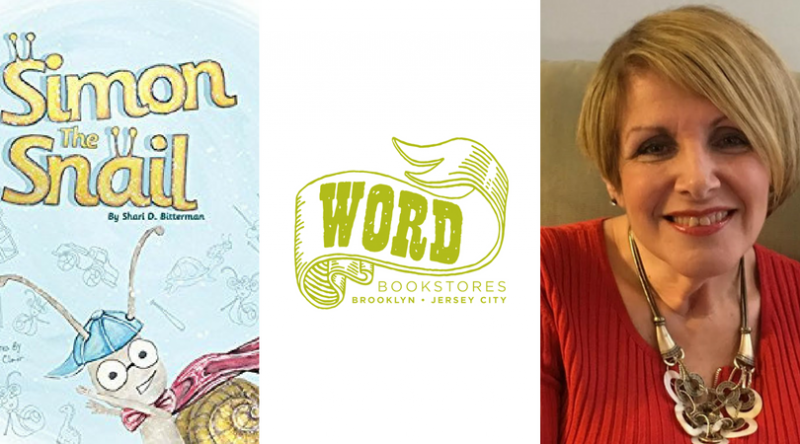 REAL LIFE. REAL NEWS. REAL VOICES.
Help us tell more of the stories that matter from voices that too often remain unheard.
This post was published on the now-closed HuffPost Contributor platform. Contributors control their own work and posted freely to our site. If you need to flag this entry as abusive,
send us an email
.