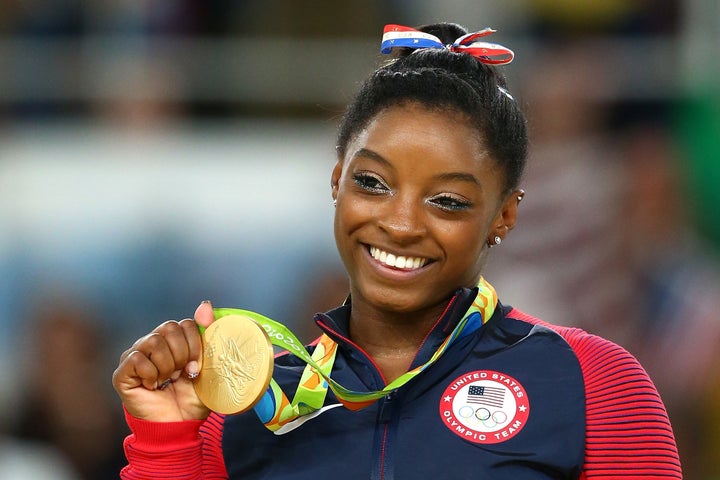 In Rio, the 19-year-old won four Olympic gold medals, making her the first U.S. gymnast to do so. To top it off, she also earned a bronze medal for her performance on the beam. Did we mention this was her first time competing at the Olympics?
Off the floor (and vault, beam, etc.) Biles has recently teamed up with Tide PODS for a commercial called "The Evolution of Power" (scroll down to watch) that stars Biles and includes footage of gymnasts Nadia Comaneci and Dominique Dawes. The gymnast took a break from shining her gold medals to talk to The Huffington Post about what it was like to be featured alongside such historic gymnasts, how she plans on finishing her time in Rio, and which athlete outside of gymnastics she admires: Serena Williams.
This "Evolution of Power" spot you're in focuses on the power of gymnasts and their strength. What does the word "power" mean to you?
Everyone has a different power. For me, I feel like you can be confident and that's power when you go out because it depends how you do your routine and how you carry yourself. I think confidence would be power for me.
Watch Biles in "The Evolution of Power" below.
What was it like to be recognized alongside these other powerful gymnasts?
It's amazing, and I still can't believe it. When I did the commercial I hadn't gone to the Olympics yet, so it was very inspiring to watch them and for me to be in it ― it was an honor actually.
Who are some other women you look up to, gymnasts and non-gymnasts?
Gymnasts would have to be Shawn Johnson and Nastia Liukin, when I was younger, and then I also watched the Fierce Five. And then outside gymnastics... Serena Williams. She's just so cool.
It seems like we hear a lot about women's gymnastics, but male gymnasts don't seem to be talked about as much. Why do you think that is?
I'm not exactly sure, because we still go and watch the guys compete. They're still part of our team, and it's exciting for us to get to compete and do what we do, because we both love doing it.
You've made headlines for your incredible run at the Olympics, as did swimmer Katie Ledecky. You two were actually born just a few days apart in March 1997. What's up with March '97 babies? Have you two joked about that at all?
We never thought of it because we knew our birthdays are close! I guess it's just kind of ironic that that's how it happened to be.
I want to go back and talk about Olympic gold medalist Shawn Johnson. She told HuffPost earlier this month that the media should stop talking about the way gymnasts' bodies look. What are your thoughts on that?
I think for gymnastics there are different body types in different styles. You just have to figure out what works for your body type to be able to do what you need to do, so there are no specifics.
What drew you to the partnership with Tide PODS?
We're doing the "Small, but Powerful" campaign and then the "Evolution of Power" video. It was very exciting for me to be with Dominique Dawes and Nadia Comaneci because they are the ones that paved the way for me to do what I do. And that's kind of like the Tide PODS. They've progressively changed over the past year and I think that's really cool.
I think a lot of people would agree that witnessing the sisterhood of the Final Five has been one of the highlights of the Olympics. In one word, can you sum up what it's been like being a part of this group?
In one word? That's hard.
OK, maybe we can do more than one.
[Laughs] It's been very fun. We've had a lot of good times together and a lot of memories, and it's something that we'll cherish forever. We've just had an amazing time in Rio.
You only have a few more days there. How do you plan on finishing your time there?
Right now, we're just trying to have fun and just relax. I think we all deserve it because we've worked so hard. 
That's a bit of an understatement. 
This interview has been edited and condensed.
For more Olympics coverage:
Calling all HuffPost superfans!
Sign up for membership to become a founding member and help shape HuffPost's next chapter
BEFORE YOU GO
PHOTO GALLERY
Hilarious Internet Reactions To The Perfection That Is Simone Biles