Simone Biles pulled out midway through the Tokyo Olympics gymnastics team final on Tuesday with what she said were "mental health" concerns.
The event ended in victory for the Russian Olympic Committee. The U.S. team secured silver.
During a media appearance following the final, Biles said through tears she was taking it "one day at a time" and didn't rule out participating in other Tokyo competitions.
"We have to protect our body and our mind," she added. "It just sucks when you're fighting with your own head. ... There's more to life than just gymnastics. It is very unfortunate that it has to happen at this stage because I definitely wanted this Olympics to go a little bit better. But again, take it one day at a time. We're going to see how the rest goes."
The team plans to have a "mental rest day" Wednesday, Biles said.
Watch the video of Biles' performance during the team final here:
Biles, widely considered to be the greatest gymnast of all time, faltered Tuesday on the American team's first rotation on vault and walked off the floor soon after with the team doctor, according to The Associated Press. She was supposed to have performed an "Amanar" vault, but appeared to bail midair.
The 24-year-old returned to the floor with her right leg wrapped. She hugged her teammates who had been seeking a third consecutive win in the event. Jordan Chiles was then subbed in for Biles for the uneven bars in the second rotation.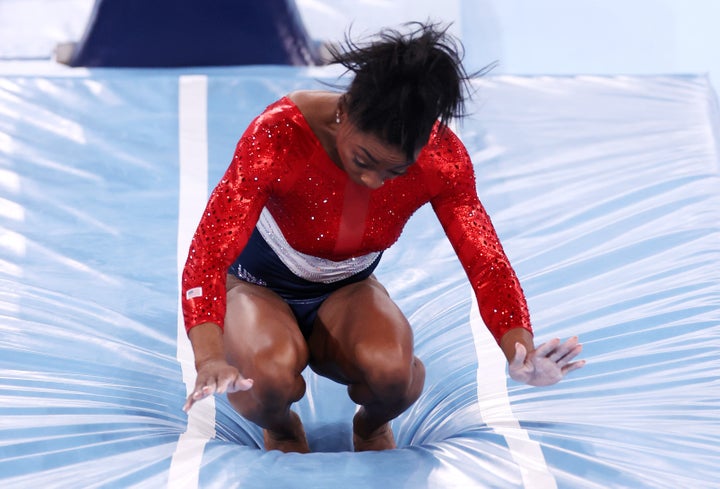 "Simone has withdrawn from the team final competition due to a medical issue," USA Gymnastics said in a statement. "She will be assessed daily to determine medical clearance for future competitions."
Biles is scheduled to compete for the all-around title on Thursday, and the vault, uneven bars, floor and balance beam from Saturday through Tuesday.
This article has been updated to include Biles' comments.