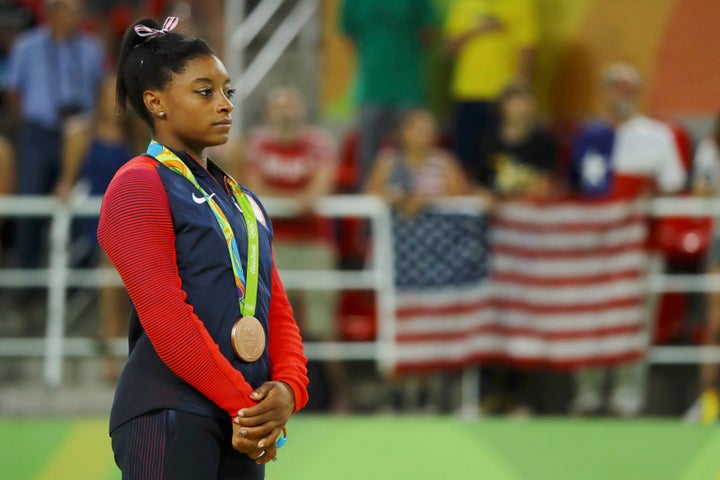 Gymnast Simone Biles has come forward with allegations of sexual assault against Larry Nassar, the former team doctor for USA Gymnastics and Michigan State University who has been accused of abusing more than 140 women.
Biles, a 5-time Olympic medalist who helped vault the U.S. team to supremacy in Rio de Janeiro two years ago, said Monday that she was a victim of Nassar's yearslong campaign of assault.
"I too am one of the many survivors that was sexually abused by Larry Nassar," Biles wrote in a message posted to Twitter. "Please believe me when I say it was a lot harder to first speak those words out loud than it is now to put them on paper. There are many reasons that I have been reluctant to share my story, but I know now it is not my fault."
USA Gymnastics responded to Biles' statement late Monday evening.
"USA Gymnastics is absolutely heartbroken, sorry and angry that Simone Biles or any of our athletes have been harmed by the horrific acts of Larry Nassar," the organization told HuffPost. "USA Gymnastics' support is unwavering for Simone and all athletes who courageously came forward to share their experiences. We are our athletes' advocates. USA Gymnastics will continue to listen to our athletes and our members in our efforts of creating a culture of empowerment with a relentless focus on athlete safety every single day."
Nassar pleaded guilty to 10 counts of first-degree criminal sexual conduct in November and will be sentenced on Jan. 16. Several of the charges each carry sentences of up to life in prison.
Dozens of other women have also come forward with allegations against Nassar, but some worry that their own experiences of abuse are going relatively unnoticed.
"A lot of people seem to believe it's only Olympians that this [abuse] happened to, which isn't true," Alexis Alvarado, another abuse survivor, told HuffPost's Alanna Vagianos.
Biles' fellow gymnasts, including Raisman, shared words of support after she posted Monday's message.
"I am so proud of you. You are incredible Simone," Raisman said, while once again calling for an investigation into USA Gymnastics. Raisman said earlier on Monday that she would not attend Nassar's sentencing because it would be too traumatic.
Biles said it was "impossibly difficult to relive" her abuse. She added that she would work toward competing in the 2020 Olympic Games in Tokyo, but worried about returning to "the same training facility where I was abused." She also called for an inquiry into Nassar's decades of abuse.
"We need to know why this was able to take place for so long and to so many of us," she said. "We need to make sure something like this never happens again."
Related
Popular in the Community