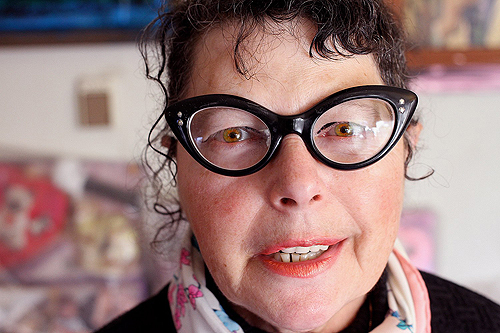 Simone Gad. Los Angeles. Photo by Eric Minh Swenson
One night I had a dream David Lynch told me I should do a film on Simone Gad. In this dream he was holding a cat and wearing a bad Christmas sweater. He was in red smeared lipstick reminiscent of "Wild at Heart."
A few nights prior I ran into Simone Gad in the gallery district of Los Angeles' Chinatown while out with an art world friend. I knew Gad as an artist and an actress with history behind her in both of those careers. This night she was alone, handing out cards to promote her next art show. Somewhat meek about it, yet nervously excited, Gad gave us an eye piercing two-minute unstoppable 'come-see-my-show' pitch as if she was rehearsing for her next audition.
When Gad left, I turned to my friend, who seemed exhausted by her, "What's the story of Simone Gad?" The reply, "She is nuts."
My vague intrigue now turned into curiosity, which segued into investigation.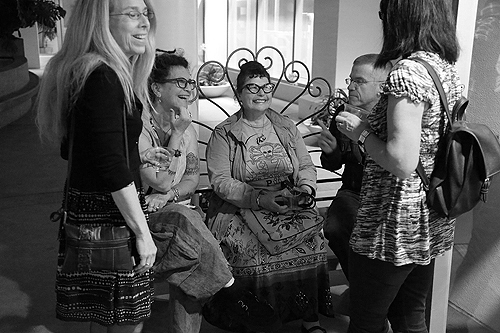 Simone Gad with friends. Santa Monica. Photo by Eric Minh Swenson
Through some research I discovered Simone Gad was born in Belgium to parents born in Poland who survived the Holocaust. Gad was celebrated in the Getty's Pacific Standard Time survey in which they deemed her an important artist in Southern California art history.
As a filmmaker, what's most important to me is not Simone Gad's self-portraits, pinup drawing collages, or her visual performance art history. What compels me is that this artist cum actress has a soul -- despite her exuberant quirkiness, a deep soul rooted in a dark history of war atrocities, including years of sexual harassment suffered as a young actress in Hollywood. Gad's triumphant survival in her gives analysis of her psyche.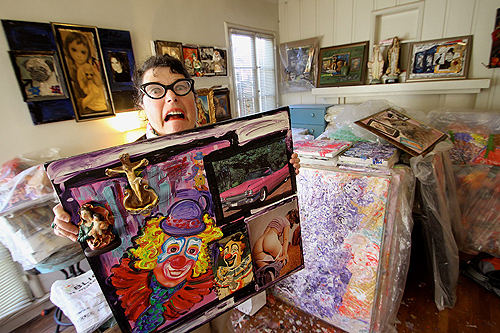 Simone Gad in her Los Feliz house. Photo by Eric Minh Swenson
Though it may be easy to typecast Gad as a neurotic, lunatic "cat woman," or the sweet, deliberate obsessed psycho in Stephen King's Misery, those who know her well consider her a loyally fierce friend. She is dynamic enough as an actor that you don't know if you're going to get a spontaneous Grand mal seizure, an exorcism, or a cool bingo player passing time between games at the casino, sipping orange juice alone in a fluorescent light-filled cafeteria at a Greyhound Bus Station. It may be easy to tar and feather others in t he art world, but for some artists being tarred and feathered may be a kink they enjoy, where Gad will always find a way to have the last laugh.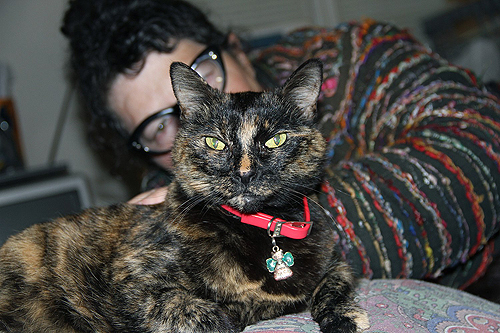 Simone Gad and one of her rescue cats. Los Feliz. Photo by Eric Minh Swenson
Simone Gad's ultimate prowess is her good-natured love for rescue cats, with a Bloody Mary mix of feminism and taboo sex themes that are through-lines in her body of work. Metaphors of soft porn, garage sale rummaging, and menstrual blood would befit a Maysles Brothers "Grey Gardens"-esque film on Gad, as she humbly, yet proudly paints among the cat hair and kitty litter that cakes the hardwood floor in her small Los Feliz apartment. However, I have since returned to her home and discovered a much cleaner experience. Gad is a woman who has arrived from Brussels to Hollywood to Chinatown, where she finds solace in Fu Dog paintings, her cats, and an eagerness to let you know how excited she is about her next show.
Lucky enough for Simone Gad, there's always a next show. And when I told her that someone called her "nuts," she replied, "I'd rather be nuts, than normal."
See the film I did on Simone Gad:
Popular in the Community