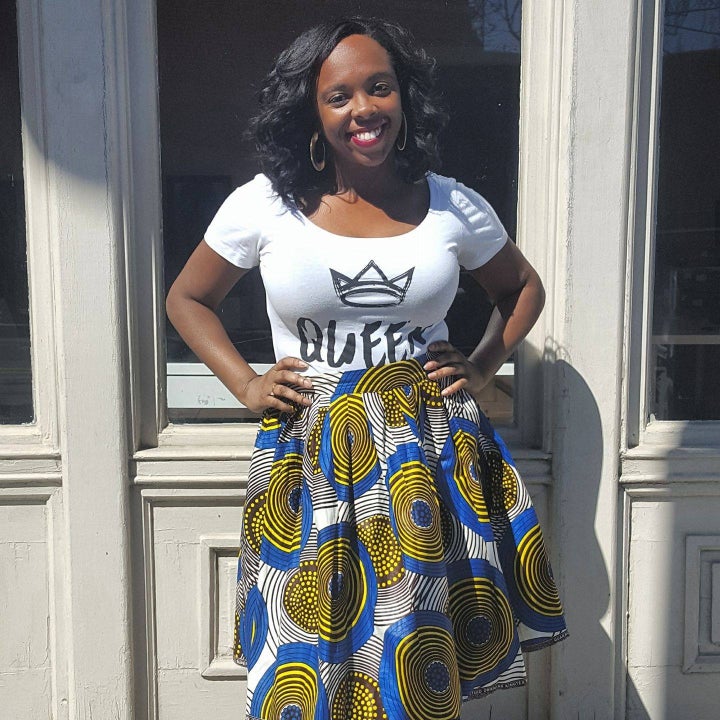 Black girl magic is an inherent trait of melanated women. Over the last few weeks I've covered several black female entrepreneurs who have that special product or service designed to enhance the very essence of the black woman.
Entrepreneur Simone Harvin is no different. It didn't take her long to realize her magic and that her new business idea was already in the making by her Maker.
"I found my magic honestly by making the decision to lean into my God-given and learned talents. Come to find out, the concept of Shop Simone Cheri, has been in my mind for years in the making before I even knew it! For years after attending SCAD (Savannah College of Art and Design), where I majored in fashion marketing and picked up graphic design, I was craving an outlet that would allow me to explore more creative ideas. I'm a digital marketer by day and get to dive into the entrepreneur side of life at night."
Harvin created the online boutique and lifestyle brand Shop Simone Cherí to signify how powerful black women are. She tells HuffPost how the viral hashtag #blackgirlmagic represents many things, but mostly a call to action.
"Black Girl Magic has become a sort of term of endearment that embodies how we, as black women, are the most radiant, successful, and resilient beings. We often handle many of the challenges put in front of us with ease in such a way that almost feels supernatural. And since the phrase's rise in fame, I think it's also come to represent the communal nature in which we support and celebrate one another. It's been a long overdue revolution to incite action in us and it's been a beautiful development to watch it take place not only in myself but in the women and girls I know."
Women have been flocking to the site because of the direct message her designs send the public. Harvin's shirts bear minimalistic text as a reminder to invest in black culture, black heritage, and overall black history. Although African-Americans have been plucked from their homelands, she sees lots of movement and change for black women despite what America puts us through. "The history of our country hasn't been favorable to the black community and being exposed to the purposeful suppression of our history within the U.S. has made it more difficult for our community. With movements like #blackgirlmagic, Black Girls Rock, and the like, we are becoming more cognizant of who we are as a people. I think it's been empowering for us."
Her "Cultures Vultures Not Allowed" tee speaks directly to that suppression in some respect. The cotton black and white top references the several instances that society witnesses, or even participates, in appropriating the very things that make us who we are; even as they make disparaging comments about the black race. Most recently with Taylor Swift's "Look What You Made Me Do" music video pulling visual elements from some of black culture's finest as well as the weekly news of almost any Kardashian taking advantage of the African American's in their personal and business lives, we are left to love ourselves as they steal from us for their own benefit.
Shop Simone Cheri's Instagram profile depicts black women living their best life. From hitting the beach to making a statement in the workplace and on the streets to hanging out with the girls, Harvin sets her brand apart from others by ensuring her products exemplify our voice.
"The vision for Shop Simone Cheri was to create a collection of products that allowed curlies, straights, naturals, and not-so-naturals to express their love for our culture. We, as women, express ourselves in many ways but fashion has been one of the most profound ways that we convey our personalities. We focus on creating designs that provoke thought or at least a second glance, and that in itself is the essence of Black Girl Magic. We are thought provoking and we certainly often warrant a double take. Our signature "Queen" and "Black Girl Magic" tees serve as walking billboards that champion our beauty, strength, and power when our customers wear them and that's been the most exciting part of this journey."
Her most interesting product, a 6 oz. premium stainless steel hip flask reading 'BLK GRL MGC', is something many wouldn't suspect from young black female millennials but it's making a major dent in black girl lifestyle everywhere. One of her best-selling products to date, the flask instantly gives customers access to their beverage of choice when attending your favorite festival or kicking back with friends. Who knew a flask could bear the beauty of our magic as well?
If you don't get it already, you should be supporting this small business and others that are focused on improving the confidence and economy of the black community. "It's important to have brands like mine that provide access to authentic products reflecting black culture that you will not find in mainstream, big name stores. Representation is important. By supporting these businesses our communities are directly able to prosper from increased employment opportunities, synergistic business relationships and, long-term, generational wealth in the long run."
Changing the narrative on the black community starts from within – genuine love for one another and ourselves. The economic boost and power we gain from supporting one another is the cherry on top. Wouldn't you agree?

The #SellingBlackGirlMagic is an independent series profiling black female owned businesses. Each business carries product or offers a service that compliments the magic of the everyday black woman.
Related
Popular in the Community