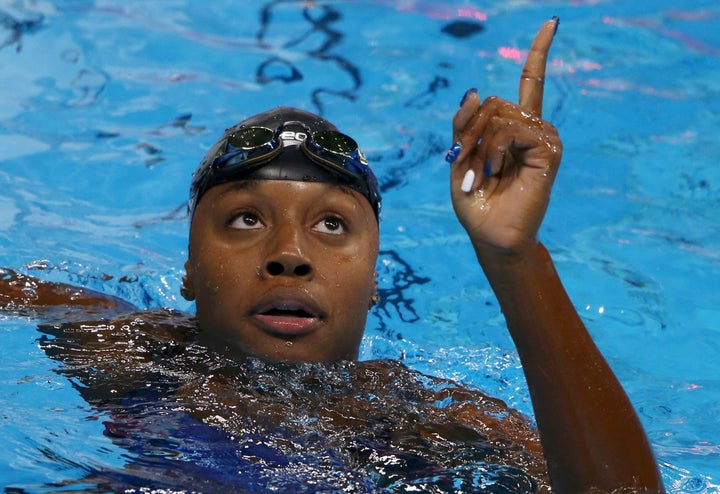 There are levels to Simone Manuel's epic Olympic win on Thursday. The 20-year-old has become the first black woman to win a gold medal in an individual swimming competition in the history of the Olympics. Tying for the gold medal with Canadian swimmer Penny Oleksiak, Manuel also set an Olympic record with a time of 52.70.
What the Texas native has managed to accomplish during her time in Rio is most definitely historic ― but it's also weighted with meaning that extends far beyond the Olympics.
There is an infamous photo from 1964, of a motel manager named James Brock pouring acid into the swimming pool of his Saint Augustine, Florida, motel. Below him, black and white protestors attempting to integrate the segregated pool scream in shock and fear.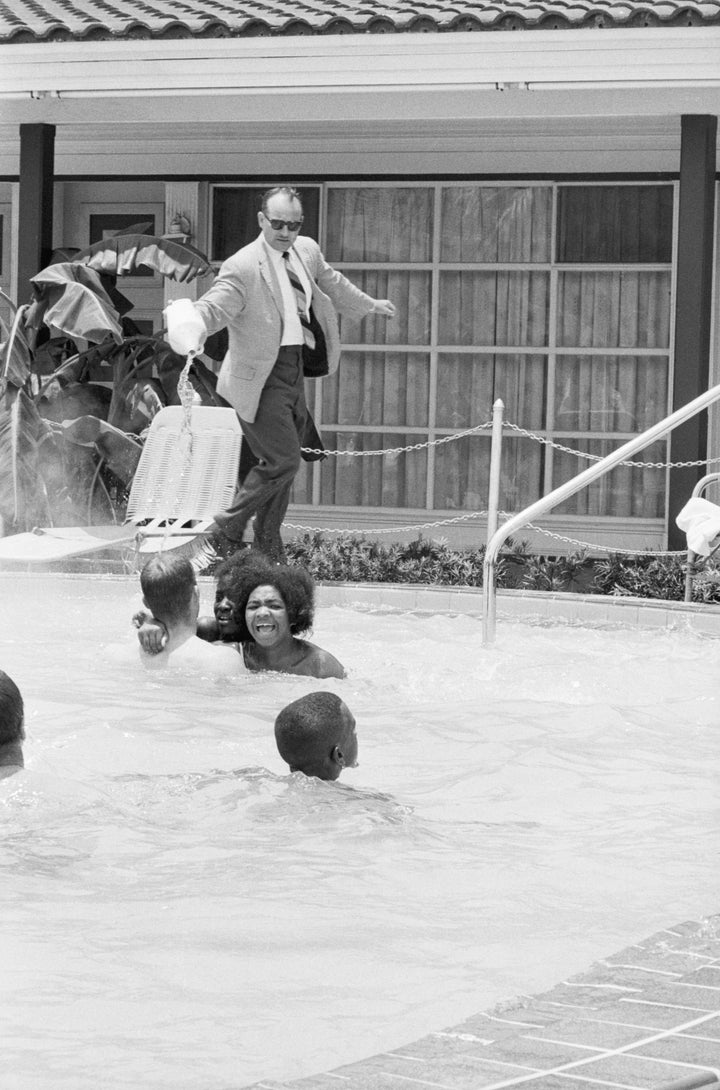 The photo is a visceral reminder of the everyday realities of segregation in the United States. Black people weren't even allowed the dignity of cooling off in a pool or at the beach without being segregated and denied access.
According to The Guardian, during the 1920s and '30s thousands of luxurious public pools were opened all over America. All of them were segregated. When desegregation began in the '50s and '60s, government officials withdrew funding for desegregated pools. White pool-goers ultimately fled for the perceived comfort and "safety" of private, segregated pools and the rundown public pools left over for black people were gradually closed down.
Today, there's a stereotype that many people, including some black people, subscribe to: "Black people can't swim." Of course, that isn't completely true. Many black people, throughout the diaspora, know how to swim.
But what is true is that white people in America are two times more likely to know how to swim than black people. What is true is that black children are three times more likely to die in the water than white children. What is true is that many black people over the course of America's history have been unable to learn to swim because they have had to contend with a lack of access to safe places to swim, the stigma of swimming being a so-called "white" sport, and generations of older black people passing on their fear of the water to younger generations.
Is it any wonder, then, that in the professional sports world, so few black people (and especially black women) have made it to the Olympic level in swimming? After all, it was only 12 years ago, in 2004, that Martiza Correia McClendon became the first black woman on the U.S. swim team.
"I'm proud to be the first, but I don't want to be the last," McClendon said at the time.
What's a little jarring about Manuel's historic victory in Rio is the fact that some media outlets have seemed to downplay or ignore its overall significance. As many black Twitter users pointed out on Wednesday, Manuel's first place position in the 100-meter freestyle semifinal was completely passed over by NBC, with very little acknowledgement (there was an obligatory tweet). The media was criticized for making light of Manuel's win, focusing more on her opponents and Australian swimmer Cate Campbell.
The athletic accomplishments of young black women like Simone Manuel, like Lia Neal and Ashleigh Johnson (the first black woman to compete in water polo at the Olympics) are vital, their presence in Olympic swimming competitions even more so. They serve as a palpable and important reminder of how far black people have come in the United States after something as simple and necessary as being able to swim was denied to us. Today, we're not just swimming ― we're slaying the game.
Before You Go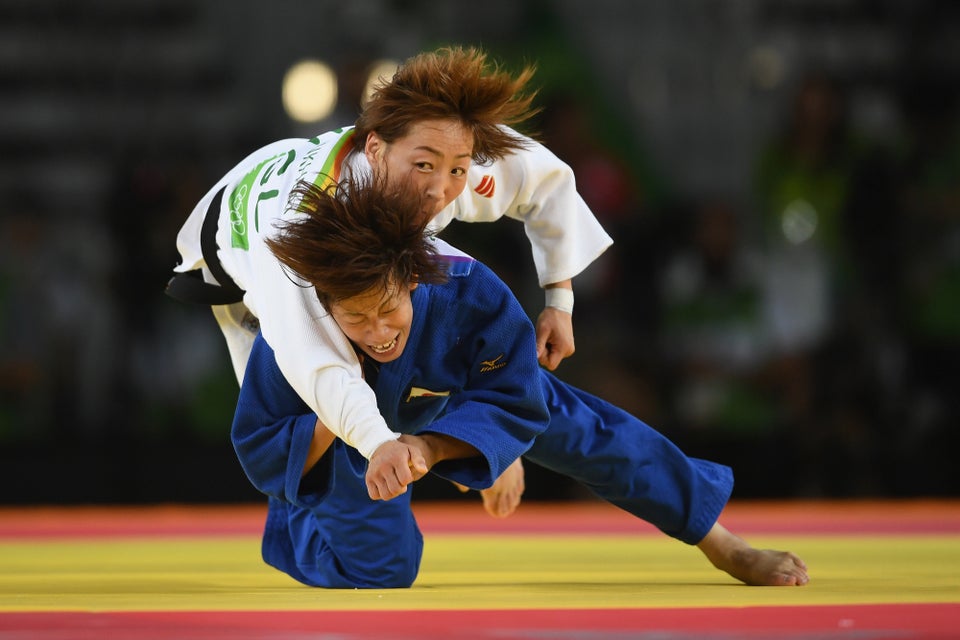 Best Photos From The Rio Olympics
Popular in the Community