The beach is supposed to be a 'happy place,' - a place to kick back, relax, and not worry about a thing. Still, as a woman, I can't help but want to look and feel good at this serene place during the summer. Let's be honest ... between the humidity and sweat, accomplishing either of those is not always easy.
Over the past few years I've been experimenting with different low-budget and simple things to do in order to achieve both. Based off what I found works best, here's how you too can look and feel good at the beach this summer.
Plan ahead with hair humidity hacks.
There can be a lot of work that goes into looking good (unless you are Heidi Klum perhaps who seems to be naturally beautiful). I was never the kind of girl who could be bothered with spending hours in front of the mirror or preparing my outfits each week. I've always just wanted quick and simple fixes.
One of my biggest beach beauty concerns was my hair - I was getting sick of it always looking a mess a few hours into my beach retreat, so I tried some humidity hacks such as Ry's Humidity Hacks for Summer and fell in love with these two:
1. Use a clean toothbrush and comb your hair with hairspray in order to keep small areas of frizz at bay. (If you get your hair wet at the beach, this hack will cancel itself out. I personally tend to avoid the ocean and rarely get my hair wet at the beach, so it works well for me.)
2. Wash your hair less. Your hair has natural oils and washing too frequently strips them away, according to Ry. I now swear by dry shampoo and bring a small bottle to the beach with me. (This hack works great before, during, and after the beach. As your hair dries off after you dive into the ocean, freshen it up with your dry shampoo.)
Replace the foundation with a pressed powder over a light BB cream.
I've found that a lot of foundations would just sweat off my face when it got hot but were also too heavy for a casual beach day. I now use two inexpensive drug store products and save my pricey makeup for nights out. Both of the products have an SPF in them so I don't have to worry about applying sunblock to my face. I found that by using each product alone, they would melt off.
By combining the two, I get extra coverage that lasts longer. Pictured below are the two products I use. I discovered the CC powder by accident - after getting frustrated with the BB cream not lasting, I went into the local drugstore and it was the only CC pressed powder the store had. I chose the CC over a regular pressed powder because the BB cream alone does not cover up in imbalance in color on my left cheek. It ended up being a major win - not only did it work great and last for several hours (when combined with the BB cream) but it was inexpensive (less than $15) and came with a mirror and brush (convenient!). I brought it to the beach with me a few times incase I needed touch ups but since it lasts, I never had to use it while there.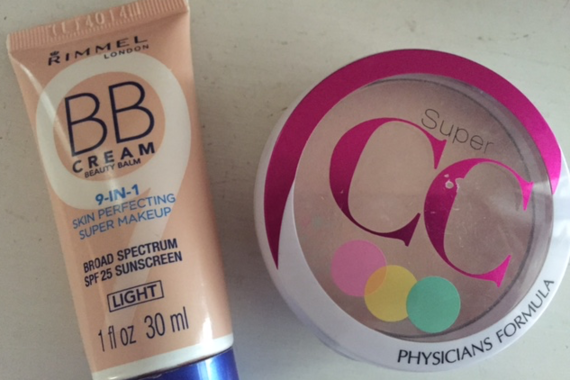 I'm sure applying the CC powder over a foundation would work just as good but haven't yet found a light enough foundation that I like.
Side note: The BB cream was also an accidental purchase. The buy one get one 50% off sale at the time drew me in. I bought two different BB creams from the brand and ended up liking the one and loving this one. Sales = great opportunities to try new products.

Waterproof mascara is a must.

I've used the following and based on price and overall makeup result, I'd recommend them.
• Maybelline Great Lash Waterproof Mascara (less than $7)
• e.l.f Waterproof Lengthening and Volumizing Mascara (less than $8)
• L'Oreal Telescopic Shocking Extensions Waterproof Mascara (less than $12)
Frozen fruit = healthy, delicious, and cooling.
It's always tempting to visit my local boardwalk food stands and shops which are typically filled with pizza, fries, donuts, bagels, and other unhealthy eats. Can you relate? Feeling bloated while in a bikini? No thanks. I now pack accordingly and cheat less. Frozen blueberries are my favorite beach snack and have been associated with decreasing risk of obesity, diabetes, and heart disease in addition to having other health benefits, reported Medical News Today.
I put them in small containers the night before then pop them into the freezer. They tear apart easily making them easy to eat when frozen. Frozen grapes have also worked well for me. Red grapes in particular are low in calories and fat plus pack a number of essential vitamins and minerals according to Livestrong.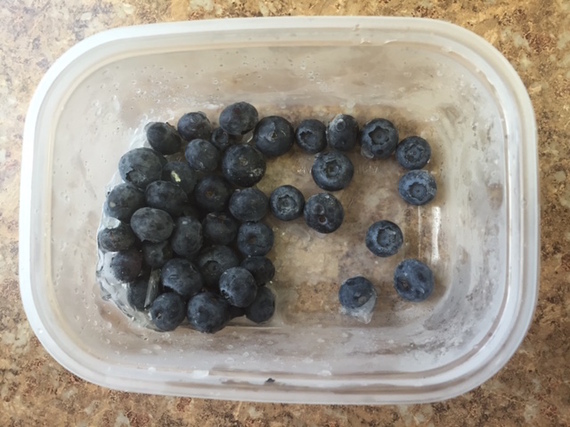 Freshen up with a spray deodorant and facial spray.
Choose your favorite spray deodorant (I prefer smaller bottles to limit how much I carry to the beach). My favorite facial spray is a recommendation from one of Carli Bybel's beauty videos - Mario Badescu Facial Spray with Aloe, Herbs, and Rose Water.
A few years ago I brought a kids coloring book to my parent's house along with some colored pencils. My dad asked what I was doing with them. I told him I like to color - it's relaxing. He found it surprising until he tried it himself. Why didn't I think of the now trendy adult coloring book idea back then?
In 2014, Huffington Post Spain ran an article on how coloring can help adults combat stress - the article was translated here. It stated, "...coloring has a de-stressing effect because when we focus on a particular activity, we focus on it and not on our worries. But it also brings out our imagination and takes us back to our childhood, a period in which we most certainly had a lot less stress."
So grab your favorite coloring instruments and coloring book and feel good by coloring.