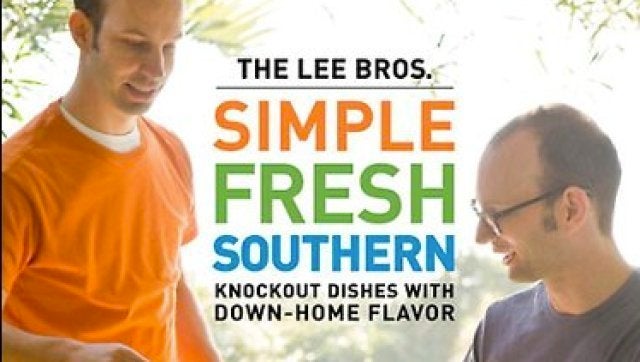 Summertime cooking is a delicate dance in our house. I never want to turn the oven or stove on for too long, but my insatiable urge to spend time in the kitchen never dissipates just because the mercury rises. When "Simple Fresh Southern" by Matt and Ted Lee came into my life, I breathed a sigh of summery relief for its cold soups, fresh cheeses and flash-cooked seafood inspirations.
I've had this cookbook for three summers -- as anyone who dines frequently at my house can tell you, it rarely leaves the kitchen counter during the hottest months, then begrudgingly migrates back and forth from bookshelf to tableside for the entirety of fall. Don't get me wrong, I have my favorite recipes memorized at this point -- I kind of just like to have it around anyway. The great thing about summer in New York is that it's rarely over when you think it is, giving us lots of reasons to drink celery juleps (you have to try them to believe how good they are) and eat radish butter for months to come.
This cookbook feels like dropping a back porch in Charleston into the middle of your living room. Doesn't that sound like fun? Seriously, it is.
The recipe for Radish Butter that follows below is hands-down my most-cooked recipe from "Simple Fresh Southern" (although the White Gazpacho recipe is rapidly threatening to overtake it). Please enjoy responsibly, as you'll want to eat it with a spoon, even though it's mostly butter.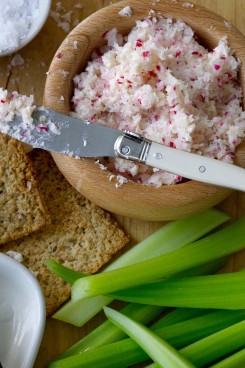 Radish Butter
from "Simple Fresh Southern" by Matt and Ted Lee
Serves 6 • Time: 10 minutes
This simple veggie spread will knock you out first with its speckled-magenta beauty. Then you'll be impressed by how it synthesizes the old-school delight of peppery, cool radishes from the garden, dabbed with a dot of good butter and a pinch of salt. Spread it on rye toast points, unsalted crackers, celery sticks, endive leaves, or crunchy romaine hearts.
We got the idea for radish butter from our Nashville friend Mindy Merrell, the co-author, with her guy, R. B. Quinn, of Cheater BBQ: Barbecue Anytime, Anywhere, in Any Weather. For folks who call themselves "cheater chefs," they sure don't skimp on anything, and they come up with ideas that are simple and original and damned delicious. We think you'll agree "clever chefs" is more like it.
1/2 pound round red radishes, trimmed, at room temperature
6 tablespoons unsalted butter, completely softened
1/4 teaspoon kosher salt, or
1/2 teaspoon Maldon salt
1/8 teaspoon freshly ground white or black pepper
About 24 thinly sliced rye toast points, toasted slices of
French bread, water crackers,
2-inch celery sticks, endive leaves, or romaine heart halves
Put the radishes in the bowl of a food processor and pulse until the radish is chopped into very fine dice, four or five 3-second pulses. Transfer the contents to a length of cheesecloth or a double thickness of paper towels and wring out the excess liquid. Transfer to a medium bowl and add 4 tablespoons of the butter. With a rubber spatula, cream the radish and butter together, adding more butter 1 tablespoon at a time, until the mixture comes together in a smooth, pliable mass. Transfer the mixture to a 2-cup ramekin or bowl, sprinkle the salt and pepper over the top, and serve immediately. (The butter will keep, covered with plastic wrap, in the refrigerator for up to 2 days. Remove it from the refrigerator 15 minutes before serving to let it soften. Sprinkle the salt and freshly ground pepper over the radish butter before serving.)
Related