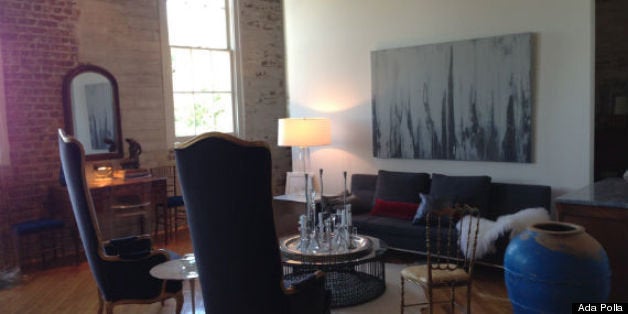 My home is my sanctuary, my little slice of peace and quiet. In true European spirit, I love to rent -- the American Dream to me has nothing to do with a mortgage. I am a fan of smaller spaces (my apartment is about 1,300 square feet), I love anything old, including old buildings (the row house I live in was built in 1901) and antique furniture. I am also a minimalist, a true believer in the less is more philosophy. A few weeks ago, I wrote about tips on how to dress like a chic European. This week, I share tips about European decor, featuring the advice of my friend and interior decorator Tom Landry, whose taste is completely in line with mine (he could be an adopted European, even though he is a New Orleanian). Every time he comes to DC, he re-arranges a few things in my apartment... and every time he leaves my home looking even better!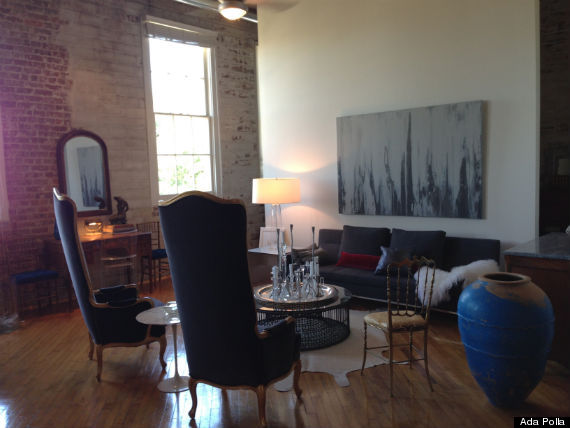 Tom Landry's Living Room
AP: What are 5 things everyone should have in their home?
TL:
1. One piece of art, you love no matter its origin, market value
2. At least one beautiful mirror or many to reflect the energy of your home
3. A family heirloom or antique
4. Books (even if you don't read)
5. Someone you love
AP: What are 5 things everyone should throw away right now?
TL:
1. Any object that is a replica of something living such as a plant or animal (yes, even if its 100 percent silk of a hide of another animal -- like a Zebra printed cowhide)
2. Ceiling Fans (have we not air conditioning systems in this day and age?!?!)
3. Anything without a purpose (purpose however is not necessarily functional but can also be visual stimulation)
4. Common trendy or reproduced objects are the epitome of poor taste!
5. Potpourri (and yes, it does still exist)
AP: What are 5 affordable fixes to implement today?
TL:
1. Painting (whether the walls, mill work or a large canvas painted a color that evokes your senses)
2. Re-arranging of existing objects, furniture, art (can truly transform a space several times over with the same items); I have always said that our physical surroundings should never be sterile or immobile but should be much like that of our lives, in perpetual motion
3. Lighting (the simple changing of a bulb type can transform a space, I love Reveal light bulbs for incandescent applications)
4. Pillows (change colors at any time by bringing in fresh new color with a few solid accessory pillows)
5. Changing cabinetry door fronts and/or hardware
AP: What are 5 splurges to save and enjoy for the rest of your life?
TL:
1. A single piece of art, large or small that you obsess over after first encounter and begin to have an affair with in your mind
2. A grand piano (even if you don't play, lacquered ebony pianos are so incredibly beautiful)
3. A well designed sofa (of the Italian sort, one that can grow old with you and your surroundings, whether traditional or contemporary)
4. A mirror; mirrors reflect beauty not only of the human reflection but of the space that which surrounds the human reflection; how better can you enjoy your surroundings than to see yourself actually "in" them?
5. A bookcase or shelving (to house all that you cherish, collect and wish to display over your lifetime); I can always tell so much about someone when I visit their shelving, it's like a visual biography of the person's life
AP: 5 tips to make any room look good?
TL:
In general, here are some tips that work all around the house:
Fresh flowers (or even just greenery cut from your own garden) in a clear vase or bottle brings life to any environment
Low voltage lighting on dimmer (track or recessed) gives a clean clear light that brings life to the space even in the darkest of hours
A scented candle (Tocca's Grace or Stella are my favorites)
Here are some tips for specific rooms:
Kitchen
• Keep the area clean and crisp, clutter-free, let the fruit, vegetables or food you are preparing take center stage
• Fresh fruit or herbs keeps the kitchen feeling warm and inviting
• Natural light brings the outdoors in; we consume fruits of the land and sea, we should prepare these in an light filled environment that is respectful of their origin
• If your sink faces a wall, place a mirror behind it to reflect the happenings behind you
Living room
• Always anchor the space with a single main focal point (view, fireplace, art or even media) and build outward from that focal
• Ambient lighting provides for a mood change and can either be used during the evening or when raining out
• A fireplace of some sort whether it be conventional wood burning, gas or an eco-fireplace, is essential: a flame brings a comforting intimacy to a space like no other element
Dining room
• A dining room should be a place to share with family and guests; make it inviting by lessening the formality of the space and focusing on the how those who use the space are able to comfortably enjoy the space with one another (design the table without head chairs, lessen the width of the table allowing for more intimate conversing, provide sufficient and direct lighting over the table with ambient lighting at the surround)
Bedroom
• Ample ambient lighting (lamps), for soothing light
• Sumptuous bed linens that are to be used, rather than seen and removed before sleep
Bathroom
• Roll your bath towels for a spa like look
• If the ceilings are low, use a long slender mirror above your sink to give the illusion of height
• Keep counter surfaces clean and clutter free by storing your personal items away
• Don't dismiss art's relevance to this space, no matter how small
AP: What are your 5 favorite home organizational resources?
TL:
1. apartmenttherapy.com (someone always, always has an idea that makes me wonder, how in the world did they think of that?).
2. Never underestimate the power of Ikea when it comes to home organizational items and ideas on how to organize.
3. European design magazines, European design magazines and more European design magazines! Elle Décor is my go to. Also, the Home Series, a paperback book collection that has been published annually by Le Figaro for Ma Déco, is an incredible source of inspiration for European home design. The series is broken into various titles such as Kitchens, Bathrooms, Living, Designer Spaces. While they are published annually, the imagery is timeless.
4. I take the pages from those magazines and place them into black sketch books, titled, bedrooms, bathrooms, kitchens, libraries, stairwells, etc. This is a great way to reference inspiration without having to go through 100 magazines in search of that one specific image. OK, perhaps it's a bit like Pinterest, but I prefer to have the image in my hand...
5. Another person: when faced with home organization dilemmas clients face, I believe having another set of completely objective eyes come in is the best way to come up with a solution.
Popular in the Community