It's that time of year again.
We don't focus enough on our self-care. In late August at the Brooklyn Public Library, I met with a group of teachers. My session was focused on ways we can adapt yoga to any space, to relieve physical and emotional tension, for both students and teachers. I run a company that teaches people how to de-stress at work, and in any space. Based on my experiences as a stressed out high school special education teacher, September can be filled with mixed emotions. Luckily, we can learn a lot about how to take care of ourselves through yoga and mindfulness.
Several voices in the mindfulness and emotional intelligence scene tell us the importance of labeling our emotions. According to researcher Matthew Lieberman, labeling feelings can dampen the severity of emotions, allowing us to have more control over how we feel. Labeling thoughts and emotions is one of the key pieces of mindfulness practice. But you don't have to meditate to label emotions. One easy way to label feelings is on a simple tool called The Mood Meter. Developed by Marc Brackett of the Yale School of Emotional Intelligence, this simple X Y graph measures energy vs contentment, and has an app available. While I was a teacher at NYC Lab High School, we made tracking our emotions part of our daily classroom routine. Why not make it part of yours?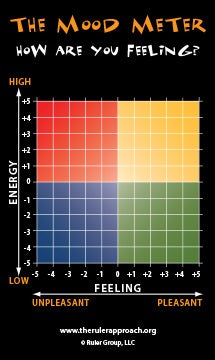 It can be so easy to get into an emotional slump if you're the type of parent, student, or teacher that has trouble getting into the school year. If you're a student, why not try a new sport or fitness activity? If you're an adult,seek out physical activities you were loving over the summer. Just because school started doesn't mean that living an active lifestyle has to stop!
More importantly, encourage regular movement during the school and work day. It is possible to get a simple stretch at your desk, whether you're a teacher, students, or work at an office! A sedentary lifestyle has become the norm in today's society. We have to do what we can to combat the ailments that result from that. It's not uncommon to hear wellness professionals comparing sitting for six hours to smoking a pack a day!
Maybe it's cheesy, but spend some quality time with yourself. It can be hard to get some healthy solitude with so much responsibility piling up all at once. Parents, teachers, and students alike go through a transition during this time of year. What makes you happy? Is it something creative like paining or playing music? Do you like to be outdoors, or walk around aimlessly? Do you enjoy time reading a good book, or listening to music? Just make sure you finish your homework first!
Lauren Coles is the Founder of Daisy Yoga, and brings yoga and mindfulness to offices, schools, and communities in New York City. She is a former NYC Teaching Fellow and Special Education Teacher.
Related
Popular in the Community