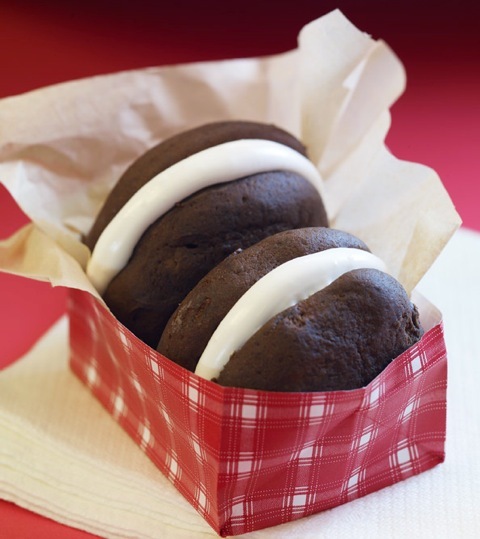 Now that summer is finally here, I've been doing a lot of outdoor cooking. I'll take any excuse to fire up the grill instead of turning on the oven! The one exception for turning on the oven is when I'm making whoopie pies. In fact, I've discovered that they make a perfect "cookie shell" for ice cream sandwiches. So now that the sun is once again shining, I seem to be baking even more whoopie pies. If you've never tried to make ice cream sandwiches with whoopie pies, you're missing out! Unlike chocolate chip cookies, the cake like texture of whoopie pies holds the ice cream perfectly in place. As for flavor, it's like eating cake with ice cream... and who doesn't love that?
I'll be whipping up this recipe, and other simple summer recipes, next Thursday on The Talk. So be sure to tune in!
Whoopie Pie Ice Cream Sandwiches
1 2/3 cup all-purpose flour
1/3 cup whole wheat flour
1/2 cup good quality unsweetened cocoa, natural or Dutch-processed
1 1/4 teaspoon baking soda
1 teaspoon salt
1 cup plain Greek nonfat yogurt
1/4 cup low-fat buttermilk
1/2 teaspoon pure vanilla extract
2/3 cup (packed) dark brown sugar
1/4 cup (1/2 stick) unsalted butter, softened
2 teaspoons non-hydrogenated shortening
1 egg
ice cream of your choice
Preheat the oven to 350°F. with one oven rack in the bottom third and another in the top third of the oven. Coat two 17 x 12-inch rimmed baking sheets with pan spray (even if they are nonstick) or line them with silicone baking mats or parchment paper.
In a medium bowl, whisk together the all-purpose and whole wheat flours, cocoa, baking soda, and salt; set aside. In another bowl, whisk together the yogurt, buttermilk and vanilla until the mixture is smooth.
In a large bowl, using an electric mixer or a stand mixer with the paddle attachment, beat the sugar, butter and shortening on medium-high for six minutes, until the mixture is light and fluffy. Add the egg and beat on medium two minutes longer.
Add the flour mixture to the butter mixture in three equal parts, alternating with the yogurt mixture in two equal parts (begin and end with the flour mixture), mixing on low for 1 minute and scraping the bowl with a spatula between additions.
Use a scoop or large spoon to make mounds on the prepared baking sheets, using 1 1/2 tablespoons of the batter for each cake and spacing the mounds two inches apart. To make the smoothest cakes, coat a small ice cream scoop with pan spray or oil, or coat your hands and use them to shape the mounds into smooth domes.
Bake the cakes for 12 to 14 minutes, until a skewer inserted into the center of a cake comes out with just a few sticky crumbs stuck to it. Halfway through the baking time, rotate the pans from top to bottom and front to back.
Transfer the pans to a wire rack to cool, about one hour.
To serve: Place a scoop of ice cream on one cake and press a second cake over the filling. Wrap the ice cream sandwiches with butcher paper and serve.